Four armed robbers jailed for life for killing guard at SDA church-run school
By Mashudu Netsianda
Four armed robbers who killed a security guard at a Seventh Day Adventist (SDA) church-run primary school in Bulawayo's Pelandaba suburb, were yesterday each sentenced to life imprisonment.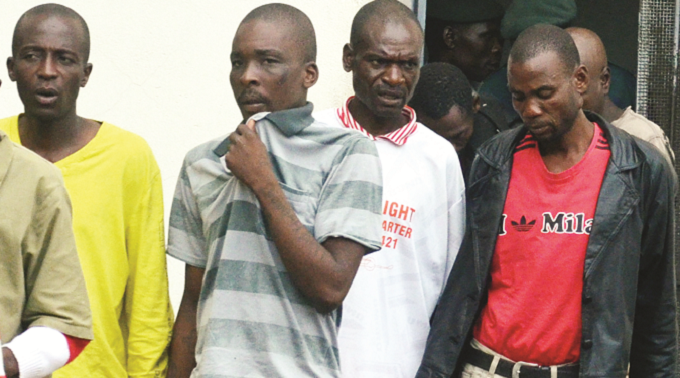 Tomson Phuthi (41) of Mabuthweni suburb, Ndabezinhle Mpofu (26) of Old Pumula suburb, Ownious Bhebhe (44) of Old Magwegwe suburb and Martin Dlamini (37) of New Magwegwe savagely attacked Mr Burton Sikalonga and Mr Vusumuzi Tshuma who were guarding the school's premises.
The two sustained serious injuries and Mr Sikalonga (65) later died on admission to Mpilo Central Hospital.
The four robbers who were armed with a gun, stole three laptops, five SDA t-shirts and money at the SDA School and church which are located in the same premises.
Bulawayo High Court judge Justice Maxwell Takuva convicted Mpofu and Bhebhe of murder with actual intent while Dlamini and Phuthi were convicted of murder with constructive intent.
In passing the sentence, Justice Takuva said murder committed in aggravating circumstances is a very serious offence, which calls for a harsh sentence.
He condemned the quartet's conduct saying their moral blameworthiness was very high.
"The accused persons' moral blameworthiness is very high in that they allowed the love of money to transcend human life. The deceased had to be incapacitated in the most brutal manner and the injuries suggest that he was tortured before he died," said the judge.
"The deceased must have died a painful death because of the multiple fractures and injuries all over his body. The accused persons further humiliated the victims by ordering them to lie on their stomachs before tying them using a rope."
Justice Takuva said the court has a duty to uphold the sanctity of human life. "Those who kill others in order to acquire ill-gotten property should not expect lenience.
"The courts have a duty to protect the sanctity of human life, which is a special commodity and in our view, a severe penalty is called for," he said.
The judge said although the accused persons were proper candidates for death sentence, the court exercised its discretion following convincing submissions by their lawyers.
The four men struck Sikalonga with an iron bar on the head and all over his body before stabbing him with a hunter's knife.
Prosecuting, Mr Trust Muduma said on January 17 at around 3AM, the deceased who was manning SDA premises left Mr Tshuma at their guardroom and went out to conduct routine security checks along the perimeter fence. After a few minutes Mr Tshuma heard the deceased screaming and shouting and he rushed out of the guardroom to investigate.
Mr Tshuma was confronted by Dlamini who pointed a pistol at him and ordered him to raise his hands. Dlamini searched Mr Tshuma and took his cellphone.
Mpofu, Bhebhe and Phuthi stabbed and manhandled Mr Sikalonga and Mr Tshuma before ordering them to lie on their stomachs.
The gang thereafter tied Mr Sikalonga and Mr Tshuma with a school flag rope.
The trio then proceeded to the school administration block where they used a bolt cutter to open the door to gain entry.
"They entered the headmaster's office and while inside they used a grinder to destroy a safe and stole $133 and an HP laptop. They then entered the school clerk's office and stole two laptops, a Lenovo and a Toshiba, five navy blue SDA t-shirts," said Mr Muduma.
At round 5AM, a motorist who was driving along Hyde Park road towards the city centre was stopped by someone who alerted him about the incident.
The motorist rushed to the scene and untied Mr Tshuma and Mr Sikalonga. He drove to Nketa Fire Station in Iminyela and summoned an ambulance which rushed the two security guards to Mpilo Central Hospital where Mr Sikalonga died on admission.
A report was made to the police leading to the arrest of the four robbers and recovery of all the laptops, $40, two t-shirts and a pistol.
Mr Task Vhiki of Liberty Mcijo and Associates represented Bhebhe while Mr Modern Chimwanda of Nyawo Ruzive Legal Practice was Mpofu's lawyer.
Mr Kholwani Ngwenya of TJ Mabhikwa and Partners represented Dlamini and Mr Tinashe Runganga of Tanaka Law Chambers represented Phuthi. The Chronicle