By Lovemore Kadzura
Yadah Stars eased their relegation worries when they made their way past strong relegation candidates Mutare City Rovers to collect priceless away points in this Castle Lager Premiership soccer match at Vengere yesterday.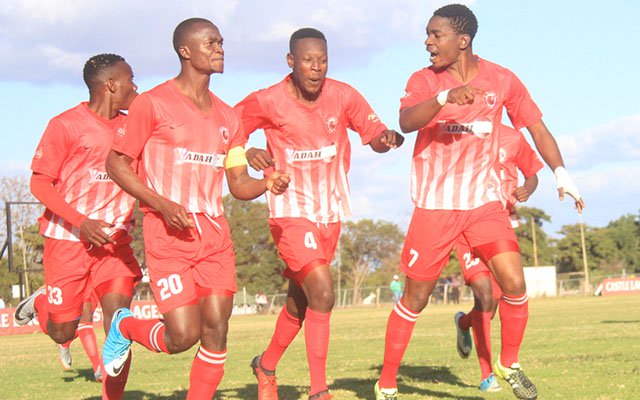 Attacking midfielder Johannes Sibanda was the hero for the visitors scoring all the two goals in the first half.
His first goal came barely seven minutes into the match when he capitalised on City's defensive mix-up inside the box to fire a low shot past goalkeeper Bezel Mukunyadze.
And in the 34th minute, a Rovers defender, in a desperate bid to clear the ball, handled inside the box, leaving the referee Arnold Ncube with no option but to point to the spot.
Sibanda took the responsibility and send Mukunyadze the wrong side from the spot.
Mutare City coach Ndega Matsika immediately responded by pulling out the ineffective Hussein Zvakavapano for the skillful Barnabas Mushunje.
The introduction of veteran striker Evans Chikwayikwayi in the second life breathed life into the Rovers attack but Yadah's defence, marshalled by Byron Madzokere, managed to thwart his raids.
A distraught Mutare City Rovers coach Matsika said his team's performance was below par, admitting that relegation is now imminent.
"We never came to the party. Our play was so poor today maybe the break we had affected our players. To avoid relegation it's now a huge task for us, especially considering the way we are playing. We are in a fix," said Matsika.
Yadah coach Thomas Ruzive said they are now focusing on their next match against CAPS United at the weekend and want to continue posting good results to be safe from relegation.
"This game was a tough assignment but the boys executed the mission well. We are in the bottom half of the log and this result is perfect for us. We are now focusing on our next game against CAPS United. They (CAPS United) have been lost their last two games and we will see how we capitalise on that," said Ruzive.
Teams
Mutare City Rovers: B Mukunyadze, P Gumbo, L Mangaira, K Bingala, C Muzawazi, M Moyo, H Zvakavapano (B Mushunje 39th min) B Vherumu, T Kabanda, B Chinhoyi (E Chikwayikwayi 50th min), G Jimu.
Yadah Stars: S Chimusoro, W Kalongola, B Chikwenya, A Makopa, B Madzokere, Z Beseki, L Mavhunga( E Karembo 82nd min) B Mapfumo, R Matema, J Sibanda, M Musiyakuvi. The Herald.