Female patrons attending Enzo Ishall's show at Cosmopolitan Night Club this weekend have been urged by the artiste to bring wrapping cloths that will be used during the performance of 50 Magate.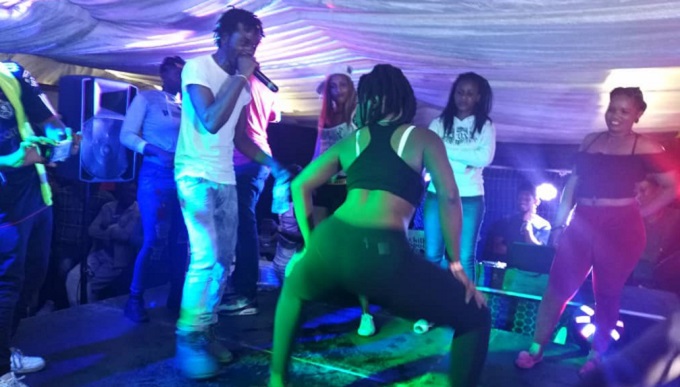 nzoThe Kanjiva and Smart hit-maker, who was in Bulawayo last weekend, will be in the city again on Saturday due to public demand after his debut show at The Vista was sold out.
In a video drop posted on social media, Enzo said: "Bulawayo, get ready for another show. Ladies, get your wrapping cloths ready as you're going to shake your waists a lot".
To hype up his second event, organisers are running a 50 Magate challenge where females are being urged to record short clips of themselves dancing to the popular song.
The videos must be posted on Enzo Ishall or Cosmopolitan Night Club's Facebook pages with the winners set to gain free entry into the show.
As if that is not enough, Kikky BadA$$, the lady who appeared in the 50 Magate video, will be in town tomorrow and is set to square off with Nust students at their university.
Event organiser Terminator Makoni said Kikky was coming a day before Enzo's show as they have organised a varsity tour for her.
"Kikky is set to visit Nust students on Friday and square off with them on Friday afternoon as we want to boost her popularity this side," said Terminator.
Come Saturday, Kikky will share the stage with Enzo and will once again square off with female patrons at the club who think they can outdo her raunchy dances.
"Those who think they can beat Kikky to the Magate dance should send us their clips and we'll select the best five who'll receive awesome prizes and free tickets to the show. Who knows, if Enzo likes what he sees, the ladies may also go on to feature on one of his forthcoming music videos," said Terminator.
Warming up the stage for Enzo will be Splits, Las Ranks as well as Cosmopolitan resident DJs Mzoe, Keezy and Kead Wikead. The Chronicle