Epworth hotbed for political violence
By Farayi Machamire
A number of civilians were hospitalised over the last two months as the MDC Alliance and Zanu PF turned Epworth into a hotbed of violence during their disputed primary elections.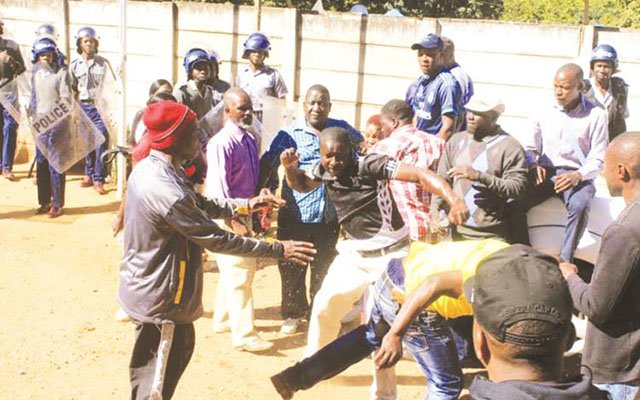 On Saturday, political intolerance reigned supreme as six people were heavily assaulted during disputed MDC Alliance Epworth primary elections relating to ward four.
An eye-witness described the skirmishes as a "blood bath" as running battles ensued between supporters of Earthrage Kureva and Zivai Mhetu with some accusing Kureva of igniting the violence in a bid to subvert the will of the people.
The results of the elections have spilled into several contested re-runs amid reports that aspiring legislator Jeremiah Bhamu was now distancing himself from the elections due to the violence in the constituency.
At the same time, political violence has also dominated the Zanu PF party proceedings in the poverty hit peri-urban community.
There was no restrain in February when Zanu PF Member of Parliament (MP) for Epworth Zalerah Makari fled for dear life after a group of Zanu PF supporters stoned her during a party meeting.
Makari took to her heels when a fact-finding mission with the Epworth Local Board to resolve illegal settlements went horribly wrong.
She later reported the matter at Epworth Police Station and a docket opened under case number RRB 3448819 accusing her party rival — Epworth youth leader Kudakwashe Damson for causing the altercation.
In turn, Damson hit back, saying while Makari was indeed assaulted, he was not behind her attack
Clashes would later emerge again during the Zanu PF primary elections where Makari's Curriculum Vitae was inexplicably removed from the list of contestants who had been cleared by the Zanu PF commissariat department to battle it out in the primary elections.
This culminated in running battles between Makari's supporters and those of Damson.
There was to be more drama as Zanu PF Epworth Ward 1 councillor Elina Mazhandu quit the ruling party to join the New Patriotic Front (NPF), which is believed to have strong links to former president Robert Mugabe.
Mazhandu cited widespread harassment and threats on her life by party members allegedly led by Damson who is the party's parliamentary candidate for Epworth in the forthcoming elections.
Damson also refuted claims he was behind the attacks on Mazhandu adding that he was actually a victim of violence.
"My brother, citizens in Epworth are angry at the councillors and sitting MP for failing to protect their interests.
"These people are hiding behind my name when it's clear that the people no longer want them," he said
In its first quarter human rights situation report for 2018, Zimbabwe Peace Project said the first three months of the year were laden with a systematic rise in cases of political violence and intraparty violence in both Zanu PF and the MDC, debunking the myth that political violence was a preserve of the ruling party.
ZPP, however, noted that as the balance of powers now appears more settled in Zanu PF than in the MDC, it would appear there will be more cases of intra-party violence in the MDC than in Zanu PF.
"At the same time, as the general elections draw closer, cases of interparty violence between these two dominant parties will likely increase also," the Jestina Mukoko-led civic organisation said. Daily News