By Bridget Mananavire
Many know him as the face that invaded television screens on the morning of November 15, announcing Zimbabwe Defence Forces' intervention in the country's politics.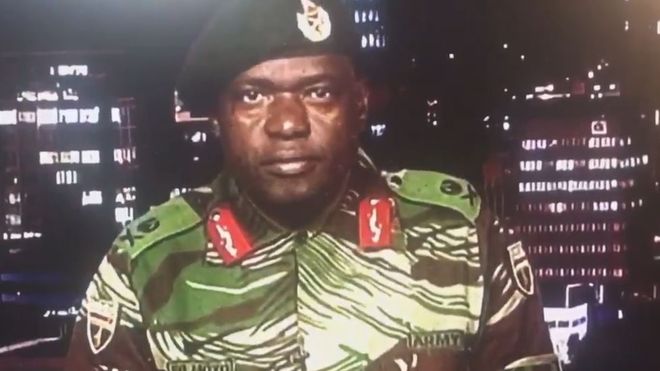 For once the popular ZBCTV news casters were nowhere to be seen and for those who had doubted that the army was now in control, reality started to sink in.
The problem with some of us is that we watch too many films and movies and, the script seemed familiar.
And his words still ring in our minds: "The President of the Republic of Zimbabwe, and Commander-in-Chief of the Zimbabwe Defence Forces, RG Mugabe and his family are safe and sound and their security is guaranteed.
"We are only targeting criminals around him who are committing crimes that are causing social and economic suffering in the country in order to bring them to justice," thundered Sibusiso Busi Moyo aka SB Moyo, then a major general in the army.
"As soon as we have accomplished our mission we expect that the situation will return to normalcy."
The next days that came was dominated by SB Moyo's above televised decree as his announcement was repeated over and over again until it became gospel.
Clad in his military uniform, with his name SB Moyo written on one side and the army band on the other, Zimbabweans had seen him for the first time and everyone wondered who this serious looking man with such an authoritative voice was.
What the Daily News on Sunday can tell you today is that the man is a country music loving gentleman who supports Arsenal.
The man has traded his army uniform for suits, and they say he looks dapper in them too.
The Daily News on Sunday caught up with SB Moyo at the swearing-in of the new Zimbabwe Electoral Commission chairperson Priscilla Chigumba and squeezed in two questions amid interruptions and homage paying.
Asked who his favourite artiste was, he laughed it off and thought hard before replying.
"My music… I used to listen to Don Williams, well Don Williams is late. Locally, well I listen to Mtukudzi."
Before the chat could finish, somebody else came and interrupted, but he had not forgotten that there was one little question he had not responded to.
"I play soccer, sometimes, and I support Arsenal."
By now, many will know that he likes his ties red. He is also a man of a few words based on his first interview at State House after being sworn in as Foreign Affairs and International Trade minister.
"Win, win, economic transitional diplomacy," is what he told journalists after they asked him what they should expect from him.
If he is not listening to Don Williams and playing soccer, he is busy mending and strengthening relationships with other countries, particularly western countries.
He has also been travelling with President Emmerson Mnangagwa to various forums to make Zimbabwe's message clear enough to attract investment and trade. Daily News