CCC's Ian Makone elected Harare Mayor, told to prioritise service delivery
Opposition Citizens Coalition for Change (CCC) councillor Ian Makone has been elected Harare Mayor. He will be joined by Ward 41 councillor Kudzai Kadzombe, who will serve as the Deputy Mayoress.
Makone, the ward 18 councillor who was competing with councillor Temany Utete of Zanu-PF, secured a significant mandate with 46 votes. Utete received 7 votes. Kadzombe, the newly appointed deputy mayoress, emerged victorious with a strong showing of 47 votes.
They will run the capital city for the next five years. Makone is taking over from CCC councillor Jacob Mafume.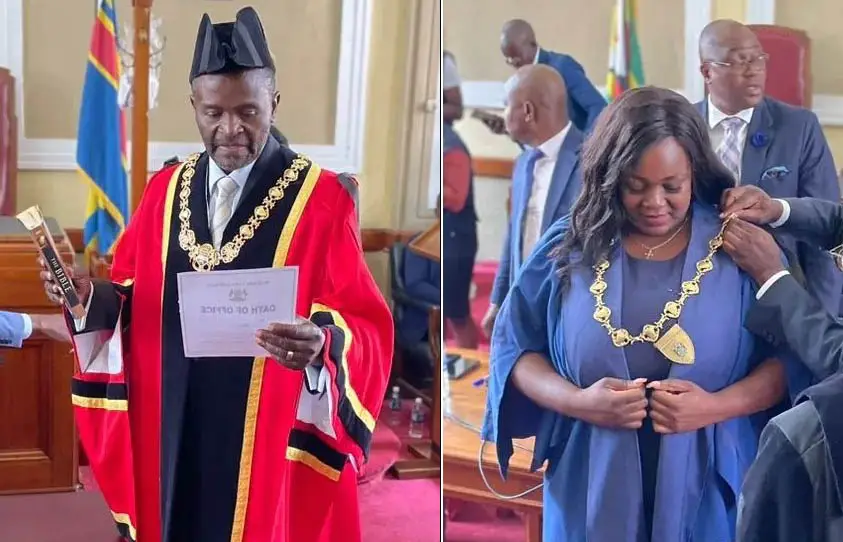 Award-winning journalist Hopewell Chin'ono said Makone is tasked with service delivery restoration and fighting against corruption.
"CCC has elected Ian Makone as Harare's new mayor, he is deputised by Councillor Kudzai Kadzombe," he said.
"Ian Makone was Morgan Tsvangirai's Chief of Staff/Chief Secretary during the GNU, and his wife Theresa was Home Affairs minister during the GNU (Government Of National Unity).
"This is Makone's second term as a councillor after being elected in 2018 for his first term.
"He gets into a mayoral office beleaguered by service delivery issues and has to navigate his way around a Zanu-PF Minister of Local Government who has undermined council using Douglas Mwonzora's councillors and local government regulations.
"He also has to deal with the backlog of corrupt cases of councillors who were taking council land meant for local development."
Chin'ono further pointed out that the new mayor will need to fight for removal of laws that allow the central government to have direct interference with council operations.
"More importantly, Mayor Makone has to work with CCC MPs to help remove the old laws that have given power to Zanu-PF appointed directors, some who have been in the same office for more than 15 years.
"Residents also expect the parking fees debacle to be resolved in order to bring sanity on the City's roads," he added.
Exiled former cabinet Minister Walter Mzembi congratulated Makone describing him as "a decent bureaucrat".
"Harare have nemutsigo. Ian Makone is a decent bureaucrat. This term to 2028 will be about delivery and continuous voter education, raising the bar from the mediocrity of borehole water and carrying of water cans to piped water in cities and villages," the former Tourism Minister said.
"May I also pay tribute to former Harare Mayor Jacob Mafume for discharging his mandate with civic distinction, no political drama even when tested. He was calm, professional, focused, a benchmark for politically overzealous bureaucrats ve big dzungu."