Man in court for 'defrauding' prisoner's relatives of $1 000
By Codelia Mondela
A man from Fort Rixon allegedly defrauded three women of more than $1 000 while promising to facilitate the release of their relatives detained at Khami Maximum Prison.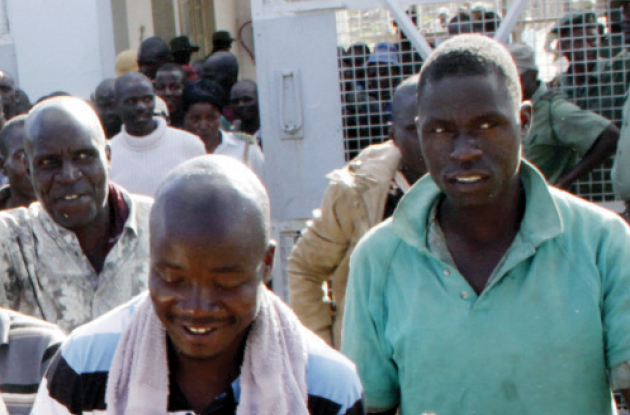 Nation Masuku (39) from Fort Rixon is alleged to have on separate occasions contacted three women —Ms Senzeni Phiri, Ms Enelia Dube and Ms Siqabuko Masuku — pretending to be a prison officer at Khami prison.
He allegedly demanded and received bribes after lying that he would facilitate the release of their relatives incarcerated at the prison.
Nation was not asked to plead to three counts of fraud when he appeared before Bulawayo magistrate Mr Franklin Mkhwananzi.
The magistrate ordered him to pay $300 bail and remanded the matter to tomorrow for trial.
Prosecuting, Mr Nkathazo Dlodlo said on January 18 this year, Nation phoned Ms Phiri saying he wanted to facilitate the release of her husband Witness Mangena from prison on medical grounds.
"The following day, the two met at Tredgold Magistrates court where Nation demanded money alleging that he wanted to give a judge who would sign release papers. Ms Phiri gave him $60 and he went away. After some time he returned and said the judge had refused to sign the papers because he wanted $150. Ms Phiri agreed to sell a cow as she had no money," Mr Dlodlo said.
"Nation looked for the buyer of the cow and the two went to Filabusi and slaughtered the cow. They proceeded to the butchery to collect the money. While Ms Phiri was in the toilet, Nation took $520 which was payment for the cow and stole a Samsung cell phone from her bag."
Mr Dlodlo said 10 days later, Nation called Ms Dube alleging that her uncle, Brighton Ngwenya, who is detained at Khami, was sick and wanted money for medication.
"Nation met Ms Dube at Egodini and he took $200 and a Nokia cell phone worth $30. He said the cell phone would be used by Ngwenya to communicate with her sister. On February 7, he called Ms Masuku alleging that he was a prison officer and a relative to her husband and wanted to assist her son Nkosilathi Masuku who was at Khami," he said.
He allegedly demanded $300 from her and alleged that he was going to Harare to arrange the release of the papers.
"Ms Masuku gave him $150 after failing to raise the $300. The following day she went to Khami prison to inquire and was informed that there was no such arrangement," said Mr Dlodlo.
The court heard that she reported the matter to the police and Nation was arrested as he was collecting the remaining $150. The Chronicle