By Farayi Machamire
State-run power utility Zesa Holdings (Zesa) insists it will not concede to National Energy Workers Union of Zimbabwe (Newuz)'s demands for a pay hike, arguing that doing so would require a tariff hike that would further burden strained consumers.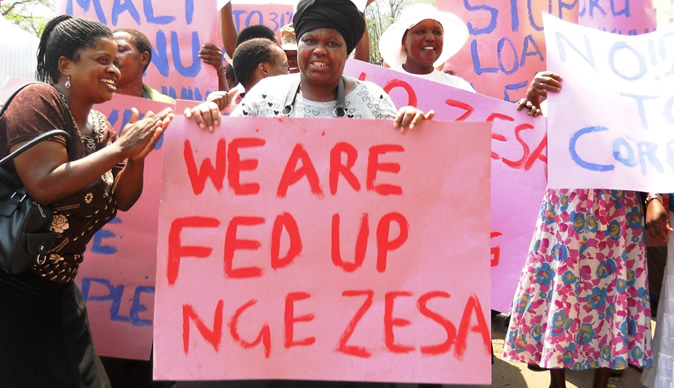 This comes as the union demonstrated last Friday to press Zesa to pay salaries in line with the 2012 Collective Bargaining Agreement (CBA).
It accuses the utility's senior managers of paying themselves up to $60 000 in annual holiday allowances, while owing workers $100 million-plus in unpaid wages from 2012.
Zesa alleges that one of its "managers was almost manhandled by the demonstrators" during Friday's demo, vowing to take action against the Newuz's leaders.
In a statement yesterday, Zesa acknowledged that collective bargaining dispute, which is before the courts, was long-standing, adding it did not have the capacity to pay following a string of losses against a tough economic environment.
"The company affirms that it has no capacity to pay the said CBA, notwithstanding that there is a signed agreement. The company made a settlement offer to employees with respect to the CBA and we are grateful that an overwhelming majority of employees accepted the offer.
"A minority of employees did not, however, accept the settlement offer and continue to press for payment of salaries and benefits at levels beyond which the company has capacity to pay," Zesa said, adding: "The substantial pay increase and back pay relating to the 2012 CBA would require a tariff increase which we feel would place unnecessary burden on electricity consumers.
"Our staff is competitively remunerated and receive their salaries on time, including the 13th cheque, such that there is no justification for a salary increase particularly one that is based on the 2012 CBA."
Turning to the call from industry players for Zesa to revise power tariffs downwards and bring them in line with region rates, the company said it would not be possible under the current environment.
The industry players argue that the high cost of electricity in Zimbabwe is one of the reasons why local companies are not able to compete with their regional counterparts.
"Unfortunately, reducing or increasing the tariff are both untenable options as they would impact negatively on service delivery and security of electricity.
"The utility has not had a tariff increase for the past seven years and the last increase was in 2011, despite significant increase in power import costs and consumables," Zesa said. DailyNews