By Eddie Chikamhi
CAPS United coach Lloyd Chitembwe says he has a good working relationship with all his players and has challenged midfielder Archford Gutu to work hard to earn his place in the team.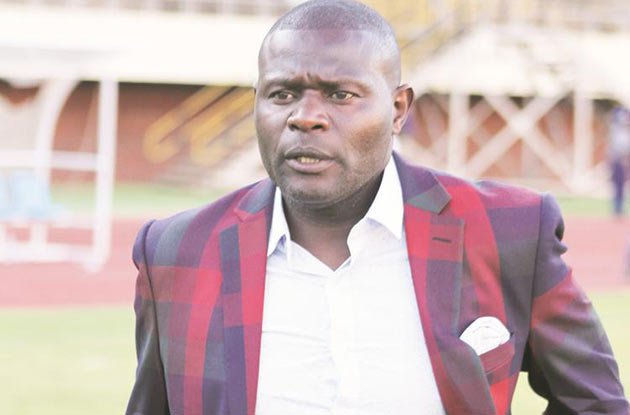 Gutu last week savaged his coach on social media complaining of lack of game time.
But Chitembwe, who has led Makepekepe in a brilliant campaign this year, yesterday said he has not heard from the player officially and is willing to help him rediscover his form.
Gutu, apparently incensed by his inability to break into the team, last week set tongues wagging when he posted: "You play me when you want? Well, I train when I want, you think I don't have feelings."
The former Young Warriors midfielder has not been reporting for training. However, Chitembwe said Gutu should direct more of his energy into training.
"Unfortunately, I don't do Facebook and I didn't see whatever he wrote. But I just heard from other people. So, in as far as I am concerned he is very innocent," said Chitembwe.
"I respect his feelings, but it's just that he is probably misdirecting his energy. As a coach, I want that kind of energy and passion to be translated to the football pitch, not on Facebook.
"Of course, he is a good talent, but he has some misdemeanours. He just has to work hard. For your own information, I am one coach who is fair to everyone.
"If you want to check on our records almost everyone in our team has played at some time. We don't even look at names or faces, but we select the team purely on merit. So I am saying for someone to play, he has to earn the right to play.
"This is determined firstly by the amount of effort he puts in training. Secondly commitment and thirdly he should abide by professional ethics."
Chitembwe said everyone at the club should respect the institution.
"These ethics entail the element of respect for the team, for the coaches, the institution that he represents, respect for one's own career and respect for the owners of the football club," said the coach.
"At the same time application is very important. If you don't apply yourself well then your chances get slim. If your game is down it's difficult for a coach to play you because he also needs to justify the decision of playing you ahead of the other players who play in that position.
"The moment you lose it as a coach, then you will always have problems because everyone will tell you that he deserves to play. At the end you will not be able to manage the dressing room."
Makepekepe held an open training at the National Sports Stadium yesterday as they upped the preparations for the crucial match against Ngezi Platinum Stars at the same venue on Sunday.
Chitembwe has all his players available for Sunday's game except skipper Moses Muchenje who has been suspended after accumulating three yellow cards.
They go into the match with spirits high after Chitembwe scooped the Coach of the Month award while chief marksman and the league's top goal scorer Leonard Tsipa was voted Player of the Month.
"Glory to God. I think the team deserved it more than me because I don't recognise individual accolades that much.
"I give credit to the team because we are where we are because of their efforts and contributions. So it's very good to the team," said Chitembwe.
The coach said the spirit in his camp was the right one.
"The spirit is very good and the oneness is absolutely out of this world. I attribute this to the amount of work put in by the players.
"I think they deserve to have all the recognition and all the praise because we have come a long way despite our challenges as a club.
"I am sure the players have to some extent proved that it's not really about the money, but the desire to achieve and this is a great team for me," said Chitembwe. The Herald