HARARE – Well known Zanu PF apologist Goodson Nguni on Wednesday came out guns blazing while urging the ruling party to investigate Information Minister Jonathan Moyo for plotting against President Robert Mugabe and employing gay anti-government editors to run state owned newspapers.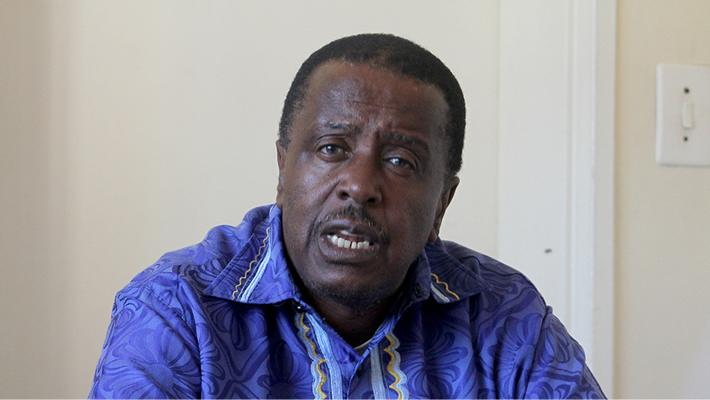 Nguni claimed Sunday Mail editor Edmund Kudzayi and NewZimbabwe.com founder and former editor Mduduzi Mathuthu now at the Chronicle were gay and had been hired by Moyo despite a long history of writing and publishing articles that attacked President Mugabe and his Zanu PF party.
Mugabe has in the past described gay people as "worse than pigs and dogs" and this has seen politicians in his party using allegations of homosexuality as a political weapon.
Nguni was reacting to a story in The Herald yesterday claiming that he leaked issues discussed at last week's meeting of the Zanu PF politburo to NewsDay.
This was after the paper published a story on Monday where Zanu PF insiders alleged Mugabe had disclosed that he owed fired Mashonaland East provincial chairperson Ray Kaukonde $30 million.
"Zimbabweans must just do a research and see the multitudes (sic) of anti-Zanu PF attitude by Moyo," Nguni said.
"I hope Zanu PF will understand that Moyo has previously stated that he wants to destroy Zanu PF from within and he is co-ordinating the public and private media to write negative stories about Zanu PF, the President, Vice-Presidents and all progressive Zanu PF members."
"It is for [Presidential spokesperson] George Charamba and how is it that he can tell us that the President can do this or not do that? Moyo is a very dangerous mafikizolo [upstart]," he said.
"The recent BBC interview was held in Zimbabwe at Moyo's request where he wanted to denigrate senior members of the party and talk about Zanu PF issues when he is not the party's secretary for information."
"I hope Zanu PF will look very closely at all his editorial appointments at Zimpapers. Moyo wanted The Herald to snare me into mentioning particular names within the politburo," he claimed.
"He was hoping that the people who I talk to in the politburo would be linked to the story, but unfortunately for him all the people in the politburo are friendly to me. Moyo is targeting me because I am the face of Zanu PF attack against the MDC and I regularly pop up to defend Zanu PF when he is busy conniving against the party. He was hoping to silence me."
"I never had a teleconference or meeting with (Richard) Chidza after the last politburo meeting. I have never had access to politburo meetings or been advised of deliberations except what the party's information department churns out in public.
"The story was written because Jonathan Moyo was informed that I was going to launch a petition in the Constitutional Court to enjoin and oppose the application by Herald editor Caesar Zvayi to purge our Constitution of criminal defamation."
"I had occasion to challenge Zvayi on why The Herald is taking Mnangagwa to court over criminal defamation. Zvayi told me to my face that Moyo ordered him to sue Mnangagwa in order to remove criminal defamation.
"Zvayi also told me that Moyo was the author of all anti-Zanu PF stories carried in the Zimpapers stable. Zvayi also told me that Moyo wants criminal defamation removed so that journalists can write false stories and not get arrested."