By Prosper Ndlovu
PRESIDENT Mugabe and the First Lady will roll out the red carpet tomorrow for hundreds of local and international guests who will witness the wedding of their eldest child, Bona.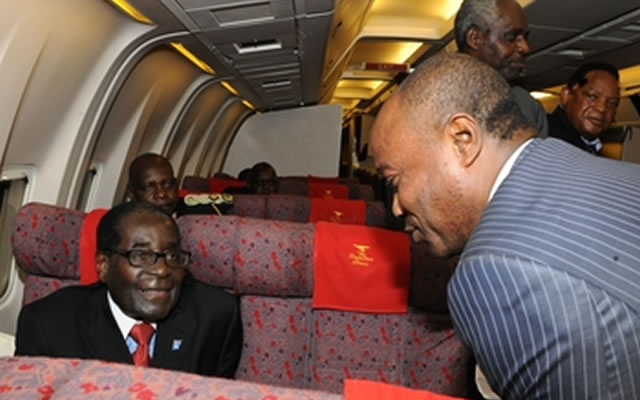 Invitations have gone out to over 4,000 guests – including African Heads of State – for the wedding which will take place in the backdrop of the First Family's Blue Roof Borrowdale residence in Harare.
Bona, 24, has already completed traditional marriage rites with her fiancé, Simbarashe Chikore, an airline pilot.
President Mugabe cut short a visit to the Democratic Republic of Congo on Wednesday, where he was attending a Comesa summit, to return home and personally oversee preparations for the wedding – the first by any of his children.
"Yes we came back early, we've a wedding on Saturday, you see. We said well, let's go home early, we've beer to brew that's why we're here," President Mugabe said to laughter from delegates who welcomed him at the Harare International Airport on Wednesday night, among them Vice- President Joice Mujuru, Information Minister Professor Jonathan Moyo and Defence Minister Sydney Sekeramayi.
The President did not come alone – Congolese rhumba superstar Koffi Olomide and his band were on the chartered Air Zimbabwe plane to Harare. During an interview with the ZBC last week to mark his 90th birthday, Mugabe admitted he never thought he would live to see any of his children getting married.
The Zanu-PF leader and the First Lady, Grace, have two other children, sons Robert Junior and Chatunga Bellarmine.
"We're really happy as a family, she has made us proud, you know," the President said. "Considering that I had my marriage, my second marriage, when I was in my 70s, I had no hope that I'll see my children grow old like this," he said. "As a family, when you've a child in the family, you'll be afraid whether she'll succeed or not, you'll be taking care from childhood, going to school and now old enough to start a family."
Invitation cards sent out to lucky guests say the ceremony will run from 2PM to 4PM at the President's residence, with the reception to follow from 6PM to 6AM the next day.
Olomide, who will be one of the star turns at the wedding, is expected to headline the reception — with the Mugabes opening their gates until sunrise. The France-based singer said he had come to Zimbabwe without asking for a fee. He also spoke of his admiration for the President.
"Mugabe loves Zimbabwe and nobody can contest that. He loves his country and Africa. For me, as an African, I'm proud of him because he loves Africa," the singer said in Harare.
"He fights for Zimbabwe (to be) free. Mistakes or no mistakes, it is not my matter. He is a real patriot."
Olomide said he felt honoured to perform at the wedding. "It's an honour to have been chosen by the Presidential family to be the singer for their wedding. From the bottom of my heart, I say thank you to His Excellency Mr Mugabe and his wife," he said.
"I met her (First Lady) today and I'm very touched and happy. This is one of the greatest days in my life of singing. I wish the best to Bona Mugabe and husband, the pilot.
"If the President gives me anything, it's a token, but I didn't charge for this. It's a memorable day where I'm going to perform for more than 4,000 people.
"I came here because I like people and to make them happy. I like Zimbabwe, President Mugabe, and I'm not a politician but a singer who sings for everybody. Every time I come here, I feel love and friendship."
A massive marquee tent has already been pitched at the President's residence ahead of the wedding, whose grandeur will rival that of the veteran leader's nuptials with the First Lady in August 1996.
Chikore, who is a twin, is a pilot with Qatar Airways and privately credits ZAOGA leader Ezekiel Guti and his wife for his marriage to Bona, who holds a Masters Degree in Accounting. The Chronicle