By Makomborero Mutimukulu
Phillip Chiyangwa has mastered football politics and always appear to be one step ahead of his opponents.The past few weeks have seen the Zifa president, who has in three years risen into the Cosafa and Caf echelons of power, sassing out the rival camp, claiming to be open to some horse trading.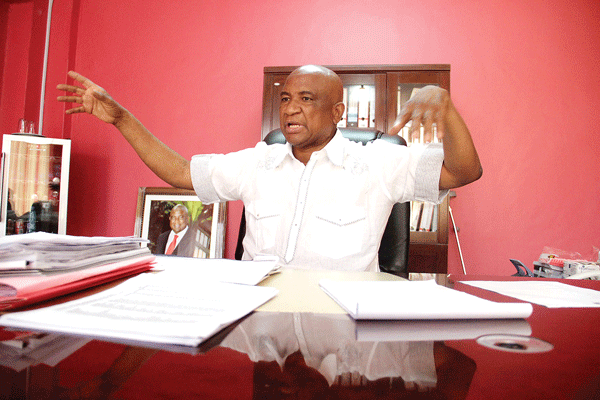 Chiyangwa even appeared ready to sacrifice his deputy Omega Sibanda but that turned out to be an ace move aimed at wrong footing his opponents.
While there is talk that the PC camp, which also has Philemon Machana in its ranks, is short of numbers in the Assembly, there is another school of thought that claims that the Electoral College has a majority of members who are keen on maintaining the status quo.
How so?
Chiyangwa and his camp started playing this game of political chess at area zone level, making some huge captures but also coming unstuck in areas as such as the Northern Region.
They took interest in the electoral process from day one while those seeking Chiyangwa's ouster were at sixes and sevens looking for a person with the guts to challenge the incumbent.
Meanwhile, just like last time when he made peace with Farai Jere, who was also interested in running for Zifa presidency, this year Chiyangwa had a private meeting with Bernard Gwarada.
Gwarada, a former Zifa board (finance) member who fell out with Cuthbert Dube, has long been touted as a potential Zifa president and looked ready to take the plunge this year.
However, the Harare based travel executive insists his time has not yet come and pledges to continue working closely with the soccer governing body.
"I did not run for office because of pressing commitments. I have to focus on my job, otherwise I might end up producing half baked cakes both at Zifa and my business.
"These high offices require super commitment, people who give it all when they are in, not people who get in hoping to get help in these difficult times. "Regarding the candidates running for office, I think they are all men of means who understand football. I believe they will support the unopposed presidium. On my part, I will continue to support Zifa as has always been the case for years. Maybe I will contest in the next elections," said Gwarada. Sunday Mail.