By Patrick Zhuwao
Webster Shamu, in a video clip, is seen urging voters in Chegutu to vote for whom they want and not necessarily vote for Mnangagwa. The video clip has since gone viral.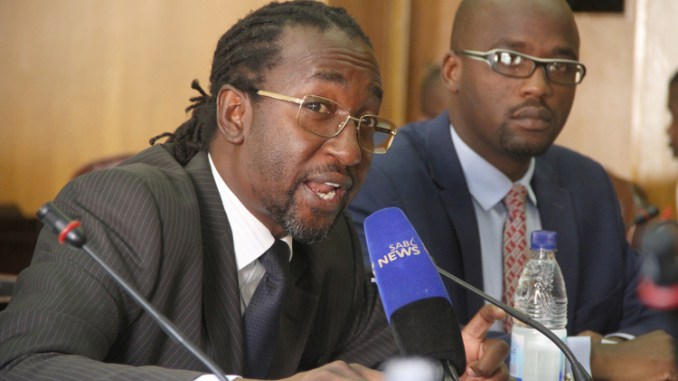 Mnangagwa, sensing defeat, has panicked and constructively fired Ambassador Simon Khaya Moyo as ZANU PF spokesman ten days before the election. Typically of his village politics mentality, he has replaced him with Paul Mangwana.
Mangwana, despite his homeboy links to Mnangagwa, is out of his depth. He can't stem the "bhora musango" tide that will sweep Mnangagwa to Kwekwe on 30 July.
Mangwana doesn't have capacity to match the level of sophistication of the key proponents and spin doctors of "bhora musango", both external and internal to ZANU PF. He is no match for the teams that are working against Mnangagwa in the opposition, let alone the likes of Shamu within ZANU PF.
Shamu is an accomplished and sophisticated communicator with a wealth of political experience and an extensive national network. When he headed ZANU PF's Youth League in the 1980s he established the 21st February Movement which elevated President Mugabe to cult status.
Shamu is one of the founders of the Zimbabwe National Liberation War Veterans Association that appointed President Mugabe as Patron. Arguably one of ZANU PF's most effective National Political Commissars, Shamu oversaw President Mugabe's 2013 victory.
Shamu, like many, is a Mugabe disciple.
Shamu's video clip comes hot on the heels of several other video clips promising "bhora musango", including one featuring Dr Godfrey Gandawa in Hurungwe.
The "bhora musango" phenomenon is a ZANU PF trend in which the voters do NOT vote for the official party candidate. ZANU PF officially acknowledged the "bhora musango" phenomenon during the contest between Majiri, Shamu's preference for Chegutu's mayoral candidate, and Mariyapera.
During the 2008 harmonised elections, "bhora musango" was used against President Mugabe. Some ZANU PF officials would urge voters to vote for the ZANU PF candidates in the local authority and parliamentary polls, but urged the voters to select whomever they wanted as president preferably not President Mugabe, the then official ZANU PF presidential candidate. As a result of "bhora musango", the late Prime Minister Tsvangirai defeated President Mugabe in the 2008 presidential election.
As we head for the 2018 elections, we are seeing the re-emergence of the "bhora musango" phenomenon that saw the MDC's presidential candidate defeating ZANU PF's candidate in the 2008 presidential poll.
The ghost of 2008 is back to haunt ZANU PF, ten years later. ZANU PF's members and supporters are doing "bhora musango" against Mnangagwa. He will be lucky if he gets more than 15% of the vote this year. Even Chiwenga has told Mnangagwa that he is unelectable and that he will lose this election.
The current manifestation of "bhora musango" against Mnangagwa has started visibly in Mashonaland West province. Mashonaland West is not only the province that originated the concept, but it is also the province from which President Mugabe has his origins.
ZANU PF members and supporters in Mashonaland West are bitter with the way in which President Mugabe was humiliated by Mnangagwa. ZANU PF candidates like Shamu are preaching "bhora musango" as they attempt to distance themselves from Mnagagwa.
The forthcoming instalments of the ZBR will explain how "bhora musango" is unfolding in Mashonaland Central, Mashonaland East and Harare before moving onto Masvingo, the Matebeleland Provinces and Bulawayo, until its ultimate unfolding in Midlands. ZANU PF members and supporters have resolved to teach Mnangagwa the lesson that politics leads the gun. We must all unite against Mnangagwa so that we stop any further coups in Zimbabwe.
Iwe Neni Tine Basa. Umsebenzi lo Umkhulu.
Asante Sana
Patrick Zhuwao is a former Minister for Youth and Empowerment, he was also briefly Public Service Minister under President Robert Mugabe's government. He is also Mugabe's nephew.