Tribunal exonerates Chitungwiza mayor
By Tendai Kamhungira
Suspended Chitungwiza mayor Phillip Mutoti has been acquitted of five counts of corruption by a tribunal set up by former Local Government minister Saviour Kasukuwere.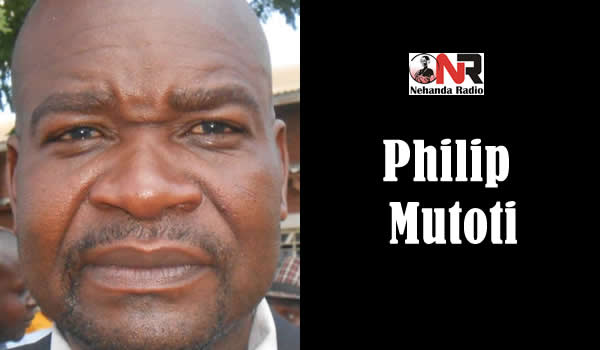 According to the charges, Mutoti allegedly contravened several sections of the Urban Councils Act, which included gross incompetence, misconduct and wilful violation of the law in the management of funds or affairs of the council.
Among some of the allegations, Mutoti was accused of unprocedurally acquiring stand number 15546 Nyatsime and presiding over chaotic land management systems, characterised by illegal acquisitions of stands.
He was further accused of causing council to incur irregular and wasteful expenditure and unilaterally reviewing his travel allowances.
Through his lawyer Marufu Mandevere from Kadzere, Hungwe & Mandevere Legal Practitioners, Mutoti successfully challenged the allegations, leading to Chitungwiza Tribunal chairperson Virginia Mudimu ruling in his favour.
"In count one, no evidence was presented to the Tribunal by the ministry to satisfy itself that indeed there was a requirement that the respondent (Mutoti) should have been on the housing waiting list though he applied for the stand in terms of the ministerial circular.
"The Stand Allocation Procedure Manual which the audit manager asserted that the respondent should have complied with and which he allegedly wilfully violated, was not produced as evidence, to enable the Tribunal to evaluate the credibility of the witnesses' statements," Mudimu said.
The Tribunal said the ministry rushed to suspend Mutoti based on an audit report, adding that there was no basis upon which the charges against him could be sustained.
"It is therefore, the Tribunal's conclusion that if anyone presided over a chaotic land management system as alleged, it was the town clerk and not respondent. To that end, respondent is found not guilty in count two," Mudimu said.
She said the ministry's witnesses had contradicted one another when they were called to testify and that their evidence was not sufficient enough to sustain a conviction on any of the charges that he was facing.
"It is the Tribunal's considered opinion that count five is baseless and has no merit hence the respondent is found not guilty in count five.
"From the foregoing, respondent, councillor Phillip Mutoti, is found not guilty in all the five counts and is discharged," Mudimu said. DailyNews