MDC-T leader Morgan Tsvangirai might be fighting a battle with colon cancer in a South African hospital but his young protege, the Acting President Nelson Chamisa, continued to show his pulling power as a massive crowd braved the rains to support the MDC Alliance rally in Masvingo.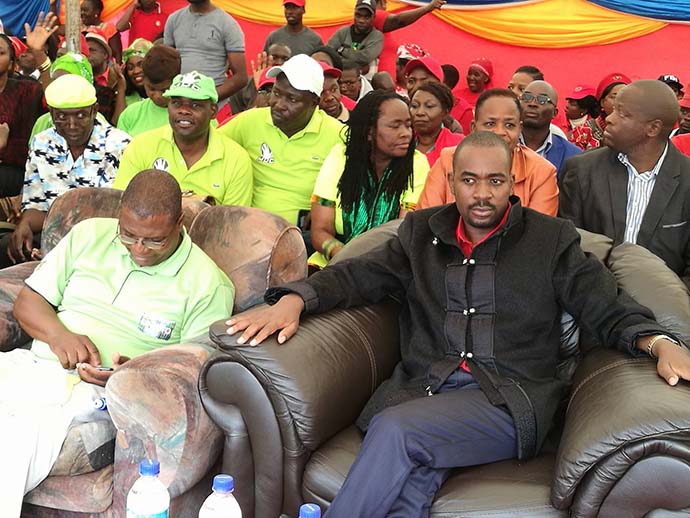 If there was any doubt about who has the popular support to act in Tsvangirai's absence then one only had to watch and listen to the ovation for Chamisa after Murisi Zwizwai (Secretary for Elections) talked about the alliance and how Chamisa is the legitimate Acting President.
The MDC Alliance principals Tendai Biti (PDP), Welshman Ncube (MDC), Jacob Ngarivhume (Transform Zimbabwe) and Agrippah Mutambara (ZimPF) were out in full force at the rally alongside other officials from Zanu Ndonga and Multi-Racial Democrats (MCD).
In a heartfelt plea on Sunday, Chamisa wrote; "I am hearing a lot of things that are being said about my person, the party and Our President, The people's President. I wish to salute and thank all those who have been praying and continue to pray for our leader and visionary, President Tsvangirai.
"While we all earnestly pray for President MT's full recovery, I would like to urge everyone of you to be very circumspect and careful about what you hear.
"We want the best for our PRESIDENT, Dr M R Tsvangirai. We wish the best for the family. We also want the best for you and for us all, for Zimbabwe and it's future.
"I stand pushing the Party's objectives as we approach the elections. Our major call is to be game changers and scope shifters for posterity beyond our lifetime. We are the generation our nation has been waiting for. We have arrived. The time is now." Nehanda Radio