By Peter Matika
Five people died yesterday morning in a road accident along the Bulawayo-Plumtree Road when a Toyota Granvia they were travelling in burst a rear tyre and overturned near Mbokodo.
Four others were injured with one said to be in a serious condition and admitted to the Intensive Care Unit (ICU) at the United Bulawayo Hospitals. Only one escaped with minor bruises and was not taken to hospital.
A source privy to the accident told Sunday News that all the passengers were travelling to Bulawayo from Botswana in a Toyota Granvia when the accident occurred. The source said the vehicle burst its rear left tyre, resulting in the driver losing control.
Bulawayo police could not be drawn into commenting on the issue referring all enquiries to national police spokesperson Chief Superintendent Paul Nyathi, who was however, not reachable.
"The driver lost control of the vehicle, which then swerved to the left side of the road. He tried to control the vehicle and maintain it on the road but in the process the vehicle overturned and rolled three times, throwing some passengers out while crushing those that were inside," said the source who witnessed the accident.
The next of kin of the deceased are yet to be advised, with four of them having been positively identified through their passports.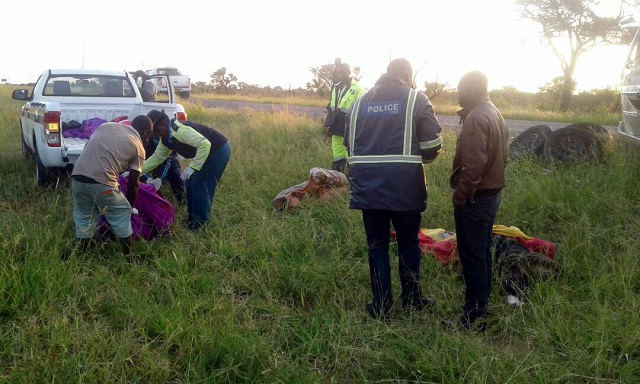 Earlier this month four people died on the spot, after a vehicle they were travelling in sideswiped a haulage truck and then collided head on with another truck along the Harare-Bulawayo Road near Mbembesi.
The driver and three passengers who were travelling to Bulawayo in a Toyota Spacio died on the spot.
The Toyota Spacio allegedly encroached onto the lane of the first freightliner truck resulting in a sideswipe and thereafter collided head-on with the second freightliner truck. Sunday News