Shot taxi driver in court for 'stealing' client's $6.7k
By Nyaradzo Bakari and Andile Tshuma
A taxi driver who was allegedly shot at by police after he was hired by armed robbers last Wednesday, has appeared in court for allegedly stealing $6 700 from a man who had hired his vehicle.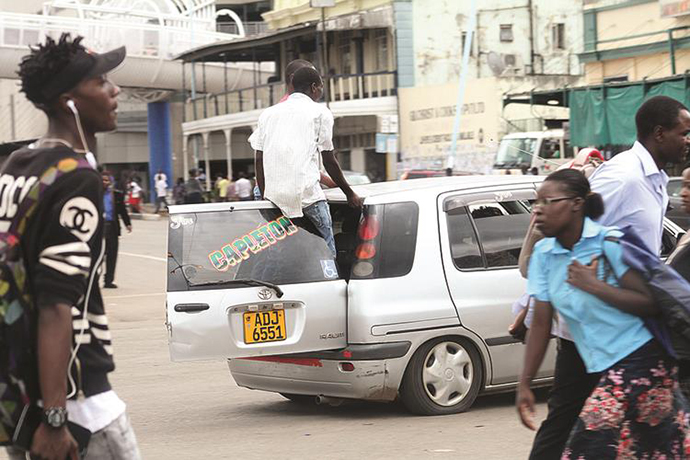 Richard (Riyacha) Takaedza (27) who claimed to be a National University of Science and Technology (Nust) student and is from Matsheumhlophe suburb, yesterday appeared before Bulawayo regional magistrate Mr Franklin Mkhwananzi charged with theft.
The university has since disowned him.
Mr Mkhwananzi did not ask Takaedza to plead and remanded him out of custody to November 2 for trial.
Prosecuting, Mr Taurayi Hondoyemoto said Takaedza stole from his client, Mr Joseph Courage Zireva after he and his brother hired him to take them from Barbourfields suburb to Harare Road.
"On October 10 at around 6.30 AM, the complainant and his brother hired the accused's taxi from Barbourfields to Harare Road. The complainant had $23 200 in his bag," he said.
"When they arrived at Engen Garage, corner Jason Moyo and 4th avenue, the complainant and his brother disembarked to buy refreshments, leaving the bag in the taxi."
The prosecutor said the brothers returned to the car and proceeded to their destination, where the complainant boarded a bus to Harare. When he arrived in Harare, Mr Zireva realised he was short of $6 700 and made a report, leading to Takaedza's arrest.
He said $406 was recovered.
Police allegedly opened fire on Takaedza, a self-proclaimed Journalism student who doubles as a part time taxi driver, as he was driving along Gwanda Road opposite Ascot Shopping Centre last Wednesday after he failed to comply with their orders to stop.
Nust Communication and Marketing Director Mr Felix Moyo said Takaedza was no longer a student at the university. "We would like to inform the public that we are distancing ourselves form Richard 'Riyacha' Takaedza. He is no longer a student, he withdrew, he did not even defer his studies," said Mr Moyo
He said Takaedza enrolled in 2013 and had been a first year student for three years before the University asked him to withdraw during the 2015-16 academic year.
"He failed part one the first time, tried and failed again the second time and when he failed on his third attempt, the university asked him to withdraw as he had proved that he could not cope with the demands of a bachelors degree in Journalism and Media Studies. He is no longer a student and has absolutely no links with Nust," he said.
The communication and marketing Director warned members of the public to be wary when dealing with Takaedza who he said had used the University's name in some illicit deals.
"He goes around claiming to be a student. He went to Expricos taxis and said he had a letter from the Dean of students to operate his two pirate taxis to raise school fees. There was no such authorisation. People should be careful," said Mr Moyo.
On Monday Takaedza called The Chronicle asking to be called back and left a number which he said belonged to his lawyer.
When the number finally went through on Tuesday, the person who answered said he was a lawyer representing Takaedza.
Takaedza claimed he was falsely quoted in the shooting story published on Monday titled "Cops shoot at taxi driver hired by gang of armed robbers.''
He said he never spoke to The Chronicle.
Unluckily for him, there is a recording of the conversation. The number that Takaedza said belongs to the lawyer is registered in his (Takaedza's) name. The Chronicle