By Nqobile Tshili and Allen Khumalo
A 22-YEAR-OLD woman was caught writing a Zimbabwe School Examinations Council (Zimsec) Ordinary Level Mathematics examination for another candidate at Irisvale Secondary School in Matabeleland South's Umguza District on Monday.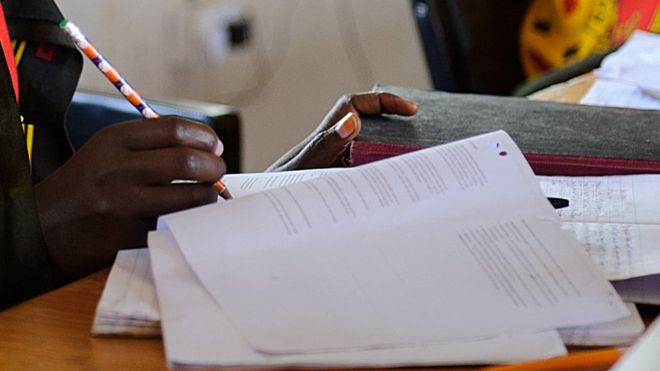 The alleged exam cheat, Portia Nyamukondiwa who resides in Bulawayo was spotted by an alert invigilator who fished her out of the examination room after recognising her from previous years.
She has since been arrested for academic fraud.
It has emerged that it was not her first time being involved in the same scam. It was however, not established whom she was writing the examination for.
Sources at the school said Nyamukondiwa confessed that in the past she connived with the former school head to write the Mathematics examination for other candidates for a fee.
"She was spotted by an alert female invigilator who got suspicious after recognising her face from previous sittings. The invigilator informed her colleagues leading to Nyamukondiwa being fished out of the examination room," said a source.
The source said school authorities quickly called the police who interrogated her and she confessed that she is paid $100 for writing a public examinations paper for someone.
"She said it was her third time writing an examination for someone. At one point she obtained a B symbol for her client and last year she obtained a D symbol for her other client," the source said.
Zimsec spokesperson Ms Nicky Dlamini said the authority has been notified about the incident and investigations were in progress.
"I can confirm that we have received a report pertaining to that issue. Investigations are still in progress so I cannot say much about the issue at the moment," said Ms Dlamini.
She warned members of the public to desist from attempting to cheat by writing examinations on behalf of other people.
Ms Dlamini said those found cheating while writing examinations are banned from sitting for any public examination for two years and will also have a criminal record.
She said what this means is that the culprit will have to go back to the classroom because the new curriculum demands continuous assessment.
"We also implore candidates not to be duped into buying fake examination papers being sold on the streets," said Ms Dlamini. The Chronicle