By Clemence Machadu
The documentary convinced me to conclude that Redcliff, home to about 40 000 people, is now a ghost town. The more than 3 500 workers who used to earn regular incomes from the steel giant have been left without decent alternative sources of income following the closure.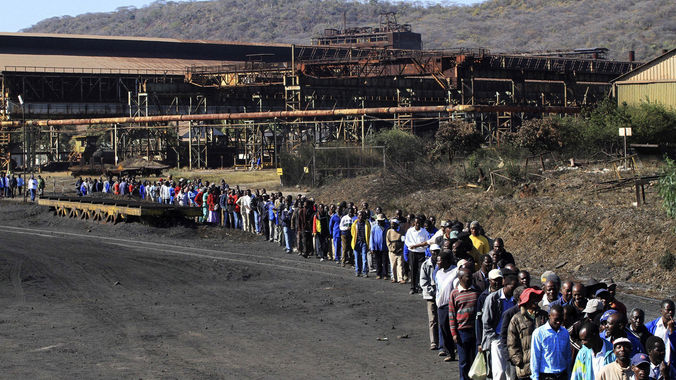 And that has killed local business, as even some hotels and shops in the town are now white elephants. Some folks have now resorted to digging coal, which they sell for US$1 for a 50kg sack. And digging for a 50kg sack in one day is not child's play.
Many folks in Redcliff are no longer able to send their children to school and some have resorted to what they call "kujusa", whereby they only send children to school for a few days in a month and pay fees for those specific days.
Some desperate residents have resorted to crime to eke a living out of the difficult situation; while prostitution and drug abuse are also on the rise.
This is not to demonise Redcliff folks, but just an attempt to humanise the situation in the context of the closure of Zisco. The steel giant was the driver of economic activities in Redcliff and also occupied a strategic place in the grand scheme of things.
It was the major driver of the entire metals sector with 80 percent of companies in that sector relying on raw materials from Zisco. The metals sector also provides strong backward and forward linkages to mining, construction, agriculture, manufacturing and transport.
Sadly, Zimbabwe now imports steel, adding to the huge import bill, unsustainable trade deficit and cash shortages. Importation of flat rolled steel, for instance, rose from US$12,9 million in 2012 to US$31,8 million in 2014.
The money that was supposed to be paid to Zisco workers in Redcliff is now paying steel workers in South Africa, China, India and the United Arab Emirates.
We are left to wonder whether Zisco is still a sleeping giant or a dead giant! Can somebody poke it and see if there is still life somewhere in it?
Finance and Economic Development Minister Patrick Chinamasa was in the news last week saying Government may be compelled to use budgetary allocations to revitalise Ziscosteel, due to lack of foreign investors.
Said Minister Chinamasa: "I have tasked the Industry Ministry to tell us the basics and costing required to get Ziscosteel back on-stream so that Treasury can squeeze something towards this."
This is on top of moves to assume Zisco's entire debt of circa US$400 million, supposedly to make it lucrative to investors. Folks, while the revival of Zisco is pertinent, I think it is inconceivable for Government to use the already deficit-ridden National Budget to bankroll it. In the Mid-Term Budget Statement, Minister Chinamasa showed how the country was likely to face a budget deficit of close to a billion.
The National Budget, averaging US$4 billion, is a wrong instrument for reviving Zisco given the huge requirements of the steel giant. Remember, the company's debt is accumulating as we speak, through interest and other expenses and by the time Government intervenes, the debt would have assumed new scary figures.
A sustainable way to revive Zisco using domestic resources is through leveraging on some of our vast gold reserves to raise adequate money to cover the steel-maker's entire requirements.
You may recall that when a potential investor, Essar, signed an agreement to take over Zisco some eight years back, the debt was just US$72 million. And when we say it's now at US$400 million, when was our last count?
Essar was committing US$750 million then, but the steel giant now obviously requires over a billion bucks. And if Government is to get an appropriate investor today, will it be able to process the deal to ensure the new company starts operating in, say, six months?
It took more than half-a-decade for Essar, until one day the company decided to pull out. It seemed as if we were not ready, just like Industry Minister Mike Bimha said then: "The investor had to take a break and said when you are ready, we will come back … There are a few investors who will come back after taking a break."
So, yes we might invite new bidders to come and takeover Zisco; offering them more incentives, but if we are going to take another five years to process the deal, just like we did with Essar, then we might as well write the epitaph of Zisco, much to the continued suffering of not only the people of Redcliff but the entire economy.
But it should be noted that the last time we were not ready, things were still very ideal compared to today. Currently it is difficult to sell Zisco given the low prices of steel on global markets.
When commodities are low, the few investors that may be interested will demand more from us than we can give as they try to ensure they don't lose out.
In May 2016, Tata Steel was actually considering abandoning its Port Talbot steelworks in Britain, arguing that the operation was losing more than US$1,45 million a day due to low prices on global markets.
Folks, when Essar committed to Zisco in 2008, it was the very year when steel prices reached an all-time high of US$1 265. And as we now try to sell Zisco again in 2016, it is the same year when steel prices hit a record low of US$90 in March of this year. It shows us that we somehow missed an opportunity to fully maximise on high steel prices.
The demand for steel on global markets marginally gained by 0,2 percent this year and is projected to relatively grow by just 0,5 percent in 2017.
Over the past few years, prices have been kept low by too much steel supply and less demand. Global steel production doubled between 2000 and 2014 from 800 million tonnes to 1,6 billion tonnes and demand has not been as forthcoming.
China has been the driving force of production, accounting for half of the global market and producing steel competitively, especially through the massive subsidies that Chinese steel companies get from their government.
It is estimated that oversupply will remain over the next decade as China leverages on the sector to create jobs for its massive population.
As we seek to revive Zisco and the metals sector in the country, we should be also alive to these global realities and come up with strategies that will ensure that we will stay in the game when the switch is finally turned on to propel the turbines at Zisco.
The company's competitiveness has to be benchmarked to international levels, otherwise the produced steel will have no takers both locally and abroad. The new Draft Industrial Policy pledges to make value chains a priority.
It says that value chain promotion will be a useful tool for the revival of the iron and steel industry which is still reeling from the collapse of Zisco. The current policy was targeting to foster more value addition in the steel industry, by advancing production from simple long products to ultimately special steels. More strategies will be required to wake up, if not resurrect, Zisco from whatever state it is in right now.
Zimbabwe has one of the largest reserves of iron ore in the world and that alone is enough to claim a bigger slice of the global steel industry. The question really is, are we now ready? For now, I ride back to the country.
Later folks!