When a farm girl was crowned Miss Malaika
By Godwin Muzari : Memory Lane
A day before the Miss Malaika final at Sun City Hotel, we went for our prejudging ceremony. I was the last contestant on the session list and I was nervous. I did not know how the other models had fared, but I knew impressing judges that had already assessed 27 other models would not be an easy task.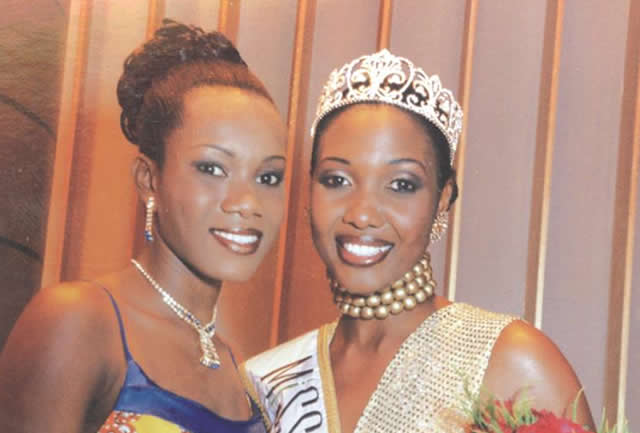 "As I made my way from the waiting room, I met the late SA singer Brenda Fassie and she suddenly exclaimed: 'You look great. You are my winner!' She was coming from rehearsals for a performance at the final and she looked lively. Her comment gave me hope. I said a short prayer and entered the prejudging room holding my breath."
This was the beginning of former Miss Malaika, Brita Masalethulini's account on Wednesday as she revisited events surrounding her best achievement in a colourful modelling career.
Brita did the country proud in 2001 when she scooped the crown at the Miss Malaika pageant held in South Africa, beating 27 other aspirants from across the continent.
Because the prejudging segment contributed 75 percent marks to the whole pageant, Brita had every reason to be nervous because she knew the bigger part of the job had to be done in this session.
"I was happy to note I had impressed the judges in the session. The first step had been taken successfully and we all anxiously awaited the final moment. That night everyone was tense no matter how we all tried doing little fun things to lighten the situation.
"The following morning was hectic as we prepared for the defining moment and hours leaped ahead with each contestant doing her best to look impressive. "When the hour finally came, it was time to employ every trick in the book before a huge crowd and the judges."
Brita says she felt relieved to make it to the top 10 and knew she had achieved something and sailed beyond the level of utter disappointment. Then she was called in the top five. Finally she was in top three. "Again this was a moment of excitement and anxiety. I had been relieved with being in top 10 and now I was among the three winners. My heart was pounding as I saw the distant dream of clinching the crown slowly drawing closer.
"The situation became almost unbearable when they made us stand at the ramp for about 30 minutes as they made their speeches. At this moment I really wanted to win. It was too close to allow feelings of doubt to creep in. I prayed to make it. I knew the other two contestants from South Africa and Ghana were making the same prayer.
"They announced the second princess and South Africa was gone. It was now Zimbabwe facing Ghana. This would be the last stroke. Then they announced Ghana as the second princess and something in me burst out. There was confusion all over as photographers pressed closer. I could not believe I had just been voted Miss Malaika. My mind went blank.
"We had been instructed that the winner should move to the left side of the ramp just after being announced, but for a moment I stood there puzzled, not sure which side was my right and which one was my left. It was a moment of emotional bewilderment."
So, Brenda Fassie's 'prophecy' had come true and Brita lifted the Zimbabwean flag high.
That was the greatest moment of the Brita's career and that was the last time she walked on the ramp. She felt she had achieved her highest goal.
For a model who had been previously crowned Miss Zimbabwe, but failed to make any mark at Miss World just two years before, Brita felt it was time to bask in her international glory and plan a life outside modelling.
Up to this day, despite many other crowns that she won, Brita's name is still synonymous with the Miss Malaika achievement. Besides Miss Zimbabwe (1999) and Miss Malaika, other crowns that Brita won are Miss Harare Polytechnic, Miss Harare, Miss Lucky 7 Zimbabwe, Second Princess –Top Model Zimbabwe and First Princess –Miss Lucky 7 International (in Swaziland).
Ironically, Brita's professional modelling career only lasted three years with all the other achievements besides Miss Malaika coming in the same year in 1999. She says most of the achievements came because of hard work that she learnt when she was growing up at Crowborough and Ingwe farms on the outskirts of Harare.
Her father was an agriculture marketing manager with the Harare City Council and the whole family lived at the farm. By the time she won Miss Malaika, Brita was still staying with her family at Ingwe Farm.
Although she attended good schools like Oriel Girls High, Queen Elizabeth and Vainona, Brita says her friends used to laugh at her because of her background and she became known as 'musikana wekumapurazi' because most of her peers lived in plush Harare suburbs. She said her friends would make fun of how she cycled or walked about seven kilometres from Ingwe farm to catch a Zupco bus in Mufakose or Glen View on her way to school.
But the former model says the background strengthened and hardened her.
"My father had a senior managerial position but he did not want us to feel comfortable. He taught us to be hard workers. I learnt basic manual agricultural skills when I was still young. We could plant, weed and harvest maize when we were still young. We are four girls in the family and we shared chores.
"We did the dirty work of cleaning chicken runs and taking cattle to the dip tank. I know most of the activities involved in farming and I am actually planning to get into full-time agriculture soon.
"I learnt to drive a tractor when I was still 12 and I also learnt to drive a car at that age. My father said I had to know such things in case there was an emergency and I was alone at home.
"I used to hate going to harvest maize but I had no option. Besides having gumboots and overalls on, I would come out of that field with my body itching. We used to harvest green mealies for sell in nearby areas like Mufakose, Budiriro and Glen View.
"We loaded the mealies into a pick-up truck and went around the streets selling. Ghetto boys laughed at us and that is why I was not moved when I was called 'musikana wekumapurazi' at school. That was my background and I had to be real about it.
"The hard work taught me to be athletic and that is why I won medals in swimming and running. I was more active than my schoolmates because I was more of a rural girl attending school in the city. Most people encouraged me to take modelling because of my body and looks and I began participating in pageants at school"
After high school Brita enrolled for a diploma in graphic design at Harare Polytechnic, but dropped the studies after winning a pageant at the college and modelling promised to be lucrative.
When her journey took her the Miss Malaika crown that saw her extensively touring the continent, Europe and the United States, Brita quit modelling to become a businesswoman.
She has run businesses in interior decoration, protective clothing and property. She is now focusing on water cleaning products and is preparing to venture into her father's field, farming.
In her leisure time Brita does visual art that she learnt at school and majors in abstract painting. She hopes to do an exhibition with her young sister who is a talented painter.
Her involvement in pageantry is now limited to grooming and consultancy. She has sat on the judges' panels for several Miss Zimbabwe editions, Miss Carnival and other small pageants. The Herald