TB Joshua will be 'brought to book'
By Valeska Abreu
The remains of the 11 South Africans killed in the Nigerian Church collapse have been repatriated. The bodies arrived back in South African yesterday just after 1am in the morning at the Waterkloof Airforce Base in Pretoria.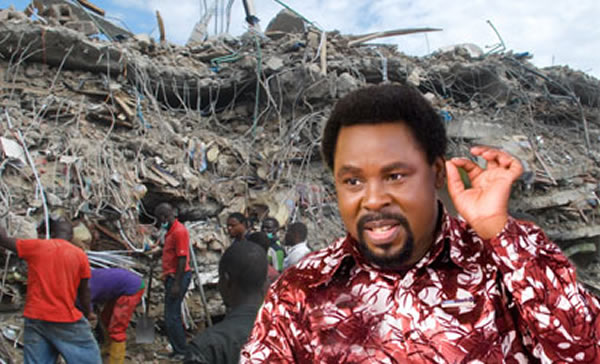 Minister in the Presidency Jeff Radebe, minister of Social Development Bathabile Dlamini, minister of health Aaron Motsoaledi, and acting High Commissioner of Nigeria Martins Cobham were among those who received the bodies.
More than 100 people were killed in September last year in Lagos when a section of the guesthouse at TB Joshua's Synagogue Church of All Nations collapsed. Two months after the tragedy, 74 bodies were repatriated.
At the time government said there were experiencing hiccups with identifying the remaining 11 compatriots. Radebe said that fresh DNA samples taken in December assisted with identifying the remaining victims.
"It's been a long wait but our mission has now been accomplished. We will assist as far as we can with the burial process. We can now finally close this chapter and the families can start their healing process."
The victims were from Mpumulanga, Gauteng and the Eastern Cape. Their remains will be handed over to their families at respective mortuaries in those provinces.
At the same time the Nigerian government has vowed that Joshua will be brought before a court to answer questions relating to the tragedy.
"He will be brought to book. He will give his state to before a court I can assure you of that," Cobham said. The Citizen (SA)