By Lance Guma
[twitter-follow username="lanceguma" scheme="dark"]
Legendary singer Oliver Mtukudzi with 60 albums under his belt has been voted the greatest Zimbabwean musician of all time by an online poll of Nehanda Radio listeners and readers of the website.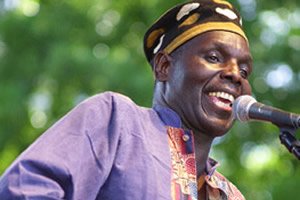 Tuku as he is affectionately known pipped Leonard Dembo to the title by an 8 percent margin. Interestingly in our last poll Dembo's song Chitekete was voted the greatest ever Zimbabwean song by our listeners and readers.
Out of 2578 people who voted, Mtukudzi received 875 votes (34%) while Dembo had 674 votes or 26 percent of the vote. In third place was Chimurenga music guru, Thomas Mapfumo who garnered 367 votes or 14 percent.
Alick Macheso a late bloomer on the music scene made a good case for himself by getting a creditable fourth place with 188 votes (7%). He just narrowly beat the late Simon Chimbetu who had 118 votes (5%).
Lovemore Majaivana came 6th with 103 votes (4%) despite retiring from the music industry. He is now based in the United States and has shunned various spirited calls for him to make a much sort after comeback.
The late James Chimombe 7th with 99 votes (4%) was neck and neck with the late Paul Matavire who came 8th with 80 votes (3%). The Bhundu Boys who took the world by storm in eighties came 9th with 47 votes (2%). Andy Brown who passed away in March last year, came 10th in the poll with 27 votes (1%).
Many readers and listeners complained about what they felt was our 'unfair' omission of Leonard Zhakata in the top 10 lined up for the online vote.
| | | | |
| --- | --- | --- | --- |
| 1 | Oliver Mtukudzi | 875 | 34% |
| 2 | Leonard Dembo | 674 | 26% |
| 3 | Thomas Mapfumo | 367 | 14% |
| 4 | Alick Macheso | 188 | 7% |
| 5 | Simon Chimbetu | 118 | 5% |
| 6 | Lovemore Majaivana | 103 | 4% |
| 7 | James Chimombe | 99 | 4% |
| 8 | Paul Matavire | 80 | 3% |
| 9 | Bhundu Boys | 47 | 2% |
| 10 | Andy Brown | 27 | 1% |
| | | 2578 | |
[twitter-follow username="nehandaradio" scheme="dark"]