By Staff Reporter
HARARE – Controversial former UK Big Brother star and deported asylum seeker Makosi Musambasi has slammed her critics as cowards as she defended her open 'newly found' support for President Robert Mugabe.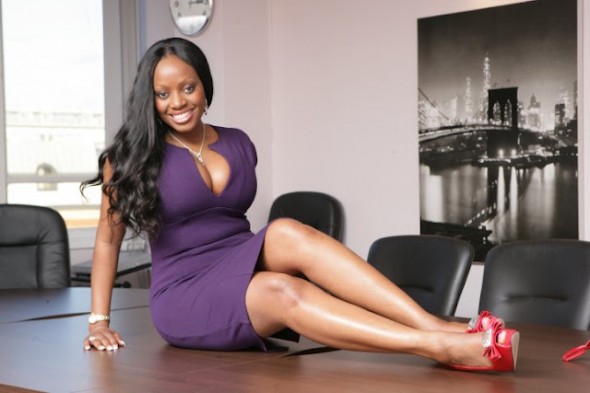 The remarks come a few days after she openly wept for her uncle, Okay Machisa, the director of the Zimbabwe Human Rights Association (ZimRights) who was only freed on bail last week after being detained by Mugabe's regime since January 14 over an alleged conspiracy to commit vote fraud.
Makosi went back to Zimbabwe, seven years after winning an asylum claim to stay in Britain. Facing deportation after her working visa had been curtailed because she left her job as a cardiac nurse to appear on the UK Channel 4 reality show, she made an asylum application which was at first rejected.
It was only on appeal that an asylum tribunal ruled she could face violent confrontation if she returns to Zimbabwe, following her lewd behaviour on Big Brother.  There were no such worries as she flew back into Zimbabwe last year. She is desperately trying to land a TV job with the Zanu PF controlled ZTV.
Makosi, now back in Zimbabwe, said she would like to meet Mugabe one day, claiming: "Who doesn't? Even Barack Obama wants to meet Robert Mugabe. There are a lot of cowards among us. A lot of people want to sit on the fence, nobody wants to be identified with where they actually belong," she said.
Makosi caused outrage after posting a picture of herself under a Gushungo Clothing umbrella. The label apparently has Mugabe's seal of approval and was launched two years ago. It now produces a range of products from T-Shirts, overalls, caps to umbrellas which all bear the dictators face and images.
"People say one thing in public, another in private. Zimbabwe is the hardest environment to live in because if you come out with who you are, you are stoned for it. At the end of the day it's my umbrella [Mugabe] is who I want to see on my umbrella. I put who I want," the controversial former nurse said.
Makosi denied she had joined the Zanu PF Women's League. "This stuff about Women's League, I don't know what happens in the Women's League," she said. Makosi also said she intends to register as a voter ahead of general elections set to be held within the next three months.
"I have never voted. I'm a ballot virgin. I hope to vote this year. I imagine a lot of youths who have never voted will also be doing the same. If we continue to approach politics as this fierce animal not to be spoken of, then not a lot of people will go out and vote, so people should put on their umbrellas and be proud to say where they belong," she said.
Asked about her hypocrisy in claiming asylum in the UK, Makosi who was deported after trying to use a fake passport from her trip to Nigeria while entering the UK, had this to say:
"You read a lot of rubbish that I ever said anything bad about Mugabe. I only spoke about this intolerant group of people who cry human rights but would not recognise them even if they hit them square in the face," she said.
Only last week Makosi came face to face with the repressive regime that Mugabe and Zanu PF are running. This is how she described the ordeal she and her family faced over the Machisa incarceration.
"Life has felt like an emotional tsunami in this last week as I went to remand prison to visit my uncle Okay Machisa who had been there for about two weeks. He is the last born in my father's family and seeing my dad cry over his situation was the hardest thing I've ever gone through.
"Who wouldn't cry when you see your brother or uncle in leg irons every single day complaining about lice and mosquitoes on every visit where you don't get to touch him, he stands across the fence about a metre away where he will be with the other prisoners seeing their relatives," she wrote.