Promoter's statement on Chimbetu UK tour
PRESS STATEMENT 2 ON SULUMANI CHIMBETU 'NON-STOP TOUR UK'
ISSUED: 26 April, 2011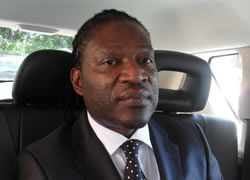 The promoters of the Sulumani Chimbetu 'Non Stop Tour UK' and Official Independence Party and his UK Management wish to advise all fans of Sulumani in the United Kingdom that after an agreement with the artist, and the bad publicity following the London Show, they made a decision last night to reschedule the rest of the shows. 
Sulumani and the Orchestra Dendera Kings left last night aboard an Ethiopian Airlines flight and will arrive in Zimbabwe at 2pm local time in Harare. This was after a meeting of all the three parties. 
We wish to clarify that the media reports suggesting that "Chimbetu (is) set to quit UK 'hell' " are unfounded and malicious. They are meant to tarnish the image of the promoters, the UK management of Sulumani Chimbetu and Sulumani himself. 
Rollers Family was not involved in the decision to cancel the rest of the shows. (see Rollers Family counter claim)
The London show failed to take off for reasons beyond our control and the low key gig at Ambassador Bar was not a replacement for the cancelled London show. The Ambassador Bar performance was subcontract between the promoters, Rollers Family and DJ King Alfred.
Rollers Family sold tickets for the Ambassador performance at the "Meet and Greet" session on Sunday afternoon. The tickets were paid for by Dairai Promotions and given to Rollers Family. They are yet to give us an audit of the sales they made and the money raised from those tickets.
The tickets were given to UK based DJ King Alfred and Davison Chimenya of Rollers Family, but no money was received from them, or paid to Sulumani. We are awaiting the return of ticket stubs and also urge everyone who bought tickets from them to get their refunds as soon as possible.
Their report that "Sulu is safe and sound" was based on their desire to boost their image and popularity. The Sulumani "Meet and Greet" session attracted more numbers at Rollers than the 200 or so they had the previous Sunday.
We wish to point out that "Cde Simon Chimanya", who is posting messages on Facebook about the Non-Stop Tour, is understood to be in Zimbabwe and has never been involved in negotiating contracts involving Sulumani Chimbetu. 
Finally, we wish to inform the public that, contrary to media reports, the artists used the tickets bought by the promoters to return to Zimbabwe. Minister of Information and Publicity, Mr Webster Shamu, was never involved in this tour, as reported by New Zimbabwe. 
Dragon Inc. / Dairai Promotions
07556 436 042 
Negos Entertainment (UK)
07412 078 714