PICTURES: US$100 million luxury apartments named after Mnangagwa
President Emmerson Mnangagwa on Monday broke ground at the US$100 million Millennium Park development in Borrowdale West signaling the construction of the premium luxury 86-unit block of apartments named ED Block during a well-attended housing delivery ceremony.
The block has a limited offer of ultra-luxury penthouses, an offering that separates the development from any other in Harare.
A total of 1000 apartments are under construction with 200 already complete. A shopping mall, office blocks and other social amenities will be constructed to complete the live, work, shop and play theme that WestProp is championing under the 'Bring Dubai to Zimbabwe" mantra.
He was handed a befitting token of a gold-plated ceremonial brick numbered 1,464,018. The brick represents the first brick that would be laid on block 4.
WestProp Chief executive officer Mr Ken Sharpe gave a brief analogy and road map for the development adding that his company has a vision of laying one billion bricks by 2050.
"Today marks a very important day in our milestone achievements. We are breaking ground for the construction of Millennium Heights Block 4 luxury apartments and we continue to move towards achieving our 0ne billion brick vision by 2050," he said.
The vision was developed during his three year stint at Harvard University in the United States of America.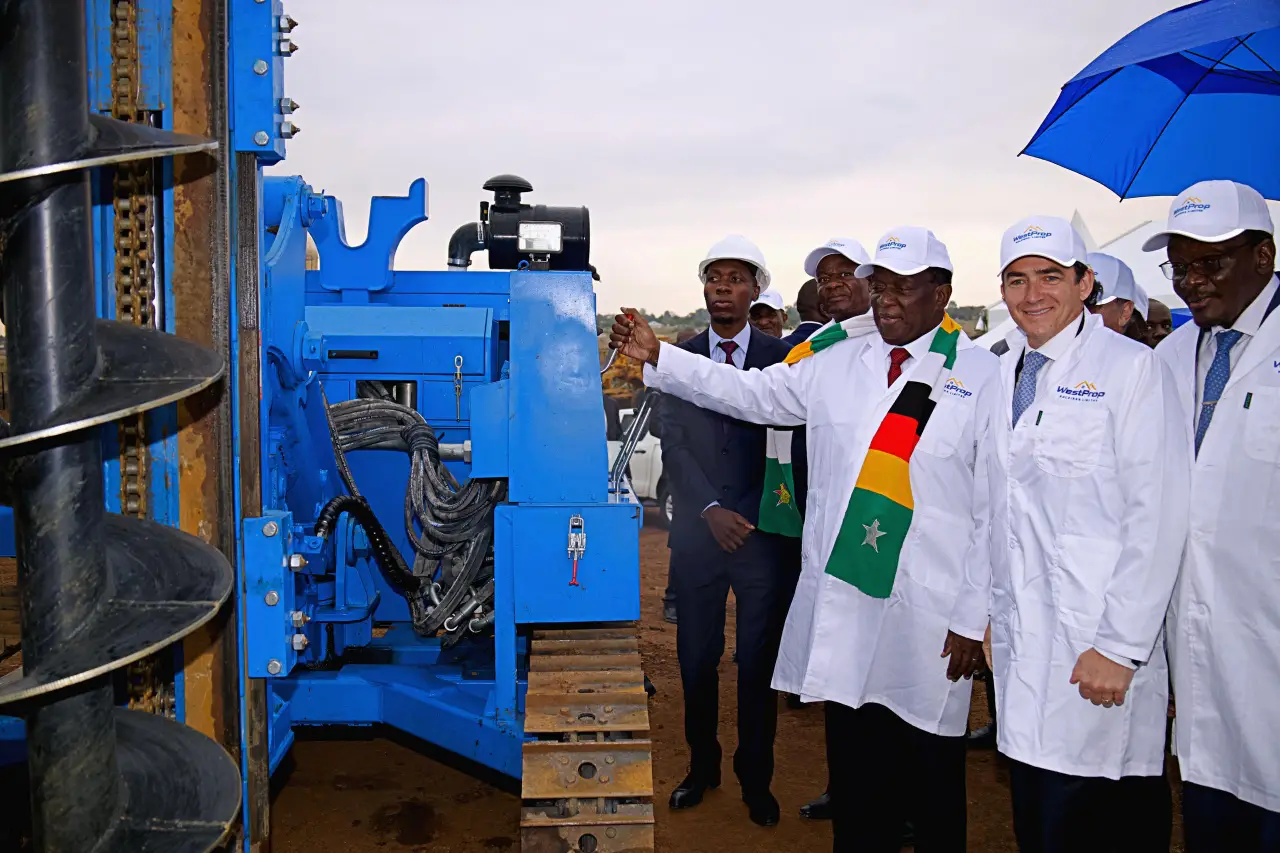 To date the company has laid 5,199,711 brick at all of its developments – Pomona City, Millennium Heights and Pokugara representing six percent of the total number of earmarked bricks.
Mr Sharpe described President Mnangagwa as "a listening President and allowing businesses and investors to feel secure about the continued use of the multi-currency regime.
" The extension to 2030 has given us confidence and a renewed resolve to commit more resources to help develop Zimbabwe. If I may say so Mr President, this will secure your legacy to make Zimbabwe an upper middle-income country. Sevana veZimbabwe tichavaka nyika kusvika zvanaka."
Mr Sharpe said his company was bringing various global architectural designs to Zimbabwe as a way of making the country's urban landscape competitive.
"My ambition as a loyal Zimbabwean is to bring the beauty we see elsewhere back home. The dream is to see Harare's skyline compete with what we see in places like Dubai, London and Singapore.
"Last month I was in Kyiv Ukraine and was quite amazed at the number of new world-class skyscrapers that are being built, and if a country that is at war with Russia can do it then why can't we?".
He said WestProp is working to make "our precincts 24-hour cities where life reverberates around the clock".
The new block which ranks as the best apartment building to date in Zimbabwe is almost 50 percent sold out before the first brick has been laid.
It has six levels comprising 86 units on cascading floors. The units are composed of studio apartments to 3-bedroom apartment units.
The apartments have sectional title, reticulated back-up borehole water, central and reticulated liquefied petroleum gas, solar energy and grey water collection.
One of the key features of our blocks is the existence of abundant openings and a skylight, allowing natural light to penetrate, thus diminishing the need for artificial illumination. This design feature not only accentuates sustainability but also contributes to a healthier living environment.
A distinctive feature of Blocks 3 and 4 is the incorporation of vertical gardens. These living installations not only beautify the architecture but also foster a connection with nature, enriching the lives of our residents.
There is emphasis on sustainability that transcends aesthetics. The buildings are designed to encourage the use of stairs over mechanical elevators, thanks to thoughtful layout and design.
Additional features of this community include sports facilities for tennis, swimming, running, and walking tracks, green energy, reticulated gas and borehole water.