Promoters Y2K explain challenges that led to Makhadzi rant at Winky D
• Promoting Zimbabwean Music in the diaspora for 23 years • Featured Thomas Mapfumo and Oliver Mtukudzi in their first shows • Gave Jah Prayzah and Winky D their first major breaks internationally • Truck carrying stage involved in Major Accident that blocked Motorway • Replacement Stage setup at 1pm after advertised time • Powercuts disturb delayed sound check
South African musician Makhadzi vented her frustrations on social media after she and Jah Prayzah received reduced slots of a combined 40 minutes at the recent Africa Music festival organized by Y2K entertainment. Many felt she crossed the line by attacking Winky D whom she blamed for eating up her own time.
On stage Jah Prayzah himself complained about the reduced time he was given saying (according to www.newzimbabwe.com):
"It pains me all the time because when we come here, we would have planned a show befitting the sacrifices you have made to come here from faraway places.
"I know you have travelled far, some of you flew in and booked accommodation in order to attend this show and so I should not be performing or just 30 minutes and this happens year in, year out."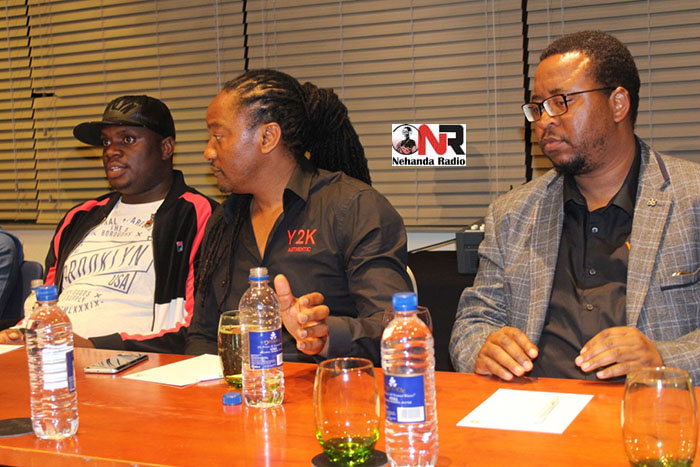 It was almost impossible to add more fuel to the now ragging fire. However, my personal history with Fred Matenga, who started Y2K, meant I had to dig deeper by reaching out to him.
After all I remember reading in 2000, a scathing press attack on Matenga by Thomas Mapfumo at the peak of his powers. This was out of character for Matenga, the bespectacled bookworm, who played soccer in High school and distinguished himself at Rakodzi High School.
We sat on the same desk in primary school and his parents were known to be very strict and orderly, just a few houses away from ours.
From those ambitious but humble beginnings in 2000, Y2K has grown. Readers may perhaps remember the proclaimed computers crash as most computers were said to be incompatible with the approaching January 1, 2000 date.
Many computer programmers made money making computers Y2K compliant (Year 2000 compliant) from the century of the 1990s before. By naming his own organization Y2K Matenga was welcoming the next 100 years with gusto, challenges and all.
Time proved Y2K's vision right. It was realized, over the next 2 decades as Y2K strengthened their partnership, especially with Oliver Mtukudzi, (the breakaway Zimbabwean artist from 1998).
He worked with Thomas Mapfumo (until 2000 then the most dominant force of the late 1990s), first, then Sulumani Chimbetu, Alick Macheso, Selmor Mtukudzi and her husband Tendai Manatsa, among others.
He later on took a risk on unknown artists like Jah Prayzah and Winky D, Mambo Dhuterere, and Tocky Vibes when he brought them to the UK for the first time. I reached out to him for his own side of the story and an explanation beyond the press statement.
The recent event was attended by over 7500 paying fans. It was well advertised on BBC by Shingai Shoniwa (on her own initiative) and Makhadzi (at the request of the promoters). Matenga appreciated this mileage very much.
Oliver Mtukudzi was very eager to use the media wherever he went to promote his own events and his music. It helped him reach out to new audiences and to grow his brand in the World music category.
It also helped that Tuku himself was articulate on most subjects. However, many of the invited Zimbabwean artists gave excuses to escape BBC interviews. By doing so they could be missing out on an opportunity to reach out to wider audiences with both their shows and their music.
This is not to say other artists did not contribute. Matenga appreciates their efforts in pushing the event and filling up stadiums which is a win-win for artist and promoters.
He explains that Nigerian Artists like Burna Boy boost their own shows and take pride in filled up seats at their shows. When artists do this Matenga explained that we pay them a bonus or even double.
Nigerians have the benefit of larger numbers. He feels Zimbabwean artists can improve on their media and social media engagement. "Zimbabweans are lagging behind and Nigerians end up getting our own audience because of their social media engagement," Matenga said.
Was Matenga angry at the complaints? He accepted the blame for what happened although he felt Makhadzi should not have attacked Winky D, as a fellow artist.
In short, he took the mishaps in his stride and learned his lessons. He fondly remembers successful shows with Mtukudzi, Jah Prayzah, Winky D and others including the 2017 SAMA festivals that was so over-subscribed they ended up paying back some fans as they cancelled their tickets.
But what exactly happened in Leicester?
"The truck carrying the stage from London had an accident on the M1 (a major highway in England). It blocked the motor way. We had to hire and mount another one from Leeds in the opposite direction.
"We worked over time to mount the stage and do sound check. We had to postpone soundcheck for 7 bands to the next day. On the day of the show soundcheck was delayed because a cable kept tripping the electricity and it ate into our time after 1pm because of the rains."
"The show had been due to start at midday and was an outdoor event. Rain in England is not exactly a headline. Adjustments were made to the schedule.
How does Y2K feel about what happened? They took responsibility and apologized realizing sentiment was strong from some customers.
"We apologise for the issues raised above. However, we are looking forward to a better event next year embracing other African nations from South, East and West to give the feel for Africa Music Festival UK and once again we would like to thank all those who have supported us over the years."
But what are the chances Jah Prayzah would want to work with Y2K again? Or are relations too strained for this to happen?
"Jah Prayzah and Winky are loyal to us because we pay them on time and we have grown our brands together. We messed up. We had offered Jah Prayzah 90 minutes. Jah had a right to complain. Makhadzi had a right to complain but attacking another artist was wrong."
Matenga assured fans: "We are good with Jah Prayzah and we have been through a lot together. We are family and we give each other constructive criticism regularly.
"We are likely to work together in the future. They know we deliver. Zvinhu izvi vanoziva kuti zvinoitika kuma shows." (setbacks are common at live events).
A source in the Shingai Shoniwa camp (Shingai performed in front of over 80,000 fans in the UK in 2023 at Godiva festival) saidShingai was very impressed with the hard work of Y2K who attracted over 7500 paying fans.
She was aware of the logistical nightmare and very sympathetic after the unforeseen challenges.
To their credit Y2K managed to bring all advertised artists at great expense and to pay everyone as agreed except for one artist with a medical situation who failed to make it. They managed to get everyone to perform.
One source felt it may have been easier to handle problems internally without approaching the media or social media. Makhadzi had a right to bemoan her measly 10 minutes.
The source pointed out however that the likes of Beyonce can be called to perform 1, 2 or 3 songs at a show or at the Grammy awards or simply to just collect an award and make an appearance.
Complaints about Winky D going over time stirred an endless debate on social media with no consensus. The Artist from the picturesque Rukodzi rocks in Murehwa, is known to keep his counsel and not respond to public attacks. Compatriot, Jah Prayzah, also comes from Murehwa.
The Leicester show marked the very first time (since December 31, 2022) Winky D performed some of his outspoken and banned songs from his latest album, in public, without threats, (implied or direct), stoning or authorities politely but firmly confiscating his microphone.
It would be interesting to get a penny for his thoughts. Winky D is not free to perform these songs in his own country.
A source close to Winky D revealed that he broke down in tears, while singing "Dzimba Dzemabwe" with Shingai. Which was strange for an artist not known to forget his own lines or even choke on them. He hid it well but if you know you know.
Winky D gave this performance his all and was really invested in it. All of this was happening as the presidential election results were being announced back home. Would this have been a great moment to listen to anyone else, with all due respect? It's difficult to tell. But the Gaffa read the room very well.
The nuances were too great for local audiences to miss and yet too subtle for a supportive neighbor to overlook. The motivation to want to play is understandable but sometimes artists need to accept their money and keep their counsel.
In the end the situation degenerated into insults and body shaming on social media which was very regrettable all around. The Gaffa himself made a delayed entry. But he was not complaining.
Matenga can fondly remember betting on an unknown Winky D around 2009, to glances of "Winky Who?" But Y2K's argument was "what happens when Mapfumo and Mtukudzi can't come or if they die?"
Another artist Matenga hedged a bet on was an unknown Jah Prayzah, again to glances of "Jah Who?" Things progressed quite well when manager, Mhamha Filo, was managing the promising artist, then attached to Diamond Studios in Harare.
Jah Prayzah then moved on with a young Keen Mushapaidze who had completed his degree. It paid dividends.
Kean innovated further. Matenga points to Mushapaidze and Macheso as examples in helping promoters who seek value:
"Our artists expect us to do all social media work. Artists need to also make noise and use their own influence."
He points to Macheso's social media posts promoting his recent South Africans shows: "Everyone knew where he was going to be. When artists fill up venues it reflects very well on their own brand."
Macheso is doing well. His SA show was packed. He pushes the shows and engages with people.
Y2K's bets on Winky D and Jah Prayzah, back then, paid off. They also bet on Baba Harare back when he had only one song. Today Baba Harare has grown his catalogue.
A promoter's nightmare is investing in artists who get booed off stage. Having close to one million views on songs certainly helps. "I love music," says Matenga, "I listen to good music, even in my own car. But I have to give people what they want."
Working with big hitters has its own challenges. Some have failed to come even when they had been paid and all flights were booked. And sometimes there are disagreements backstage which are soon forgotten when everyone is smiling on the stage.
The trick is to hide such challenges well and cover over misunderstandings. But even the challenging big hitters also have their own good side, which Matenga fondly remembers.
Reflecting on these strides made over the years shows Y2K has lived up to its objectives which include:
• to provide a platform where young talented South African musicians can be promoted and exposed.
• To provide a safe, sound and competitive platform for such young artists to showcase their talent and unlock potential.
They provide scholarships and support various schools including taking Nyasha Mano aka "Rasa Pompy" and Munashe J Tanjani aka "Spiderman" to complete their schooling at the upmarket "Borrowdale Brooke Academy" in 2014 and 2015.
They have also donated books to Mutoko High and Rakodzi high school, Matenga's old school.
Y2K has provided visibility to Corporate sponsors.