By Mukudzei Chingwere
FC Platinum  are the country's worst representatives in the Caf Champions League group stages after finishing this year's campaign winless and with just three points from a possible 18.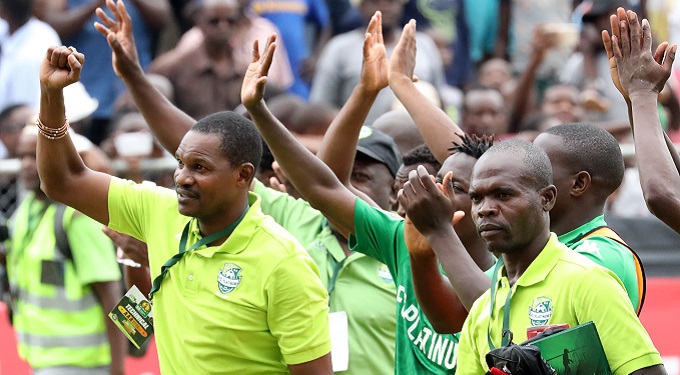 The Zimbabwean champions yesterday failed to beat a severely weakened Esperance at Barbourfields.
That the visitors fielded a junior team never showed with goals from Mohamed Meskini and Edem Rjaibi outweighing a solitary Ali Sadiki strike and delivering maximum points for the Tunisians.
Esperance, the defending champions came into the tie already confirmed as group winners, while FC Platinum were already confirmed log anchors after managing a meager two points from five outings.
Esperance coach Mouine Chaabani did not bother making the trip and his team arrived in Bulawayo with only 15 junior players who ultimately turned to be too good for FC Platinum.
But there are simply no excuses for Pure Platinum Play.
The way they have made a mockery of Zimbabwean football cannot be ignored because Norman Mapeza forcefully argues that his team is on a learning curve and that reaching the group stages is success on its own.
"When we play football I do not think we play to compete with anybody in these competitions, you might have the statistics but our objective was to do well. It was a good experience for us," said Mapeza as he responded to a question that pointed out that his lot have been poor ambassadors.
The North Africans started the match on the front foot and as early as the fourth minute,they had an attempt on goal when Bilel Merjri shot went wide off Petros Mhari's goal.
Eight minutes into the game the visitors deservedly took the lead when Meskini fired home a 40-metre drive and beat an unexpecting Mhari.
In the opening stanza the miners had chances to score but Rahman Kutsanzira's header and Never Tigere's shot were both wide.
After the breather Sadiki equalised but the visitors ensured they had maximum points late on the match when substitute Rjaibi scored.
Teams:
FC Platinum: P Mhari, E Moyo, R Muduviwa, L Mhlanga, W Stima, D Chafa, R Pavari, N Tigere (F Madhanaga 88), R Kutsanzira, A Sadiki, T Chideu (C Sibanda 50)
Esperance: M Cherifia, A Machani, A Mahmoud, A Jebali (I Mbarki 60), B Merji (Z Berrima 74), R Fadee, T Meziani, H Rebai, M Romdhane, M Meskini, J Lokosa (E Rjaibi 81). Sunday Mail.