By Charleen Ndlovu
Former Milton High School students have been urged to give back to their former school so that it reclaims its former glory.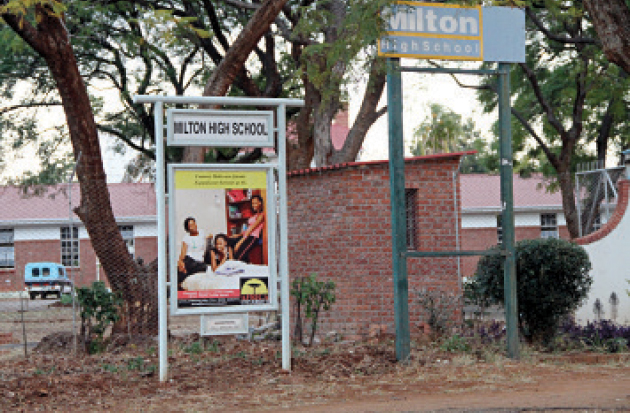 Speaking during a speech and prize giving ceremony at the Bulawayo school yesterday, the headmaster Mr Similo Ncube said:
"Milton High has produced some of the great minds and great people we have today. For example the president of the National Reserve Bank of Israel is an Old Miltonian. If they could all come together and help contribute towards the development of the school we can undoubtedly push Milton boys high to great limits.
"Milton is one of the oldest architectures we have in Zimbabwe and it was once a first class school alongside Prince Edward but now it's a ramshackle and our goal has been to rebrand Milton Boys High and return it to its former glory."
He commended some Old Miltonians who have dedicated themselves to developing their former school.
"The school is in full recognition of those who have aided the school and so we offer our gratitude to all those who have helped us especially one of our former students, Mr Sasha Gomez, the director of the CONSHA Private Limited. He has donated $56 000 towards the sports department.
"Mr Gomez should stand as a leading example to those other boys who passed through our hands today. As our theme reads today we are calling in for participation by all for total achievement, let's not rely on the government to do everything while we sit and fold our hands. Let's be moved by his work," said Mr Ncube.
Speaking at the same event, guest of honour Mr Thulani Moyo who is the director of Terracotta Private Limited encouraged students to choose career paths in their areas of interest and not because everyone else is doing it.
"Aim for careers that will bring you joy because you will probably enjoy the rest of your academic and professional life. I myself I'm a former Milton high school pupil and I'm where I am today because this is where it all began. At one point in time I was a Form One at this school. Today I'm a director of a company which is working on the multi-million dollar Egodini Shopping Mall construction project," said Mr Moyo.
Prominent former pupils at the school include:
Dr Simba Mazonde — a top anaesthetic,
Joe Paradza — director Price Waterhouse South Africa,
Mandla Sibanda — Pan African private equity player,
Alan Nxumalo — pharmacist and Bulawayo businessman,
the late Dr Roy Katso — an academic and bioelectronics medicines specialist,
Percy Silamba — vice president of JP Morgan Chase in the USA,
Noel Samu — vice president JP Morgan Chase,
Jabu Mthethwa — orthopaedic surgeon,
Costa Nhamoinesu — Sparta Prague and Warriors defender,
Dr Matthew Masiyazi — head of Econet Broadband,
Johnson Mahanya — head of Commercial Banking at EcoBank,
Tongai Chitsamatanga — orthopaedic surgeon,
Martin Moyo — general manager PPC Harare factory,
Arnold Payne — Arnold Payne Global Sports International,
Nqaba Mkhwananzi — a partner at Ernst and Young. The Chronicle.