Nduna recounts how he was duped
By Tarisai Machakaire
Zanu PF legislator Dexter Nduna yesterday relived a tragedy that led to the death of two of his children during a court hearing for businessmen Genius Kadungure and Wicknell Chivayo where he testified as a complainant.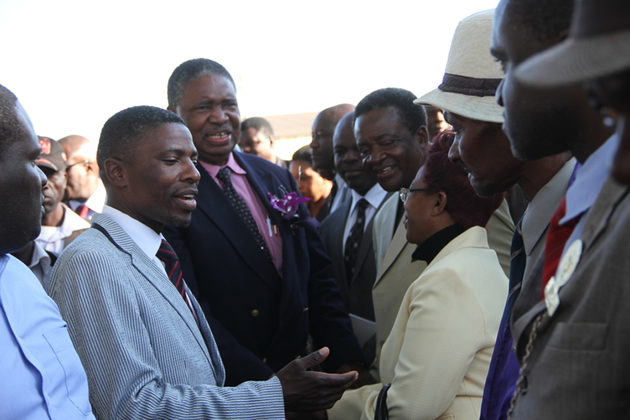 Nduna was reportedly duped R535 000 in a botched mining pumps deal in 2012 but the matter was later reported sometime in 2014 prompting the trial magistrate to question the delay in prosecuting the accused persons.
Kadungure and Chivayo are answering to the fraud charges.
"I had lost two of my children in 2012 and was still in a state of shock. I was in mourning and this struck me like a nightmare. I will be forgiven for not making immediately, that police report.
"I later reported the matter to Serious Frauds and produced a report that would link police to the criminals who had swindled me my money. At that time, I was not aware that the accused persons were involved in the whole scam.
"The banks who had given me the money lost trust in me and my businesses fell."
Nduna said he later learnt that Evon Gatawa a fellow miner from Kadoma who is also a complainant in this case had been duped in similar fashion.
"I later realised that there were striking features in the way that Gatawa and his brother had been duped and my own case. At that time, we decided to take up the matter and I went back and forth to South Africa to see where our money was going.
"I discovered that the R535 000 had been moved to two separate accounts in batches of R240 000 and R275 000. I was later summoned to appear in court in Zimbabwe as a State witness to fraud."
Nduna told the court that was when Kadungure called him to tell him that he had not taken the money but said Chivayo was responsible.
According to State papers, sometime in November 2012, Chivayo connived with Kadungure and created a fictitious company named Transco Civil Engineering (Transco) purportedly based in South Africa and opened an ABSA bank account.
They allegedly opened an email account [email protected] purporting to be Marange Diamond's renting computing space at Hetzner (Pvt) Ltd in South Africa.
Chivayo and Kadungure then contacted the complainant misrepresenting to be chief buyer at Marange Resources looking for mining pumps.
They reportedly gave the complainant an order to supply 10 T-90 Transco-Flo Helical Rotor pumps and referred him to Transco knowing that it was a fictitious company.
The complainant then sent his brother Enock Gatawa and R446 900 was deposited into the ABSA account and a further R300 000 later that day.
After transferring the money, Gatawa contacted Transco and was told to go back to Zimbabwe and wait for delivery of the pumps from DHL in three days.
However, Gatawa got a parcel that had cell-phone chargers instead and realised that they had been swindled.
Kadungure used R500 000 to purchase gas and another R500 000 was transferred into Edward Teka's bank account.
Chivayo and Kadungure converted R1 046 890 to their own use.
The second complainant is Dexter Nduna who was allegedly swindled R535 000 using the same modus operandi. DailyNews