By Michelle Gwizi
A PIRATE taxi driver from Bulawayo was stabbed 11 times and robbed of his car by three men who got involved in an accident a few minutes after the robbery.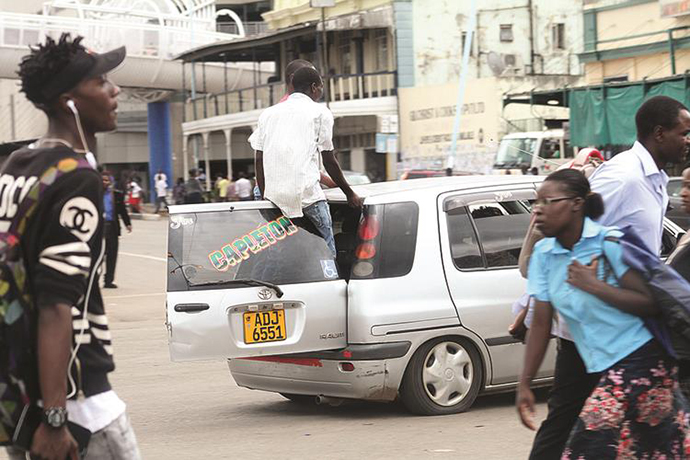 Melody Ncube (23), Brendon Sibanda (23) and Crane Ncube (19) of number 5 Sherd Road, Malindela suburb appeared before Bulawayo magistrate Ms Adelaide Mbeure facing charges of robbery and carjacking.
The three pleaded not guilty to the charges and were remanded in custody to September 25 for provision of a trial date.
Prosecuting, Mr McLean Ndlovu said on September 3 at around 9:45PM, Mr Jefias Sunamisayi (33) was driving his taxi along Hillside road to town with his church mates when he saw the trio who asked to hire his cab.
"The accused persons hired his taxi and asked to be dropped at Million Bar in Burnside for a fare of $6 which they promised to pay upon arrival at their destination," said Mr Ndlovu.
The court heard the trio occupied the back seat.
Mr Ndlovu said after Mr Sunamisayi dropped off his church mates and headed towards the three's destination, Melody grabbed Mr Sunamisayi by the neck forcing him to stop the car.
Melody, according to the prosecutor, then proceeded to the driver's window where he produced a knife and pointed it at Mr Sunamisayi's throat demanding cash and valuables.
"Crane went to the front passenger seat and stabbed Mr Sunamisayi 11 times on his left shoulder using a sharp object while demanding cash," said Mr Ndlovu.
He said when Mr Sunamisayi fled, seeking help from the public, Sibanda took control of the vehicle and drove towards Million Bar but within a short distance plunged into a ditch.
Mr Ndlovu said the trio abandoned the vehicle with its keys in the ignition. He said Mr Sunamisayi got back to the scene and was assisted by a stranger to remove the vehicle from the ditch and drove the car to Hillside Police Station where he reported the matter.
On Thursday, the police acting on a tip off arrested the three. The Chronicle