By Mtandazo Dube
The big bright light that illuminates Harare's skyline is nothing new — Devine Assignments gave us one just like it in downtown Harare, and when Private Lounge opened its doors in the City of Kings and Queens.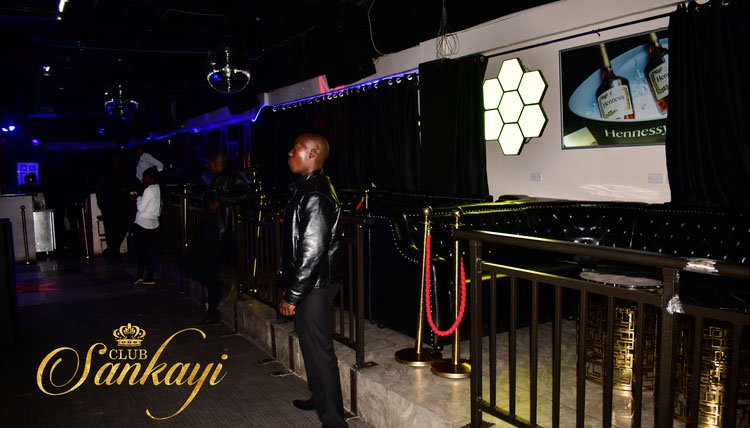 But there is something different about this one. The new sky piercing spotlight leads to G-Entertainment-run Club Sankayi — a celebrities' nest, where the rich and famous spend their loose change, sometimes running into thousands of dollars in a single night.
Once a dark street, dangerous to anyone walking after hours, the part of Kwame Nkrumah where Club Sankayi is nestled is now so well-lit at night, it is hard to believe that just a few months ago street kids and thugs patrolling these spooky alleys would tear apart any well-meaning citizen. After a hastily put together journalists' cocktail party when the place, just over 80 percent complete then, opened on May 24 this year, the whole area has since been transformed.
Of course, the Avenues are popular for marauding ladies of the night. But since thigh vending and lights do not go hand-in-hand, the enterprising ladies have since sunk deeper into the Avenues in search of creepier roads to invade, where they know their weirdo clients feel free to pick and choose.
The Sunday Mail Society recently returned to the now brightly lit, street kids-free avenue to see if Genius "Ginimbi" Kadungure has made good his promise, to bring the big spenders to the southern side of Samora Machel.
On its adverts, Club Sankayi offers bottle services, where clients pay a minimum of US$500 in advance. The money paid covers entry for a group of six, a guarded VIP table and whatever beverages that the money can buy.
To test these claims and others — our team booked a table. Upon arrival at the surprisingly clean, well-lit and organised "car park" in Kwame Nkrumah, between Sixth and Seventh Street, scores of cars were parked outside with people waiting for the 9pm opening time. As we parked, doors opened and a small queue started to form at the entrance. It is the kind of stuff seen only in movies.
A security guard asked if we had booked a table or we were just walk-ins. Once we confirmed we had a booking by way of giving him our "secret code", he quickly used his walkie-talkie to convey a message to someone, whom we later learnt was the chief security officer stationed inside the club. The chief security dispatched an in-house bouncer to fetch us and in no time, we were at the door, where a gorgeous lady confirmed our code and allowed us in.
From the door — a curvy, tall and dark beauty escorted us to our table, where we were handed over to our hostess and waitress for the night. With a bouncer guarding us from intruders, a hostess to pander to our every whim and a waitress who checked on us every five or so minutes — we were home dry. In no time Godfather Templeman, the entertainment and marketing manager of the place was at our table.
"Why didn't you tell me you were coming? I would have organised special treatment," said Templeman to our bewildered faces.
A colleague quietly murmured in my ear, "What could be more special than this?"
Being the marketer he is, Templeman started preaching: "We sell a service here. We have 30 security guards outside and per every three of them there is a walkie-talkie. The dogs you saw with some of the guards are not necessarily for robbers and thieves but for people that sell drugs. We do not want any drugs here and those dogs are trained to catch anyone with drugs."
At the entrance, we had been scanned, just in case we carried firearms or any dangerous weapons. Security inside was as tight as outside except there were plenty of beautiful hostesses inside the club, and energetic waitresses and waiters plus the good vibe.
We were to learn from Templeman that the street lights around the club were the culmination of a deal between Ginimbi and Harare City Council, and that only 60 percent of the lighting had been installed by last week.
As the night wore on — we witnessed the "special treatment" that Templeman had alluded to earlier. At one moment we saw a bevy of beauties that had been relaxed earlier when we walked in, carrying lights that spelled a certain Harare businessman-cum-socialite's name.
They carried with them some champagne bottles. A colleague asked why that had not been done for us. The answer was simple. Among the expensive whiskey, vodka and wine bottles bought by that group — there were two bottles of Armand de Brignac champagne known as Jay Z's Ace of Spades — each valued at US$1200.
Ace of Spades may be no Cristal Champagne but in Zimbabwe it sure is the real deal. No wonder a bevy of beauties called "champagne girls" accompany such expensive beverages to a table.
The DJs also go wild when that happens: "Big up Boss Ginimbi" they would announce on the microphone from time to time, not that we got any big-ups that night, my colleagues and I looked out of place, we were the poorest among those that occupied tables. Images of the big spenders would get beamed on a big screen in the club as well but it is by consent.
"We respect privacy as well. If a client does not want the attention and the champagne girls, we respect that and we can even increase security to ensure that they enjoy the club the way they prefer," said Templeman.
Most top clubs do not allow smoking to keep the environment as fresh as possible and to protect non-smokers. But at Sankayi, the extractors do their work throughout the night, extracting even that coloured fog constantly discharged by the smoke machines.
Winter, what winter? Out of the eight heaters in the club, only two were on and they seemed to do the job as the place was fully packed — nothing beats a human body at producing heat. A friend who arrived much later and was dressed like an Eskimo was "cooked" the whole night as he had thrown his zero degrees temperature-inspired jacket on a pyjama shirt. We had only texted him the code — and he found himself at our table without any hassles either in the car park or at the door.
We left after midnight having used about half of our US$500. Where I come from, US$500 buys enough luxury groceries for a month. We had an option to either get the change or use it at a later date — we chose the former. And as our security guy and Templeman escorted us to our cars, way after midnight, I was glad to finally converse with the entertainment manager without the blurring speakers interrupting.
"Ah Elder, volume itori pa 30 percent ipapa, tikavhura mapombi tinoita zvimwe (the volume is at 30 percent as we speak, if we play it at full blast we might cause chaos)," said Templeman as he bade us farewell, obviously eager to return to the club and continue his charm offensive on his other high-profile clients.
Indeed Sankayi is a playground for the well-heeled. We saw them. Those types that have more cars than some car-rental businesses. For those who follow them on social networks like Instagram, they know that these folks are globetrotters — from South America and the Caribbean Islands, to the Balearic Islands off the coast of Spain, to London, New York or even Hong Kong — their pockets allow them.
They fly first class, and like Ginimbi, the proprietor of Club Sankayi, they deal in excesses. In Zimbabwe, most of these spenders are businesspeople or heirs to some vast empires. The country's athletes, at least those based locally, cannot afford this lifestyle and we know where they hang out. Those who engage in celebrity worship, Club Sankayi is their church, as they get a chance to drink from these characters' eccentricities.
Thanks to a seismic shift in Zimbabwe's politics, which led to better relations with the world, the tourism industry is booming. A low hanging fruit they call it — tourism has been first off the mark. Industry players in the tourism sector say this year, the tourism industry recorded the best first quarter arrivals and hotel occupancy in 20 years.
Hospitality and tourism businesses are expanding, more airlines are landing either at RGM International Airport or at the Victoria Falls International Airport, and they bring tourists. Tourists come to spend – and it is clubs like these and many other big players in the nightlife circuit like Devine Assignments — that help squeeze the all-important foreign exchange out of them. Sunday Mail.