By Tadious Manyepo
Black Rhinos . . . . . ( 1) 1
Highlanders . . . . . .. . 0
Black Rhinos started the second half of the season the way they finished the first as a solitary strike by maturing forward Vincent Mhandu helped the army side seal victory over Highlanders in a catchy Castle Lager Premier Soccer League tie at the National Sports Stadium yesterday.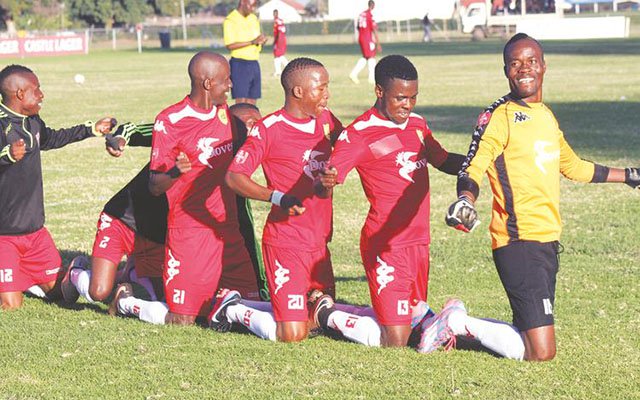 The army team took their points tally to 28 and they have now gone for nine successive games without tasting defeat.
The hosts were firing from all cylinders from the first whistle, with left-back Farai Banda playing the game of his life and following some incessant probing at Bosso's goal, Mhandu who has developed a knack of scoring important goals latched on a rebound to register his name on the score-sheet in the 12th minute.
Though the soldiers continued to ask questions, with Lot Chiunga and Masimba Mambare failing to do justice to pin-point passes they got in the box, Highlanders managed to crawl back into the game, absorbing all the pressure before taking the game to Rhinos especially towards the end of the first stanza.
The Bulawayo giants came back from the break a rejuvenated side and enjoyed the majority of the ball but were muted by the Black Rhinos defence.
Nigel Makumbe had Highlanders' best chance of the afternoon but curled his free kick wide of Ashley Rayners goal two minutes after the break.
Highlanders have now lost three games on the trot after losses to Bulawayo Chiefs and FC Platinum before the season went to the break.
Black Rhinos coach Herbert Maruwa said his charges played well and predicted more exciting times ahead.
"We should keep on winning and hope the other results on our way," said Maruwa We have not lost in nine outings and it's because mentally our boys are getting there. The guys are keeping on working hard but going forward, we need to retain concentration especially when we are leading. We need to defend well like what we did today.
"It was a game of two halves, after scoring in the first 15 minutes, the boys went to sleep and Highlanders were pushing hard but basically I am satisfied with the result.
"We are targeting to finish the season strongly and I am satisfied so far. We just have to remain focused going forward".
Maruwa's counterpart Madinda Ndlovu was naturally disappointed but refused to crucify his players.
"We made a very early defensive error at the back and that cost us. Also coming from the break we are trying to put the boys together so a bit of a challenge but I am glad that the boys came back into the second half of the game," said Ndlovu.
"We controlled almost the entire part of the half and attacked well but still, as I have been talking about in the first half of the season that our finishing is shoddy.
"We need an experienced striker who can bury those chances and give us the results that we want. I think Black Rhinos played well in the first fifteen minutes of this game but as I have said earlier, had we avoided that error, it would have been a different story,"
Teams
Black Rhinos: A Reyners, T Jaravani, F Banda, B Homora, L Chiunga, V Mhandu (A Mbara 80th min) W Taderera (A Gahadzikwa 75th min) S Jimu, M Mambare (E Chigiji 67th min) , W Kapinda, D Mudadi
Highlanders: P Matutu, B Banda, N Sianchali(O Zibande 64th min) , C Siyamalonga, N Makumbe, P Muduwa, M Phiri, B Musaka, A Silla, G Makaruse(G Nyoni 64th min) T Ndlovu
-The Herald