Bishop Mutendi foretold my rise to power: President
By George Maponga
President Mnangagwa over the weekend revealed how founder of the Zion Christian Church (ZCC), the late Bishop Samuel Mutendi, foretold his rise to power during the formative years of the Second Chimurenga in 1964.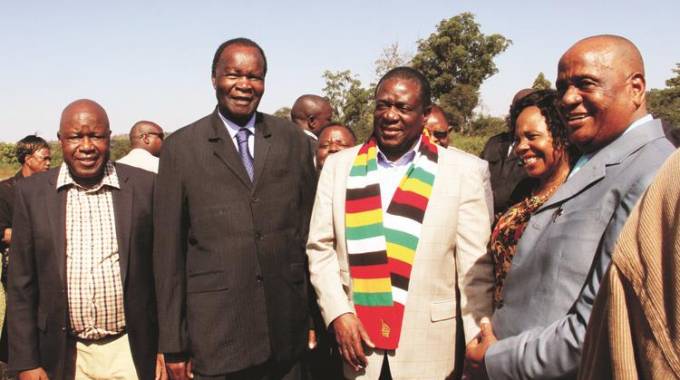 Addressing thousands of people who included members of the ZCC and its current leader, Bishop Nehemiah Mutendi at Mnangagwa Farm in Masvingo during a memorial service for his nephew Garikai Nyathi on Saturday, President Mnangagwa said the late prophet foretold his future at Nyika Growth Point in Bikita, east of Masvingo.
"Let me tell you in 1964, when I still did not understand these things (prophecy) I was with my colleague recruiting young men and women to join the liberation struggle at Nyika, you know Nyika (in Bikita). We were seeing one (Cde) Farirai Masunda. He is the one we were seeing since he was the chairman at the time in the area, unfortunately he died, succumbed to thorough beating (by Rhodesian authorities) because of us,'' said President Mnangagwa.
He said one day they were summoned by the late ZCC founder.
"As we were moving around we saw a large group of people, comprising men and women, who were walking in a field belonging to my late uncle, Bishop Mutendi's father (the late Samuel Mutendi) and would gather at one place in the evening. We went there and my uncle, the late Bishop Mutendi, called me and my colleague.''
"We stood up, and holding his famous stuff in one hand, he said referring to me and my colleague, you are in a race, but in a race there are some who win and others who fail to make it yet all of you will be part of the race, up to now I do not know what he meant. He said to the two of us, between you two, one will win, but another will fail in the race that you are participating,'' said the President.
At the time, the President was on a mission in Masvingo Province as a member of the famed Crocodile Gang, carrying out acts of sabotage against the heinous Rhodesian colonial regime and recruiting guerillas to prepare for the Second Chimurenga.
Mnangagwa survived hanging — on an age technicality — by the Rhodesian regime after his death sentence was commuted to 10 years in jail for bombing a locomotive at Masvingo Railway Station in 1965.
His colleague in the locomotive bombing, Cde Mathew Malowa, was executed.
President Mnangagwa was to skip the border in November last year, to South Africa via Mozambique, when his life appeared to be in danger from G40 cabalists who were reportedly baying for his blood following his dismissal from Government on spurious charges.
He also survived poisoning at a Zanu-PF Youth Interface rally in Gwanda last August.
He triumphantly returned from temporary exile barely three weeks later, culminating in his election as the new Zanu-PF leader and First Secretary, and subsequently the President of Zimbabwe, taking over from Mr Robert Mugabe.
President Mnangagwa said he would have liked to ask the late Bishop Mutendi what he meant had he not died.
"Today he is no longer there, but I wanted to ask him what he exactly meant by saying my colleague and I were in a race. I now know that as a man of God he was talking about what awaited us in the future and what he said was fulfilled and today I am here with you,'' said President Mnangagwa to wild cheers from the crowd.
Turning to the current Bishop Mutendi, President Mnangagwa said he totally agreed with the ZCC Mutendi leader on the need to work for the betterment of lives of ordinary people.
He said he was fully aware that it is God who chooses and anoints earthly leaders.
The late Bishop Mutendi was born in 1880 in Bikita. He died in 1976.
Bishop Mutendi received his divine call in 1913 and was baptised in 1923. He spearheaded the growth of ZCC into one of the biggest indigenous churches in Zimbabwe today.
Bishop Mutendi had healing and prophetic powers and is credited for performing many miracles that are still fondly remembered by his church's followers today. One of his sons, Nehemiah, assumed the reigns of the ZCC Mutendi church upon his passing on in 1976. The Herald