Prominent ZBCtv and Star FM sports reporter Spencer Banda was a social media hit yesterday as pictures of him half naked circulated amid allegations that he was caught red handed bedding a married woman.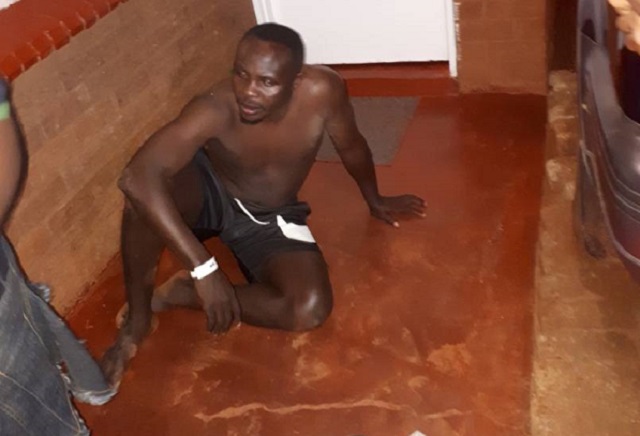 According to the social media reports, Banda was thoroughly beaten by the woman's husband after he allegedly caught him bedding his wife on their matrimonial bed.
The pictures of Banda in shorts, topless and seated on a concrete floor with a seemingly swollen face, flooded WhatsApp groups from the morning and got people talking.
A recording that is reportedly by Banda trying at lengths to explain the situation also started circulating.
In the voice note, Banda, who had attended South African songstress Lira's show at the Harare International Festival of the Arts (Hifa) said he was assaulted on his way home.
He vehemently denied allegations that he was having an affair with a married woman whom he claims supplies socks for his rugby team.
"I left Hifa at around 8:10PM after attending Lira's show. I was intending to drive home to Darwendale when I decided to pass through (Kambuzuma) to pick up stockings that were left over from an order that had been placed by my team.
"We had ordered 50 and we'd only got 40. I hadn't had time to collect the 10 that were left so I decided to just drive to Kambuzuma and pick these stockings. Just when I had received my parcel and was outside by the road, a car came and parked ahead of me.
"People came out and dragged me and said that 'you're getting a (inaudible) from someone's wife'. I tried to explain to them that this is purely business,"narrates Banda in the voice note.
He said after the assailants realised it was him, they started assaulting him for having an affair with this supplier of stockings.
"But they got overly excited after they realised it was me as they started to assault me. There's a mob that had gathered around of almost 50 to 60 people. Everybody started to clap me willy nilly and they were accusing me of dating or sleeping with this lady. But I didn't touch this lady as I was in my car and just receiving my parcels,"insisted Banda.
"As the mob was beating me up, I tried getting up to go to the police. I didnâ't manage to do so at first but when I got a chance, I sneaked away and ran to the police station and made a report."
He said he had since received medical attention and is now hoping that the law takes its course.
"We're at Parirenyatwa doing my medicals and hoping the law takes its course. It was a very unpleasant situation that I had to go through." The Chronicle