By Andrew Kunambura
MDC leader Morgan Tsvangirai yesterday hinted of his imminent retirement from active politics after leading the country's largest opposition party for nearly two decades.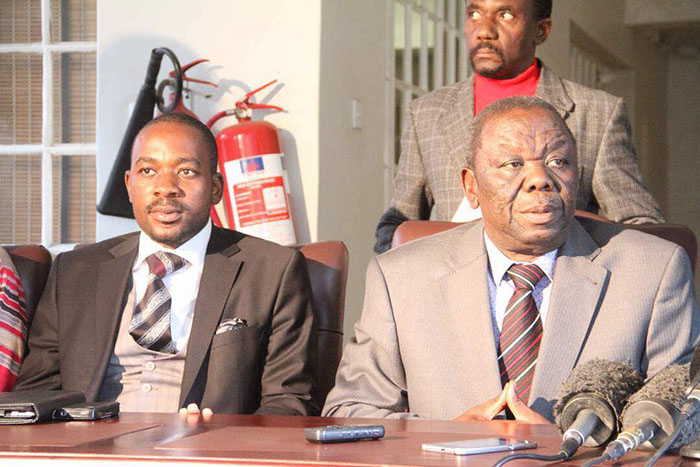 In a New Year's message released to the nation yesterday, the 65-year-old politician, who is battling cancer of the colon, implied he was on the verge of handing over the reins to a younger successor.
He said he has been preparing for his eventual departure for the past three years and is currently writing his memoirs.
"At a personal level, I feel an air of satisfaction as I reflect on the great journey we have travelled together even as I seriously ponder about the future.
You, the people have travelled with me a journey that had its own tribulations. Yet it was also a journey in which we worked hard and achieved so much together," reads part of the statement.
"I am in the process of writing a book that is set to be a collective national treasure on the great things we have achieved together over the years in our journey of service and sacrifice," he added.
Coming as it does three days after Tsvangirai held private discussions with President Emmerson Mnangagwa at his Highlands mansion, the statement reinforces speculation that the MDC leader could have been assured of his pension payout, accumulated during the era of the government of national unity (GNU) between 2009 and 2013.
Many had speculated that Tsvangirai's continued hold to the MDC's reins was meant to provide himself with a platform to negotiate his pension and other benefits which he could use to pay for his medical costs and other living expenses.
Tsvangirai held the position of Prime Minister in the GNU.
In his statement yesterday, the MDC leader gave a lengthy chronicle of his times and experiences, first as a trade unionist and then as an opposition politician before he became Zimbabwe's prime minister in 2009, about a year after he had defeated former president, Robert Mugabe but could not garner enough vote count to earn exclusive State power.
He then turns to say that he could not use his past political exploits to hold the MDC to ransom.
"Beyond what we have achieved together, we ought to leave a lasting legacy where the baton can be changed peacefully, in a tranquil and cordial atmosphere of unity and togetherness.
At a personal level, I am using this New Year not only to reflect on the onerous journey that we have travelled together but also to peer with renewed hope into a bright future," he said.
"I am looking at the imminent prospects of us as the older generation leaving the levers of leadership to allow the younger generation to take forward this huge task that we started together so many years ago with our full blessing and support.
"It was therefore not by accident but by design that when I disclosed to you my health status, I also took a bold step to appoint an additional two vice presidents to assist me.
As I have said before, while politicians only think about the next election, true statesmen think about the next generation, for current leaders are only but caretakers for future generations. We do not have any entitlement to lead but we have a duty to serve.
"We must recognize the imperative that new hands, with the full blessing of the people, must take this struggle and this country forward with the destination remaining the same – a society that prides itself for not leaving anyone behind in their pursuit of freedom, prosperity and happiness.
That is the only lasting legacy and precedence that we must leave to future generations," said Tsvangirai.
The statement is further confirmation that Tsvangirai intends to hand over the coveted baton to Nelson Chamisa – the youngest of his three deputies who also include long-time office bearer, Thokozani Khupe and Warren Park legislator, Elias Mudzuri.
This could, however, offset open political gamesmanship as Khupe and her team are bitterly opposed to the 39-year-old mercurial legislator.
Gifted with such a creepy political skill, Chamisa is nicknamed 'The Cobra' after the wily serpent.
Following his appointment as party vice president in 2016, there has been widespread expectation within the opposition ranks and the general populace that Chamisa could be destined to become the second MDC president.
Should Tsvangirai bow out of the party, he may have serious headaches in trying to engineer Chamisa's ascendancy.
His party's constitution does not allow him to handpick his preferred successor.
Section 9(21:1) of the MDC constitution states that in the event of the death or resignation of the president, the deputy president shall hold office in an acting capacity pending an extraordinary congress, which extraordinary congress shall be held no later than a year following the death or resignation of the president.
The party's constitution was updated in 2014 when the party only had one vice president.
Regardless, Tsvangirai went on to controversially appoint two more vice presidents, Chamisa and Mudzuri, in July 2016.
The MDC constitution therefore does not clarify which of the three deputies would assume the throne and on which basis will he or she do so since it does not subject the issue to direct appointment.
Yesterday, Tsvangirai also challenged Mnangagwa to work hard to improve the country's economy, which his predecessor Mugabe left in tatters as well as create a free, democratic environment in the country.
He said while the nation united to orchestrate a huge fall of an intractable political edifice that had for decades stood between the people and their collective hope, huge challenges remain for the new administration despite the palpable and justifiable national relief at the fall of Mugabe.
Tsvangirai said Mnangagwa's administration must first articulate a clear and comprehensive roadmap to legitimacy that includes implementation of the much-needed reforms to ensure free, fair and credible elections in a few months' time.
"It is disheartening to note that we are already behind schedule and last week, I raised these concerns to president Mnangagwa when he made an impromptu but welcome gesture to check on me following my public disclosure that I had been diagnosed with cancer of the colon," said Tsvangirai.
He said the new administration must earn its legitimacy through a proper election.
"It must seek the people's mandate. The new government has to break away from the past and genuinely chart a new trajectory to a dispensation of clean politics that truly puts the country and its people first.
It has to respect diversity and to appreciate that despite our different political formations, we are all patriotic Zimbabweans who yearn for the best for our country.
"The cash crisis, price increases, the liquidity crunch, the huge budget deficit and the lack of faith and trust in the sincerity of government and all its institutions remain a somewhat permanent cancer in our body politic. The onus is on the new administration to inspire hope and confidence in the nation," he said.
He urged the MDC to focus on this year's general elections instead of engaging in factional fights.
"Our war war cry therefore for the upcoming elections is simple 'Munhu Wese Kubasa' – 'Umuntu wonke emsebenzini' – 'Everyone to Work'. Whether you are an investor, a commercial farmer, an industrialist, a teacher, a banker a worker or a peasant farmer, let's all go back to work in order to prosper. We need to produce in order to grow our economy and create new jobs.
"For that to happen, we need both domestic and international investment capital which must be guaranteed a safe, predictable, secure and corruption free environment underpinned by the rule of law, constitutionalism, respect for property and human rights and freedoms.
The starting point for this envisaged take off for our great nation is a return to legitimacy through a free, fair, credible internationally supervised and monitored election whose outcome is not contested. Anything short of this will spell doom for our great nation," he stated.
Tsvangirai is currently battling colon cancer which has reduced him to a pale shadow of the vibrant and lively politician who, until now, has dominated the opposition political domain since the formation of the MDC in 1999.  DailyNews