By Langalakhe Mabena
When Nkululeko Dube decided to retire early from his teaching career where he practiced as an English teacher and Drama club patron at Mpopoma High School in 2001, the much celebrated arts practitioner decided to venture full time into arts hence giving birth to his self titled "Inkululeko Yabatsha School of Arts" (Iyasa) that same year.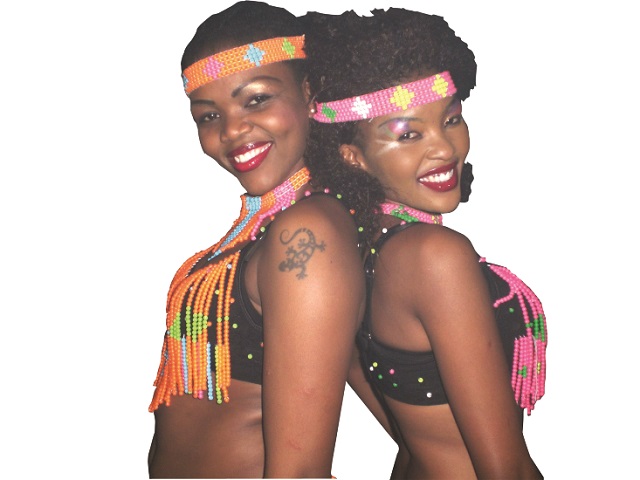 Using the few students he mentored at his former school, one of the young students who followed their shepherd as the founding members of the most world touring group Zimbabwe has ever seen were the two look alike sisters Silethemba and Sphephiso Magonya.
They hailed from the dusty streets of Njube high density suburb at B Square near the famous Sidudla beer Garden located just a stone's throw from the first black African school in the City of Kings and Queens, Mpopoma High.
Born and raised by Liberation War Veteran father Bizo Magonya, a famous man in Njube, it first became hard for the two sisters to follow their dreams and become celebrated artistes they are today as their father didn't tolerate the fact that they wanted to become "dancers".
The younger sister, Siphephiso also known as "Pepsie" in the arts industry, was the lead actress of all time at Mpopoma high whilst her sister Silethemba "Tipsey" was a lead singer who laid smooth vocals for the school choir.
As arts are a combination of musical, dance and acting creativity, Dube saw it fit that he also conscripts students from the school choir to join the multi award winning arts ensemble and Silethemba was the first to ring in his head hence leading to her bonding with her sister at the newly formed Iyasa.
Iyasa, rich with raw talents of the Magonya sisters amongst them with Future Sibanda who is now based in Austria, the Queen of dance Sandra Ndebele, and celebrated Zimbabwean songstress export Nomathemba "Nkwali" Mkhwananzi, the group was privileged to start touring the world at its infant stage.
Silethemba who is now based in France studying towards a Diploma in Creative Arts, revealed how joyful she was the first time she boarded in an airplane.
"I remember we made our first international debut in 2003 and our first stop was in United Kingdom's Birmingham. What I enjoyed the most is we were fresh from Secondary School and started touring as a family as most of the Iyasa's founding members we learnt together," said Silethemba.
As Iyasa toured the world performing in prestigious European events attracting thousands of fans in countries like Finland, Germany, Austria, Netherlands, Switzerland, Estonia and Lithuania, to mention a few, it came a surprise to the Magonya family as Siphephiso scooped one of Zimbabwe's most prestigious National Arts Merit Award (Nama) as she became the Outstanding Female Dancer in 2013.
Pepsie, who is now based in Australia where she is teaching African Contemporary Dance at a private school, reveals how enthusiastic she was when she won the Nama award.
"I was surprised when I won the award as I was contesting with one of Zimbabwe's best female dancers like Loveness Mambakwa and Melany Caruthers. That award made me believe God is there in my life because I didn't see it coming," she said.
Not only the Magonya sisters toured the world with Iyasa, the talent they possessed also landed them a contract in one of the most Africa's creative art project "Mother Africa" which comprised of artistes from nine countries in Africa including Zimbabwe, South Africa, Senegal, Tanzania and Malawi, to mention a few.
Dube the founder of Iyasa recalls when he saw his graduates Tipsie, Pepsie and Nkwali appearing on Hollywood billboards as part of the Mother Africa cast.
"Iyasa is a school of art therefore we graduate students if we see they are now able to manage their solo careers. When I saw the Magonya sisters and Nkwali in Hollywood's billboards, I was over the moon because it was a proof enough to show our graduates were ready to take over the world and represent our school," he said.
Despite their success, the two sisters still regard themselves as part of Iyasa even though they are now fully focused on their solo careers. Dube stated that whenever they happen to be in the country they always come and help Iyasa in rehearsals hence inspiring the new crop of the arts ensemble.
"What I like about them is that if they are in the country, they come back home and help the current youngsters about art and have sessions where they teach them to be life responsible," said Nkululeko.
With all the work they have made as founding members of Iyasa and representing the country in the world, the Magonya sisters have left a foot print in Zimbabwean arts and culture industry. They surely deserve to be part of Iyasa's Hall of Fame. The Sunday News