By Tawanda Marwizi
As he sits in his chair at home on a sunny morning, Tedious Matsito's mind seems to wander to distant places.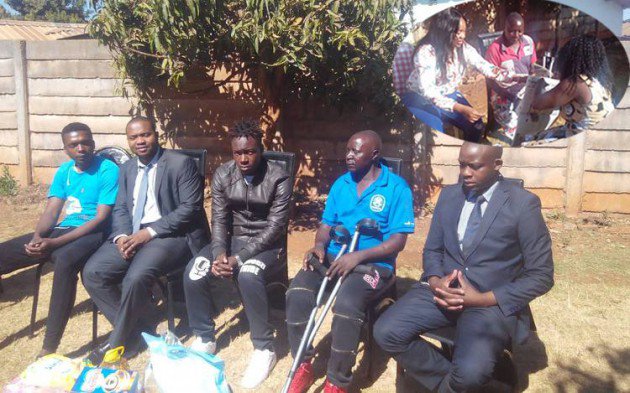 The expression on his face betrays a tormented soul. He spends most of his time sitting in this chair because he has suffered a stroke that compromises his mobility.
He rarely talks to people because his voice is failing him too. He utters words that are hardly audible with visible struggle. Neighbours and family members have decided not to bother him too often.
Matsito has become used to this situation. He has no option. This is what fate has done to a man who rocked the music industry in the 1990s. A man who travelled across the country staging sold-out shows. A man whose music saturated playlists at gatherings and radio stations.
Talk of hits like "Nyaradzo", "Gede Mwana" and "Madiro" among others. The tracks became anthems at the peak of the Ngwenya Brothers' career.
Sadly, the only solace that Matsito now has is in memories from that era. He can no longer do what he loves best and what made him popular. It is indeed a sad picture.
The musician's woes started when his band was involved in an accident on their way from a tour of Mozambique. It seems that incident brought a bad spell for Matsito as misfortunes trailed each other into his career and life thereafter.
As he sat in his chair on that sunny morning, the musician recounted how the sad chapter of his life began.
"It was in 2008 when the problems started after an accident on our way from one of our many Mozambican tours. It was in the month of August when we, as Ngwenya Brothers, finished our last show in Mozambique all agreed to rest and proceed later that day to Harare.
"We had no other shows in the capital, but everyone wanted to be with their families after a long tour. "When we departed from the venue we were very happy as we had a successful tour in the neighbouring country."
It seemed the journey was doomed from the beginning because the misfortunes began just after their departure from Mozambique. "While we were in Mozambique we had a minor accident. Our car veered off the road, but we escaped without injuries."
As their spirits got higher with anticipation of meeting friends and family after they had crossed the border at Nyamapanda, the fateful disaster struck. It happened in Kotwa.
"We were in Kotwa and all I remember is the sound of a burst tyre. I only regained consciousness when I was in hospital and was in serious pain. The major injury was a broken leg."
The accident claimed the life of his brothers Luckmore and Domingo as well as a female dancer. The band also lost equipment and it was a huge blow to Matsito who had to go for many months without shows, which means he had no income. When Matsito recovered and started doing shows, another problem came.
The leg that had apparently healed developed gangrene and was amputated in 2012. Banc ABC came to his rescue and assisted with money to have his leg amputated, but his problems continued to mount.
His career took a slump as his music also lost popularity. Promoters did shows to assist him and some of the gigs flopped.
As he was soldiering on in face of harsh realities, Matsito suffered a stroke. This was the hardest blow to his career that has been punctuated with misfortunes since the destructive accident of 2008.
Now the musician is no longer doing many shows because he does not have a voice to sing and his body cannot bear the tiresome demands of a live show.
"Sometimes I get shows and I do the little that I can on stage but I cannot sing. Most of the shows have been turned down because of my condition."
However, his band has been doing a number of shows without him although their impact is minimal. As he sits in his chair at home, Matsito wonders why life suddenly became voyage of misery.
However, well-wishers have been visiting him to assist in various ways. A couple of months ago, South Africa-based socialite Faith "Chihera" Taruvinga donated some groceries to the musician.
Last week young musician Mbeu and The Mhodzi donated goods to the musician. Mbeu said he once shared stage with Matsito at Ekhuleni Hotel in South Africa and he was touched by the plight of the "Gede Mwana" hit maker.
"His situation is different. It has nothing to do with mismanagement or bad character, but it was just unfortunate and there is need for us to continue supporting him," Mbeu said.
Marondera-based promoter Daniel Masaiti has been doing shows to assist Matsito and has invited the musician for a gig at his Legends Bar this weekend.
Matsito is grateful to all those who are being helpful. "People have been assisting me and I am grateful. It is encouraging to see how loving people have been," he said.
The musician intends to record an album that reflects on his misfortunes when he recovers. The Herald