By Bruce Ndlovu
If True Love, that irresistible jam that has lit up Zimbabwean weddings and parties since the 80s, is Ilanga's greatest accomplishment, then it is also without question Busi Ncube's finest hour as a performer.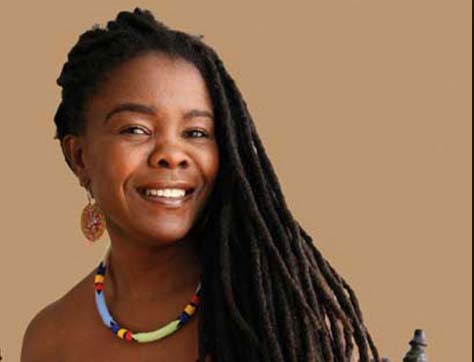 Ilanga, which means the sun in iSiNdebele, was never short of stars. The group was the Galácticos of the Zimbabwean music scene, boasting an array of talent that even money could not buy.
Whether it was by chance, coincidence or the generosity of some kind-hearted music god, it shall never be known how such a fantastic group of musicians found a home in one group.
What is fact is that at one point Ilanga had Busi Ncube, Cde Chinx, Andy Brown and Don Gumbo singing on one mic, making scorchers in the same studio and performing on the same stages.
While this rare romance between different but like-minded music prodigies produced many hits, it was on True Love, that their talents blended perfectly. Although Brown dominated on the acoustic guitar, Gumbo shone, as always, on the bass. In as much as the two are hailed as geniuses in their crafts, on True Love their respective instruments met their match in Busi Ncube's voice.
The effect was magnetic. Over the track's duration, a still youthful Ncube brought to life a woman's yearning for genuine affection in a world in which many men hide their true, devious intentions behind smiles, gifts or compliments.
"Have you ever seen the way I look at you babie
Have you ever seen the way I smile at you babie
Internal love is all I need from you honey," she sang.
After that song a legend was born. It is a jam that has defied age thus proving once and for all that the great footprint left behind by great music cannot be erased by time or the constant change in musical tastes.
Everytime the song raises dust during a wedding ceremony it is a timely reminder that music, when it is expertly made, does not die.
However, the people who made it and for the past few years, Ilanga has been counting the losses.
Long after the group disbanded, it has lost gem after gem in its galaxy of stars. Last week, another one of its flames was extinguished as Cde Chinx breathed his last after battling ill-health for the last few years.
Ncube, Brown, Gumbo and Cde Chinx all went on to forge exemplary solo careers. From that quartet of superstars, now only Ncube remains, living in Norway where she is still actively involved in music.
Cde Chinx's ultimately losing battle with ill-health is well documented, and for Ncube who followed his trails from afar, it is a struggle that the war veteran should have won.
"I feel so sad that adequate medication isn't available at this moment and people are dying from curable ailments. It's with deep sorrow that I'm saying this. To him I say may his soul rest in peace. He was my comrade in music. Zorora murugare (rest in peace) Chinx Chingaira," she said in an interview with Sunday Life last week.
Living continents apart, distance had taken its toll on the former comrades in song. According to Ncube however, they had kept contact even during the twilight of the former Ilanga star's life, when his health was deteriorating and death's knock had grown louder.
"Our relationship remained good but the distance had made a huge difference. He told me he was sick but didn't think it would be the end. He called me Tete Busilo and I'll always remember him with fond memories," she said.
With Cde Chinx joining Brown, Gumbo and percussionist Adam Chisvo in the afterlife, Ncube is one of the few members left to recall the short lived but brilliant magic of Ilanga.
"The fondest memory that I still hold dear up to now, is the strong passion we shared in making music during the few short intensive years we worked together from 1986 to 1989. We made a big impact in people's lives," said Ncube.
While the country is in mourning over the passing of Cde Chinx and while most Zimbabweans still hold with stubborn fondness to memories of Andy Brown and Don Gumbo, Ncube has kept toiling in the studio. With the assistance of the National Arts Council in Norway and Global Oslo Music, she released an eight- track album, Usiko, earlier this year.
Although she has made an impact in that country, she also feels like it is time to bring her voice to ears that crave her music back home.
"I don't feel I've promoted the new album enough, hence my coming for interviews and live gigs. I'll be playing with Lungile Ndlovu (drums,) and Hudson Simbarashe (guitar). I worked with these two on my album. I'm trying to bring in Sandra Ndebele and Nobuntu, with whom Simbarashe has initially talked to and we have a mutual agreement," she said.
Music has been a journey for Ncube, who started singing in a choir at the age of 12 and later on formed Ebony Sheikh with her twin sister Pathie and older sister Doreen.
After attaining fame in Zimbabwe, her voice has been heard in almost all the world's continents, proving to the world that the country at the foot of the African continent could produce songbirds of commanding voices. Decades after she started singing in a choir in Bulawayo, Ncube says her travels around the globe have showed her the power of her voice, a voice that has refused to be silenced since the age of 12.
"Playing all over the world has taught me patience and I've realised how much power I hold within me when I get up on stage, sharing with different artistes the resilience and strength. I can only give credit to my culture. My storytelling has not changed, it's now diverse, inclusive and richer," she said.
Despite her globe-trotting ways, Ncube has not lost track of happenings back home, with one of her objectives when she comes back later in the year being to donate to the Tsholotsho flood victims.
"Yes, I do keep track with news back home every day. I heard the flood victims have been relocated to a new place but I'm still going to go ahead with the donations and do charity gigs to add onto what is lacking," she said.
While the sun has set on so many members of her erstwhile group, Ncube is determined to shine on and thus keep Ilanga's flame blazing years after the original group went their separate ways. Sunday News