'Speed up child marriage law reform'
By Tendai Kamhungira
The Tendai Biti-led People's Democratic Party (PDP) has castigated government over its delay in converting a Constitutional Court (Con-Court) ruling on child marriages into law, over a year after the judgment was handed down.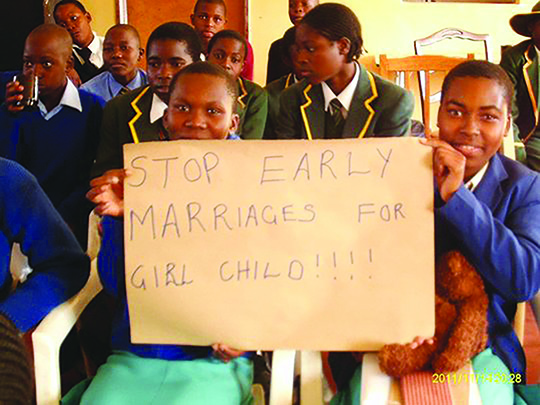 This comes after the Con-Court last year outlawed the marriage of persons below the age of 18, following an application filed by two teenage girls challenging the Customary Marriages Act.
"While we in the PDP take great pride in the fact that . . . Biti put up a fight in the Con-Court standing on behalf of Loveness Mudzuru and
Ruvimbo Tsopodzi resulting in the abolishment of child marriages, we are, however, concerned with the State's complacence," PDP spokesperson Jacob Mafume said in a statement.
The law is expected to come into force by year-end, and is part of reforms under the new Constitution overwhelmingly adopted in a March 2013 referendum, according to  Vice President and Justice minister Emmerson Mnangagwa.
He told the National Assembly earlier this year that the Marriages Act and the Customary Marriages Act are among pieces of legislation which were identified as requiring alignment to the Constitution.
"Some of the provisions in these Acts are incongruent with the supreme law of the land and thus need to be aligned thereto.
"Such issues as the abolition of child marriages in whatever form and the equitable distribution of matrimonial property upon divorce or separation of spouses, amongst other issues, is the subject matter to be considered in aligning these Acts," he said, adding that "the two Acts will be harmonised under one Marriages Act".
The Memorandum of Principles of the Marriage Bill has been prepared and presented before Cabinet for approval.
The drafting and consultative processes are underway before the Bill is presented to Parliament.
Mnangagwa said some of the proposed amendments to the marriage regime, particularly the outlawing of child marriages, will be dealt with under the General Laws Amendment Bill.
However, the PDP said that the delay is a dereliction of duty on the part of government officials responsible for the process.
"The failure by (Women's Affairs minister Nyasha) Chikwinya and Mnangagwa to push legislation to codify the pronouncement by the Con-Court is in part aiding and abating the rise of child marriages in Zimbabwe," Mafume said.
"The failure to uplift the Zimbabwean masses from dire poverty is an indictment on (President Robert) Mugabe and his whole team; we restate the point indicated in the multi-sector indicators report of 2014 that poverty in Zimbabwe is directly linked to child marriages."
In their statements to the Con-Court, Tsopodzi and Mudzuru — now 20 and 21 respectively — argued that the Marriage Act was discriminatory because it set the minimum age at 16 for girls and 18 for boys. The Customary Marriage Act sets no minimum age.
In her affidavit, Mudzuru, who was married at 16 and had two children before she was 18, described how child marriage and poverty created a vicious circle.
"Young girls who marry early and often in poor families are then forced to produce young children in a sea of poverty and the cycle begins again," she stated. Daily News