Tomana seeks stay of prosecution
By Tendai Kamhungira
Suspended prosecutor-general, Johannes Tomana, who is facing criminal abuse of office charges, has applied for stay of prosecution pending the hearing of his Constitutional Court (Con-Court) application to be tried by an external judge.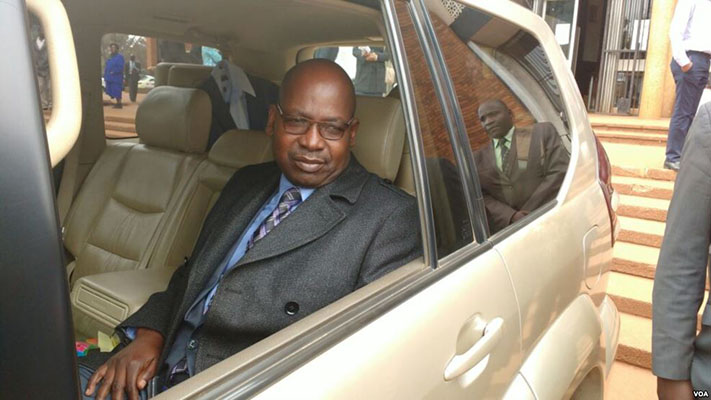 Tomana made the application yesterday through his lawyer, Thabani Mpofu, before High Court judge Tawanda Chitapi when his trial was due to start.
He wants his case to be heard by a retired judge or any judge not sitting in the higher court.
The State is expected to respond to the application today.
According to court papers, Tomana is accused of illegally withdrawing charges of possession of weaponry for insurgency and money laundering for terrorism against Silas Pfupa and Solomon Makumbe — who were caught allegedly attempting to bomb President Robert Mugabe's Alpha Omega Dairies.
A further charge emanates from the time when Bright Matonga was still Zupco's chief executive.
The court heard that in 2004, Matonga was charged with culpable homicide arising from a traffic accident which resulted in the death of Chipo Chikowore.
When Tomana became the attorney-general, he reportedly devised a plan to illegally assist Matonga, after the former deputy Information minister was summoned for trial before the Chitungwiza Magistrates' Courts.
He reportedly ordered his subordinates to drop the criminal charge against Matonga, without having sight of the docket and knowledge of circumstances surrounding the case.
According to court papers, Tomana directed his subordinates to decline prosecution, resulting in Matonga escaping the culpable homicide charges.
Tomana is also accused of protecting Matonga, after he was charged with contravening the Prevention of Corruption Act.
He reportedly ordered his subordinates to drop charges against Matonga in 2008 after plea, which resulted in the discontinuation of the trial.
"This was despite the fact that most of the witnesses were still to testify in the matter and they were readily available to attend court and testify," the court papers read.
Charges against Matonga were eventually withdrawn after plea, resulting in him being found not guilty.
Tomana is accused of acting in a manner contrary and inconsistent to his duties as a public officer, by showing favour to Matonga.
He is further accused of protecting Charles Nherera, another former Zupco board member, who was also facing charges of contravening the Prevention of Corruption Act.
Nherera was sentenced to three years in prison and Tomana testified in his trial.
He later applied for bail pending appeal, which was dismissed after the State opposed the application on the grounds that there were no prospects of success.
The Supreme Court also dismissed his application for review.
When Tomana became the attorney-general, he reportedly directed the State to change its stance and admit that Nherera was innocent and that the conviction had been passed erroneously.
According to State papers, Tomana also facilitated the release of Beauty Basile, an acting medical superintendent who was based at Bindura General Hospital in 2009.
Basile had been arraigned before the court accused of criminally abusing her duties and also faced 219 counts of corruption.
Tomana reportedly ordered his subordinates to withdraw charges against her, after she made several visits to his office.
On the last count, Tomana is accused of assisting the release of Patrick Mavros, an illegal gold dealer, who was found in possession of 9008, 1 grammes of the precious mineral.
He was accused of contravening the Gold Trade Act, by operating without a licence. Daily News