By Fungi Kwaramba
Pro-Zanu PF groups — Zimbabwe Liberation War Collaborations Association (Ziliwaco) and the Business Community of Zimbabwe (BCZ) — have threatened to retaliate against protestors who have been demonstrating against President Robert Mugabe.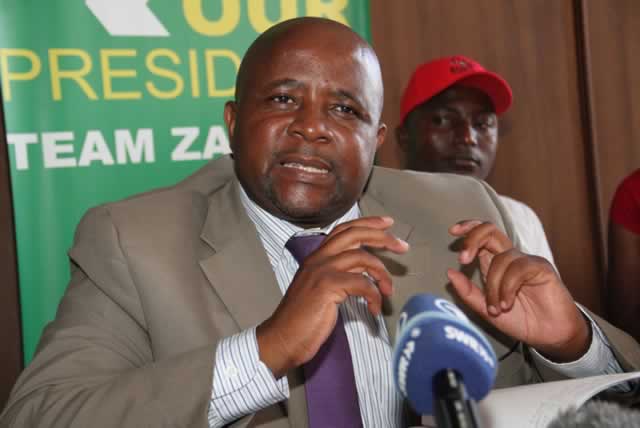 Ziliwaco chairperson, Pupurai Togarepi, told the Daily News the demonstrating opposition parties must contest in the 2018 elections, if they are keen on governing Zimbabwe.
Mugabe, who has ruled Zimbabwe since 1980, has in recent months come under unprecedented pressure to step down, with ordinary Zimbabweans accusing him of gross mismanagement of the country.
"We have witnessed disturbing scenes of violence perpetrated by people who claim to be democratic yet they destroy property and loot shops," said Togarepi, who further described the protestors as "malcontents bent on intimidating the populace".
"They are not for this country, they must stop. They should respect the Constitution. We feel disturbed by such events. Let me tell them that Mugabe was voted in 2013 and we will defend him. Those who want power should wait for 2018."
Togarepi said when the anti-Mugabe protestors take to the streets again in the future, he would mobilise his association to attack them in retaliation "also throwing stones just like those in the opposition are doing".
Among the demands that protestors are making is that Mugabe's government fulfil its 2013 election campaign promise to create 2,2 million new jobs.
But Togarepi opined that "jobs are not created by government but there should be an enabling environment that lures investment, the chaos will not create the jobs".
The BCZ also described the wave of protests as "barbaric".
"We strongly condemn these primitive actions by the youths of burning shops and cars. This is just lunacy at its highest order. Instead of directing their energy on building the economy they are destroying it," said Jimayi Muduvuri, BCZ spokesperson.
Like most Zanu PF and Mugabe sympathisers, Muduvuri claimed that opposition parties are behind the wave of violence.
"We need to do our business in a peaceful environment which has been created by Zanu PF. Our president has got the keys to peace, unity and development.
"Even our leaders in the Zimbabwe National Army, Air Force of Zimbabwe and Zimbabwe Republic Police want peace," he said.
In a stern warning against the protestors, Muduvuri said that the opposition parties are now "stretching the patience of our security forces too far".
"These young people and their handlers are misdirecting themselves. We would like to encourage fellow businessmen not to be intimidated by MDC thugs," said Muduvuri.
The MDC has denied any links between the party and violent protestors. Daily News