#ThisFlag: Say a prayer for the gutsy pastor
By Bishop Dave Chikosi
Courage is not the absence of fear. It is the Presence of God, coupled with a passion for justice. Passion overcomes panic to become the fuel for purpose.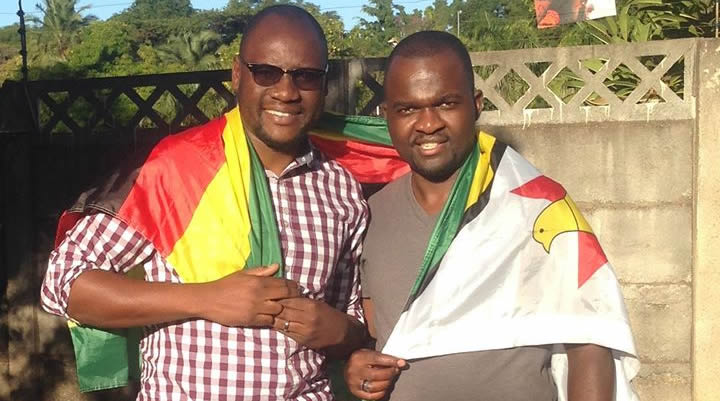 And when purpose has conceived, it bringeth forth power, but not the kind of power that gun-toting toddlers in adult bodies feel as they prance around with their weapons.
I'm talking about the kind of power that causes a seventeen – year old shepherd boy to look a ten-foot giant in the eye, while asking fellow citizens, "Is there not a cause?" (1 Sam 17:29).
Armed with but a slingshot and five smooth stones against a physically-imposing, well-trained and heavily-equipped military behemoth, young David's trust was in his God and in the justness of his cause. How could he fail?
Pastor Evan Mawarire's #thisflag campaign began as a personal expression of a frustration that the majority of Zimbabweans feel about their economic lives, but are too scared to articulate.
That lament resonated with millions and has now burgeoned into a formidable social movement that some politicians desperately want to shut down. But nothing can stop an idea whose time has come.
Island of poverty amidst a vast ocean of wealth
For those who think that a man of the cloth has no business addressing people's socio – economic circumstances, be reminded that Mawarire and others like him stand in the tradition of social critics like Dr Martin Luther King Jnr (MLK), who themselves stood in the tradition of prophets like Amos and Isaiah, who spoke out against injustice, among other things.
It is a fact that today the average Zimbabwean, to quote MLK, "lives on a lonely island of poverty in the midst of a vast ocean of material prosperity."
That vast ocean of prosperity has largely been cornered by the politically connected and the socially powerful, to the exclusion of the masses.
Indeed it does appear that after Independence the people of Zimbabwean were handed a bunch of promissory notes by their government. But when they went to the bank to cash these James Bond notes, they discovered the nation had defaulted.
Where are the promised 2.2 million jobs? And what the hell are these bond notes anyway? Can someone tell us what happened to the nation's $15 billion and what is being done to recover it? And just how did all these smooth politicians accumulate so much in so short a time?
Clearly the bad check that was issued to we the people has come back marked "insufficient funds" – and folk are not amused.
But here is what the people refuse to believe:
"that the bank of justice is bankrupt. We refuse to believe that there are insufficient funds in the great vaults of opportunity of this nation. So we have come to cash this check — a check that will give us upon demand the riches of freedom and the security of justice" (MLK).

The fact is that the wealth is there in the country. It's located mostly in the pockets of politicians. The people are not blind or stupid. They see the big cars and the big houses.
This is why what we are seeing in Zimbabwe right now is what MLK described as "the fierce urgency of now."
That fierce urgency, dear Mr Tafadzwa Musarara, has nothing to do with the emotionalism of one pastor in Harare.
It's become a social phenomenon that simply cannot be ignored or dismissed.
"This is no time to engage in the luxury of cooling off or to take the tranquilizing drug of gradualism. Now is the time to make real the promises of democracy" (MLK).

Bottom line? People are simply fed up. They are saying, "Hatichada ende hatichatya." Many are muttering, "Kusi kufa ndekupi' in increasingly louder voices and more defiant tones. Poverty and lack have driven fear underground.
Folk are beginning to find their collective voice. They are slowly beginning to learn the new and foreign language of protest. Foreign because they were not allowed to speak it.
Blind acquiescence and sloganeering is slowly but surely giving way to a sober reflection and assessment of the state of the nation as well as the incompetence of the helmsmen thereof.
Musarova bigman
But we also know that in Africa, when the people find their voice, the government simultaneously finds its stick to whip them into line.
In Africa if you don't disappear mysteriously, they will beat the tar out of you.
It is for this reason that we must keep Pastor Mawarire in our prayers.
May the angel of the Lord encamp round about him and family to keep and protect. Pray that "no weapon formed against" the movement may prosper.
Our prayer-plea is also directed at the police. We say please "musarova bigman".
Evans has done nothing wrong. No one has been incited to violence. There have been no calls for insurrection. All that #thisflag campaign is doing is exercise its constitutional right to speak and protest.
An old song we used to sing at church in prayer for the nation makes an appropriate ending of this essay:
We pray for Zimbabwe
We call her by name
We present her to the Father
In Jesus' name
May she not be found naked
May she not be ashamed
When she stands before You Lord
On the great judgment day