By Robson Sharuko
Some of Zimbabwe's South Africa-based footballers were exposed to a dangerous underworld syndicate led by a wealthy Australian gangster, who boasts of having made millions of dollars from illegal gambling, used prohibited hormones on his racehorses and has had a $250 000 contract hit, for his assassination, hanging on his head since 2004.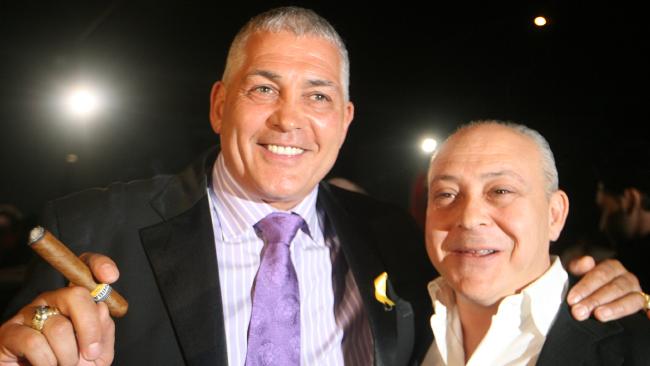 Steve Kaya, also known as Turkish Steve, has been based in Australia since arriving on holiday from Cyprus in 1974, having quit school at the tender age of 15, distressed by a break-up with his girlfriend and, as armed conflict broke out in his homeland, he became an accidental refugee Down Under.
He took various jobs, from working as a bouncer at nightclubs to becoming a debt collector and running one of Melbourne's biggest illegal casinos, breeding thoroughbred racehorses, running a Turkish television channel and bringing Turkey's biggest showbiz celebrities to perform in Australia.
Kaya, who is the president of an Australian football club, Hume FC, which is supported mainly by the Turkish community in Melbourne, published his autobiography six months ago,
"Steve K," described by Aussie daily newspaper, Herald Sun, as a candid 'insider's account of Melbourne's underworld wars' which claimed, at least, 28 lives, in a deadly battle for turf Down Under.
The book, written in conjunction with Tom Noble, a journalist, "Turkish Steve" reveals that:
• He made millions in the 1980s and early 1990s from illegal gambling with the gangster boasting that "it became clear that no one could run a gambling club in the western suburbs (of Melbourne) without my permission.
• He figured, because it was illegal, the local council couldn't give you a permit but he could. "So you had to apply to me. We grabbed one Greek boss who refused to listen and took him for a drive to the bush. I told him to lie on the ground. 'Why?' he said. 'So I can measure how much I have to dig.' He (Greek boss) agreed to pay US$500 a week to continue running his game."
• He has used illegal growth hormones on some of his race horses. "Some trainers also use growth hormones to help horses recover from injuries and then make them stronger and faster — it was an illegal activity but quite popular in the 1980s and 1990s."
• I came across this when I read an article about a prominent female athlete who'd broken world records with the help of a growth hormone. This particular hormone, IGF-1, was undetectable. It also repaired tissue quickly and reduced any pain barrier. I thought, why can't I use this on a horse? And where can I get it? So I started searching and finally spoke to a company, which said it couldn't sell any to me. But I persisted and eventually they posted me a small glass jar of powder capable of producing 40 injections.
• The powder was the size of a piece of cigarette ash and cost $4 200. The next step was to find a vet who could administer the hormone. I called a vet I knew, who still works in Melbourne, and showed him the glass jar. 'How the f**k did you get this?' he said. 'Don't worry about where I got it. Can you make it work?' He said OK. We tried it on a couple of horses. They grew bigger and raced well. My horses were not the only ones to benefit from growth hormones. At one race meeting, Aziz listened to the conversation of one of Australia's leading trainers, who still trains today. He looked at our well-muscled horses and said: 'They must be using what we're using.'
• There has been a US$250 000 contract on his life since 2004. He used violence — including threats to kill — to ensure people running illegal gambling games had to pay him to allow the games to go ahead.
Turkish Steve's name cropped up in the current match-fixing scandal, dubbed LIMPOPOGATE, which exploded last week, in conversations between former ZIFA chief executive, Henrietta Rushwaya, accused by the Association as a key figure of the cartel that was manipulating matches in South Africa and had allegedly targeted the 2017 Nations Cup qualifiers between Zimbabwe and Swaziland.
Rushwaya claims she was doing an undercover operation to bust the match-fixing syndicate but ZIFA officials have questioned why they were not notified of that sting exercise while FIFA have also suggested that they should also have been advised.
The former ZIFA chief revealed that she advised former FIFA investigator, Terry Steans, a British national who is now running an independent consulting firm, based in England, which is battling match-fixing syndicates around the world.
Rushwaya claims in her correspondence to Steans that one of the match-fixers, Chann Sankarran, who was back in the trenches trying to manipulate the results of football matches just a few weeks after having been released from a British prison where he had been jailed for match-fixing, told her that he made US$2 million, in just a month, for one of his bosses, fixing games.
Ironically, Australian police revealed recently, after busting a match-fixing syndicate in which this gang were prominent, that bets placed on one of the clubs they busted, Southern Stars, reaped US$2 million for the match-fixers, the same amount that Sankarran mentioned.
But, what is even more telling, is the alleged involvement of Turkish Steve, which brings Australia into this puzzle, and does not only lay bare the global network of this cartel but, frighteningly, reveals that Zimbabwean players who participated in this adventure, could have been exposed to a very dangerous network.
"I received a photograph on the 20th of February from Ms Rushwaya of Chann Sankarran who she was discussing match-fixing with," Steans — whose FIFA report has laid bare the explosive 2010 World Cup scandal in which Bafana Bafana featured in fixed warm-up matches — leading to the banning of four South African officials, including former SAFA chief executive Leslie Sedibe, said in his statement.
"I was shocked to receive this picture because the man in the picture was a person I had been instrumental in putting in prison here in the UK back in November 2013.
"He was supposed to serve a five-year prison sentence for attempting to defraud bookmakers, bribery of players and match-fixing. He had been released and deported from the UK on December the 15th 2015 and yet he was, just eight weeks later, in South Africa to discuss match-fixing.
"While Ms Rushwaya was with Chann in the Garden Court (hotel) on the 20th (of February), I attempted to get in contact with an associate in South Africa to get over to the hotel and record that meeting covertly, unfortunately, I could not make this happen as he was tied up elsewhere.
"The 21st of February, Ms Rushwaya told me that, in conversation with Chann, he had told her that he had made his boss 2 million dollars betting on fixed matches in Australia. He had six players under his control and both the manager and coach. This was interesting as Australian police had busted a fixing ring in Australia and we had always known Chann to have been a part of that but he had escaped the net.
"He could also have been talking about a new project. I was sent a photograph of Chann's mobile screen, the picture showed 'Steve Bro' and a phone I could not read. Ms Rushwaya told me that she had heard a conversation that Chann was having with a person called Kaya on his number.
"If this was Steve Kaya, then he is an Australian organised crime figure and that would be a very valuable piece of information for the Australian Federal Police. Chann had wanted to fix the Kaizer Chiefs game with Polokwne.
"As I have stated here, the only information I received from Ms Ruwaya was in respect of the attempted fixes in South Africa. At no time was there any mention, written on verbal, of fixers involving the Zimbabwe national team or, indeed, any other national team.
"I would be prepared, if necessary, to give this same testimony in court as a witness." The Herald