Pictures that PROVE black British doctor who seized white family's farm in Zimbabwe knows the Mugabes
By Jake Wallis Simons | Daily Mail |
These extraordinary photographs show that a wealthy British doctor who seized a white family's 2,000-acre farm in Zimbabwe knows tyrant Robert Mugabe's wife.
Sylvester Nyatsuro, 45, took over a tobacco plantation belonging to Phillip and Anita Rankin, who were frog-marched off their land by AK47-wielding thugs.
The Rankins, who bought the land 35 years ago, were handcuffed and taken away in police lorries on the orders of Nottingham-based Dr Nyatsuro and his wife Veronica, 45.
The Zimbabwe-born Nyatsuros, who moved to Britain in 2000 and were granted citizenship, can now be linked to the ruling Mugabe family for the first time.
The photographs of the couple posing with powerful Grace Mugabe have led pro-democracy campaigners to accuse them of corruption.
'These pictures show the tentacles of Mugabe's cronyism reaching all the way to Nottingham,' Rose Benton, from UK-based campaign group Zimbabwe Vigil, told MailOnline.
'It's astonishing that such corruption can be allowed to continue.'
It is unclear where and when the pictures were taken.
The couple run a weight-loss clinic in Nottingham, where they live with their three children in a gated, five-bedroom home which they bought for £730,000 in 2006.
They also own a number of rental properties. Dr Nyatsuro drives a Mercedes sports car.
The couple refused to respond to MailOnline's requests for comment. But they told the Zimbabwean press that the Mugabe family had played no role in the land seizure.
The Rankins were forced out of the tobacco plantation last month, amid chaotic scenes in which armed thugs took control of the farm. Their worldly possessions were driven away in police lorries.
They had tended the land for over three decades since purchasing it from another farmer, and the flourishing business they built up is now understood to be worth up to £1.7million.
A glimmer of hope for the dispossessed family came on Wednesday, when Zimbabwe's High Court issued an order granting them the right to enter the farm while a full enquiry was launched.
But today the Rankins were too scared to approach the property, as at least 20 armed men – including one who claims to be Mrs Nyatsuro's brother – remained in their family home.
Witnesses say the thugs show 'no sign of leaving' the farm, which is located about 140 miles north east of the capital Harare.
Labourers are desperately harvesting and curing the valuable tobacco crop before it spoils, under direction from Mr Rankin via mobile phone.
The eviction of the Rankins was caught on camera by a neighbour, using his mobile phone.
In the pictures, a squad of about 20 armed men can be seen seizing the property and hauling Phillip Rankin, 57, and his family away in handcuffs while the gates are padlocked behind them.
Some of the Rankins' furniture and personal effects are seen being thrown into the back of a police lorry, which is driven away by armed men while Mr Rankin looks on in disbelief.
The land-grab took place as part of 92-year-old dictator Robert Mugabe's policy of handing land owned by whites to black Zimbabweans – usually as rewards to his cronies in the ruling Zanu PF party and their supporters.
This 'land reform' has been taking place for 16 years, with 90 per cent of white farmers being driven off their land.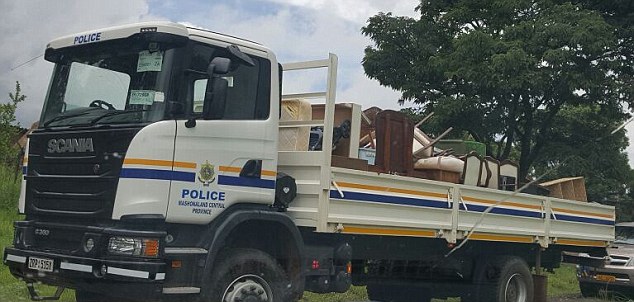 Many Zimbabwean activists are questioning why the Rankins' farm should be given to a British doctor who has made his home on another continent and is already wealthy in his own right.
Dr Nyatsuro has faced protests at his clinic in Nottingham, with more scheduled over the coming weeks.
The Rankin family have been left destitute. Anita Rankin, who farmed the tobacco fields with her husband for more than three decades, wept as she described the trauma of losing everything they own.
She told MailOnline: 'They would come to the kitchen door and stare at us and they made so much noise. It was a very tough situation and it went on and on.
'We don't know where we will live or what we will do. I am born and bred on a farm. I don't know town life. And I only know Zimbabwe.'
The Rankins are now staying with their son Barry in Harare as they contemplate how to claim back the tobacco crop they planted and move on with their lives.
They have no property aside from the farm, and had borrowed £400,000 to finance this year's crop and manage debts from previous years.
Barry said: 'We paid the workers their January salary [on Monday], but as for next month I just don't know. I don't know how we will manage any of this.'
Speaking from his new home in the capital Harare, he described how the family thought they had 'survived' after they held onto their land in the initial wave of confiscations by the Mugabe regime.
He hit out against the eviction, saying it 'doesn't make sense' that a wealthy professional who lives in the West should be given property by the government.
'As a family we are absolutely gutted,' Barry told MailOnline. 'We have been turfed off of our land and there's nothing we can do about it. We are devastated.
'It was our business – but more important than that, it was our home. We have never owned anything other than the farm and that's gone in one weekend.
'My parents have been working on the farm for 35 years. I grew up there. Those years have not all been hunky dory, we have had our ups and downs like any family, but we thought the farm would always be there.'
Barry added: 'We have had 16 years of land acquisition in Zimbabwe and we thought we'd survived – we didn't see this coming. We thought we had ridden our way through it, we thought we would be alright.
'I don't know what we are going to do. I can't even think beyond tonight.'
Slamming the move to give his land to Dr Nyatsuro, he added: 'It doesn't make sense to me how a doctor who lives in the UK can come and take our land.
'Land requisition was supposed to be for the landless, for the people who didn't have anything. I thought it was for the people of Zimbawe with nothing, not for wealthy British doctors who do not live here.
'But what do I know? I don't know the law, I'm just a simple farmer. My parents have farmed tobacco over four decades, it is all we ever knew.
'It is every family's dream to pass on their property onto their children. My parents were going to give it to me, and I was going to pass it on to my children and their children after that.'
Solicitor Nyarodzo Maphosa said she was seeking a ruling that would allow the Rankins to return to their home and carry on farming as they were before the 'lawless' acts.
That was granted by the High Court on Wednesday, but the Rankins remain too scared to return to their property, which continues to be occupied by armed men.
The land-grab began in September, when Dr Nyatsuro apparently turned up at the Kingston Deverill plantation with a government document saying that he was now the rightful owner.
Two dozen settlers then moved into a nearby cottage and caused problems for the family, according to Mrs Rankin, 54, who has three children with her husband.
Dr Nyatsuro declined to comment when leaving Bakersfield Medical Centre, less than a mile from his own practice, before driving away in his black Mercedes 4×4 last week.
His lawyer denied that his client had clashed with the Rankin family, claiming that the farmers had not been able to prove that they are the rightful owners of the land.
He also insisted that the doctor's political connections were not responsible for his being given the farm, saying 'any Zimbabwean has a right to benefit from the land reform programme'.
Fungai Chimwamurombe, a Harare-based solicitor, told MailOnline: 'The government's position is that the farm was acquired over a decade ago.
'At various court sessions we attended with Mr Rankin and his lawyer, they failed to show the legal basis why he was occupying the farm.
'It is our understanding that the minister of lands offered our client the land because they believe it is state land and it is up to Mr Rankin to prove otherwise.
'The issue here is not between our client and Mr Rankin because he is only a third party who applied generally for land years back. He was on the waiting list for a long time and was offered this state land on the strength of his application.'
The lawyer added that Dr Nyatsuro did not know that the farm was occupied by the Rankins until he went to take possession of the property allocated to him by the government.
He said: 'It is our understanding that many Zimbabweans, regardless of political affiliation, benefitted from the land reform programme.'
Mr Chimwamurombe claimed that the ownership of the farm had not been finally settled because police told Dr Nyatsuro that he could not immediately move in.
Mrs Nyatsuro has denied rumours she is related to Mugabe's wife Grace.
The couple has also denied using violence to enforce their claim to the Rankins' farm, saying that they were allocated the property by the state in accordance with normal legal procedures. Daily Mail