Expired ARVs sparked Chikurubi prison riots
By Tarisai Machakaire
HARARE – One of the convicts accused of masterminding a foiled jail-break at Chikurubi Maximum Security Prison yesterday accused the Zimbabwe Prisons and Correctional Services of giving inmates expired antiretroviral (ARVs) drugs.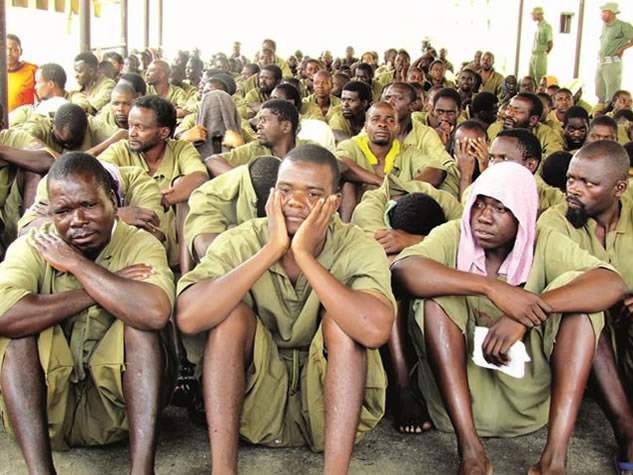 This emerged as the trial of incarcerated Independent End Time Message founder Robert Martin Gumbura, Blessing Chiduke, 25, Luckmore Matambanadzo, 39, Luck Mhungu, 38, Taurai Dodzo, 47, Thomas Chacha, 37, Thulani Chizema, 32, Jacob Sibanda, 28, and Elijah Vhumbunu, 38, opened at the Harare magistrates' courts.
The attempted prison break broke out at lunchtime on March 13 at Chikurubi in Harare just after inmates had been released to have their lunch. The inmates allegedly protested against the type of relish — vegetables — they had been given, which they did not want.
In the melee, 23 inmates and 19 officers were injured.
The inmates are being charged with attempt to escape from lawful custody, malicious damage to property and assaulting or resisting a peace officer.
Chiduke, an armed robber serving an 18-year jail term, told the court that the protests were sparked by the inhumane treatment they were exposed to, including being given expired ARVs.
"We continued to air our grievances to prison officials but to no avail. They kept telling us that the government was economically crippled and there was nothing that could be done about the situation," he said.
"Prisoners requested to see the Justice minister and parliamentarians but were told the minister had better things to do and legislators never get time for us."
He told the court that prisoners sang throughout the night of February 14 in retaliation to insults hurled at them by prison officers on duty.
"This officer told prisoners that they were foolish because he was having a nice time with their wives while they languished in prison," Chiduke said.
"He mockingly said that after completing his duties he would go home and prisoners' wives would fry sausages for him before he quenches his sexual appetite."
According to Chiduke, this did not go down well with inmates who started "grumbling and murmuring".
"He said we were being served sadza with expired Royco mixed with water. He mocked us saying only pigs would fail to tell the difference," he said.
"Prisoners felt infuriated since we had been having that meal for at least one week."
A delegation accompanying the deputy commissioner general later visited prisons and promised to rectify the situation but nothing changed.
"We were then told to tighten our belts and prepare for another round in the doldrums. We spent days locked in the cells and on the day in question we were served sadza with some strange leaves," Chiduke said.
Chiduke said he was not part of the team that spearheaded the violence and said he actually made efforts to quell the protests.
Meanwhile, Gumbura, through his lawyer Tapson Dzvetero, denied masterminding the foiled prison break.
"The charges are fabricated against him as a person who has attracted much hype in the media because of the rape cases he was convicted for," he said.
"It is a malady and choreographed attempt to have him convicted for something he never committed." Daily News