By Mtandazo Dube
Forget the Rolls Royce Phantom and all its peers in the automobile fraternity that have been used as the mark of people's wealth – real men fly – flying in both the literal and metaphoric sense.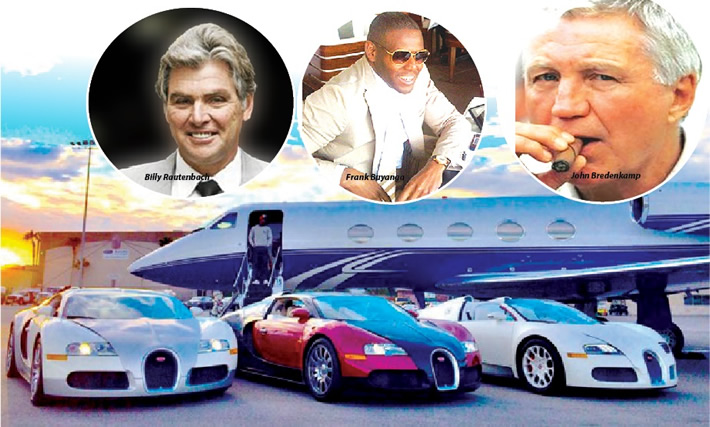 "POUND for pound boxing megastar, Floyd Mayweather, owns a fleet of expensive cars worth a staggering US$6,5 million with two of his Bugatti Veyrons estimated to be around US$2 million each. Now that's reckless extravagance but then not for someone who calls himself "Moneyman".
The US$6,5 million is just some change considering that Mayweather earned over US$200 million just fighting Manny Pacquiao early this year. In addition to his several "beasts of the road" Mayweather has a private jet and when he travels, his bodyguards fly in their own private jet.
The Moneyman wants space and peace to himself in his private plane. Some say "this boy is mad" but then he is just being himself.
On the home front, we have super-rich business tycoons who have an obsession with expensive cars like the flamboyant Dr Philip Chiyangwa (nobody knows how many of these expensive beasts he owns exactly) and of course "Mr Style and Pattern" Frank Buyanga who recently won back his US$320 000 Rolls Royce from the South African authorities.
These business moguls drive in expensive style and one is tempted to conclude that they are the epitome of flamboyance in the country. But no! They are not. There is another league of "Big Boys" in town. Just like Mayweather, they chop their money right up in the skies."
Imagine being a new member of the elite class. You now have the money to buy all the luxury items that you can ever think of yet you have to deal with those long and agonising waits at the airports, from the check in to the downtime spent in the lobby.
You also have to queue for passport and baggage inspection, as well as wait for your luggage to be offloaded at the point of arrival. The super rich in Zimbabwe have no such headaches.
According to the Civil Aviation Authority of Zimbabwe (CAAZ), there are 350 registered privately owned aircraft in this country. Among them – are the kind that Hollywood celebrities in the US and sheiks in the Arab world roll in. The kind that blows a US$5 million hole in one's pocket and demands hundreds of thousands for servicing every now and then.
To mention just a few – businessman John Bredenkamp owns two private jets one of which is a Citation. This is a proper private jet, which allows him to go anywhere anytime. The kind of airplane that you will see Puff Daddy in. Andrew Dawnson, a professional hunter and safari operator owns a personal helicopter, from his house on his doorstep he gets into a helicopter.
Bob Hensen, a farmer also owns a $1 million Robinson Helicopter while for his regular tours on his farms and several other business interests, Billy Rautenbach, owns a helicopter worth about $5 million. Businessman Isaac Levy also owns a small aircraft, which can accommodate up to six passengers.
Besides being rich, these people have one other thing in common – there are private and difficult to get to – talking to these mega rich fellows about their toys proved to be an insurmountable task.
Most of the information we obtained was either from CAAZ, Charles Prince Airport or Executive Air. Phone calls are rerouted several times and in the end the desired voices of these men and women are never heard on the other end of the phone. Emails, maybe they will get responded to, but that's no hustle, it's expected.
These are not the braggadocio types – they let their lifestyles and wealth do the talking while they continue with their quest of making more money. It appears those who speak the loudest are just loud-mouths rather empty vessels, money-wise and Zimbabwe has plenty of those arrogant, boastful small businessmen who spend hours at airports because they cannot afford to fly private.
However, The Sunday Mail Leisure managed to speak to Honour Moyo, the director of Swiss Jet Aviation, who runs a fleet of small aircraft for recreational aviation purposes. Moyo believes that there is a need to demystify owning aircraft or being able to pilot one.
He said while "proper" private jets, which enable owners to fly to any destination in the world at a moment's notice cost millions of dollars – there are smaller aircraft for people of average means.
"For as little as $50 000 one can own a small aircraft known as a weight lift. However, the deterrent in most cases is maintenance. It can cost upwards of $50 000 for an engine overhaul, so while one can buy decent aircraft for just over $100 000, problems always arise when it comes to keeping it in the air," said Moyo.
"Unlike a car, which can move around with all its faults as long as it can take the owner from one point to the next – aircraft need to be in perfect condition always in order to be certified to fly," explained Moyo.
He added: "Other big planes can also be affordable depending on how long they have been running. I guess even car people understand that sometimes it's all about mileage – the less a plane has covered its flying lifespan the better."
Besides private owners of aircraft in Zimbabwe – registered operators in the country include Air Zimbabwe, Fly Africa, Executive Air Charter, Guthrie Training, Central Air Transport Services, Zambezi Air Chatters, Alt Air, Mashonaland Flying Club and Zimbabwe Recreational Association. The Sunday Mail