Vapositori challenge placement on remand
By Tarisai Machakaire
HARARE – Twenty four men from Madzibaba Ishamea Mufani's Johanne Masowe sect currently facing public violence charges after assaulting police and journalists, have notified the court of their intention to challenge their placement on remand.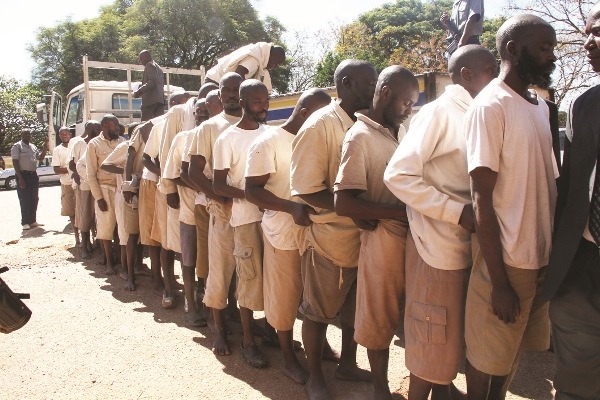 The group's lawyer Obey Shava yesterday requested that the State produce findings into investigations of alleged assault of the Mapositori in police custody.
The 24 are Emmanuel Sigauke, 37, Laston Marandure, 23, John Murahwa, 36, Taurayi Supiya, 36, Shadreck Mashonganyika, 25, Robert Paradzayi, 35, Tafa Chakwara, 36, Kudzanai Tichaona Kusekwa, 31, Cabson Chandaona, 43, Alton Makando, 31, Ashton Chinhoyi, 31, Abisha Mutandwa, 30, Brian Machingura, 18, Nathan Muparadzi, 39, Takavengwa Gwenzi, 46, Tichafa Madyegure, 41, Munaro Singadi, 42, Ziwanayi Nyatikonde, 30, Johannes Makumbe, 39, Paul Mupikata, 32, Simango Mharadza, 45, Tachiva Munemo, 37, Regis Bute, 31, and Clephas Muwona.
During their initial appearance on June 10, the Vapositori made sensational claims that they were tortured while in custody by vengeful law enforcement agents.
The then presiding magistrate Vakayi Chikwekwe ordered prosecutors to investigate the assault and furnish the court with a detailed report.
"The State was ordered to investigate assault complaints made by accused persons on June 10," Shava said. "They failed to comply with the order by June 16 and were given another chance which they failed to utilise.
"I intend to make a full application challenging accused persons' placement on remand tomorrow."
Prosecutor Sharon Mashavira promised to produce the report before the matter continues today.
Allegations against the accused persons arose on May 30 when an entourage led by Apostolic Christian Council of Zimbabwe (ACCZ) president Archbishop Johannes Ndanga, that included police officers and journalists, was beaten up by the sect members.
This was after Ndanga had read out a letter banning the church on allegations of abusing women and children.
The congregants challenged the ACCZ leader to read his speech in Shona, claiming they were not familiar with English.
Ndanga then ordered police to arrest one of the congregants who kept interjecting as he read the speech.
Other congregants then began singing a song called Umambo hwepfumo neropa, before all male congregants armed with shepherd's crooks charged towards the "trespassers," and assaulted them. Daily News