The story below was published by the state owned Herald newspaper's online edition on the 8th of March. But for reasons yet to be explained the story was later removed from the website. Below is the full story.
By Lloyd Gumbo and Farirai Machivenyika
Minister of State for Manicaland Province Christopher Mushowe allegedly ordered Diamond Mining Company to deposit money into an account he provided, effectively sidestepping the Marange-Zimunya Community Share Ownership Trust launched by President Mugabe in 2012.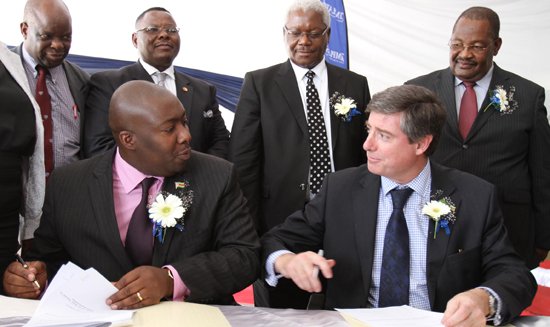 Further, Environment Environment, Water and Climate Minister Saviour Kasukuwere is accused of presenting a US$50 million false cheque to President Mugabe at the launch of the trust.
It is also alleged that the five diamond mining companies operating in Chiadzwa never pledged the US$50 million kitty presented when President Mugabe launched toward the trust.
The firms were said to have pledged US$10 million each, but yesterday they refuted the claim with some of them saying they had only pledged US$1,5 million each while others professed complete ignorance of the existence of the trust.
Minister Kasukuwere and the Zimbabwe Mining Development Corporation are said to have instructed some of the mining companies to delay disbursement of the money.
The firms are Mbada Diamonds, Marange Resources, Anjin Investments, Jinan and Diamond Mining Company.
The mining firms told the Parliamentary Portfolio Committee on Youth, Indigenisation and Economic Empowerment that the establishment of the trust was mired in confusion and disorganisation.
Gokwe-Nembudziya MP, Cde Justice Wadyajena (Zanu-PF) chairs the committee. Anjin Investment board member Mr Munyaradzi Machacha said they had always worked with Minister Mushowe.
"The trust has not approached us. Minister Mushowe is the one we have been talking to. He was the contact person. He gave us the bank account. We have not had any meeting with Marange-Zimunya Community Trust.
"All the correspondence we have had is through the Minister of State for Manicaland because he claims he has a working relationship with the Marange-Zimunya Community Trust. We have not had any business meeting with the trust," said Mr Machacha.
Mr Machacha also claimed that Minister Kasukuwere, who was then Youth Development, Indigenisation and Economic Empowerment Minister, advised them that fulfilling the pledges to the trust could be done over five years.
As such, he said they did not see the need to urgently fulfill the pledge considering that they had also hit a hard rock.
"When we made that pledge (US$1,5 million), we were made to believe that we could make payments over time. Minister Kasukuwere gave indications that we could do so over a period of five years."
Quizzed by Cde Wadyajena if they had misled President Mugabe and presented a falsified cheque, Mr Machacha said: "He (Minister Kasukuwere) knew that there was no money at all. It was just a dummy cheque."
DMC board chairperson, Brigadier-General (Retired) Ezekiel Zabanyana said ZMDC never gave them a go ahead to donate toward the trust.
"This is where we lacked the strategic plan or some means to ensure this was implemented. We did approach ZMDC and as our boss they said let's leave that," he said.
DMC general manager Mr Ramzi Malik also said they only pledged US$1,5 million.
"We never pledged US$10 million. We asked ZMDC to go and identify areas of major importance and give each company the programme which will take the contributions to. ZMDC went and did that exercise but never came back to us.
"We need engagement and a co-ordinated effort. Let's not just throw figures out there. Let's meet and discuss figures before we go to the press," he said.
Mbada Diamonds board chairperson Dr Robert Mhlanga said they were never part of the trust but donated US$200 000 out of "courtesy".
"I would like to initially highlight that Mbada Diamonds has contributed US$200 000. However, Mbada Diamonds has never made a pledge to the share scheme. There was no formal communication soliciting for a pledge from Mbada Diamonds. Not even informal. We have not been contacted to make a pledge as a company," said Dr Mhlanga.
"In fact, there is a lot of miscommunication which has taken place around this thing concerning the Marange-Zimunya Trust. To say there is anything organised no! Because if there was anything formal, we would have been advised by our parent ministry we then would have acted accordingly. We 100 percent have not made any pledge," he emphasised.
Jinan marketing manager, Mr Enock Moyo said their company was not represented at the July 2012 meeting where pledges were made.
The parliamentary committee, however, booted out the team whom they felt were unqualified to comment on issues concerning the company after Mr Moyo said senior managers were busy elsewhere.
Marange Resources acting CEO Mr Mark Mabhudhu said his firm availed US$200 000 toward the trust but expressed willingness to contribute more if their financial position improved.
Trustees to the scheme last week alleged there was interference by politicians in Manicaland in the trust's affairs. They said this resulted in the diamond mining companies not fulfilling their pledges. The Herald