Biti decision to represent Gono 'suspicious'
By Rogers Mudarikwa
The legal representation of former RBZ governor Gideon Gono by Hon Tendai Biti, the Secretary General of the Movement for Democratic Change T is not just suspicious but rather disconcerting.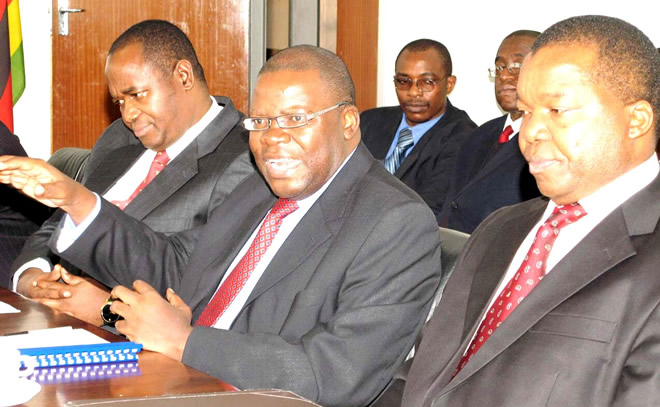 It raises more political and practical questions than the legal issues it seeks to resolve at the Constitutional Court.
It must be first granted that the political environment in Zimbabwe is polarised. There seems to be an inherent hatred amongst citizens simply based on different political affiliations. Perhaps the cross political family, business and other relations can be pivotal in addressing this matter. However, the Biti-Gono relationship cannot fall into this equation.
Tendai Biti is the Secretary General of the MDC-T. He is the main custodian of party policies, resolutions and positions. Most notably, the MDC T has continuously and repeatedly held the position that Gideon Gono is responsible for the economic meltdown which saw millions flee the country and thousands others die of hunger and poverty.
Through the life of the inclusive government the MDC T has always resolved that Gideon Gono and Johannes Tomana were outstanding issues. Besides failure to have them removed from their positions, that position has never changed and no one else can have better records of that except for Tendai Biti the MDC's Secretary General.
In fact, it was Tendai Biti who described Gideon Gono as "the quintessential embodiment of corruption" and "an economic saboteur, terrorist and number one Al-Qaeda who deserves to be shot by a firing squad".
The MDC T has a position of zero tolerance for corruption. It is not just in the interests of justice that Mr Gono proves himself in a court of law but more so a key demand from our constituency that he be held accountable for his actions.
The allegations raised by Hon Kereke are not only serious but also legally deserve to be investigated and tried in a court of law.
It is quite disturbing to imagine that Hon Biti will be the one to stand up and tell the world that all these allegations are frivolous; that Gideon Gono has no case to answer; and that no corruption and mal-administration ever took place at the RBZ during Gono's tenure.
It is difficult to imagine how Hon Biti can do that without himself also becoming "an economic saboteur, terrorist and number one Al-Qaeda who deserves to be shot by a firing squad".
Of course Hon Biti is one of the best lawyers in the country, but he is not certainly the best Constitutional lawyer. For him to suddenly open a new law firm in recent weeks and eventually become Gono's lawyer raises more questions beyond a mere client-attorney  relationship.
Perhaps to put it into proper context, Biti cannot represent Gono against himself and the interests of his political constituency. Whatever the amount he was paid, he cannot justify his love for money to the expense of justice for millions of Zimbabweans and the broader political interests of the Party he leads at such a high level.
There is a difference between representing Gono on defamation charges or other matters that do not have a political bearing than represent him on corruption allegations. Corruption and good governance go to the core of the formation and very existence of the MDC T as a political party.
The party's quest for good governance and a corruption free society cannot go unhindered by Mr Biti's actions. It is one thing to say let bygones be bygones as a gesture for focusing on the future and cooperation towards national development, but another thing altogether to go to the extent of representing Gono on his corruption allegations.
There is no difference between this and an example of Lindiwe Mazibuko of the Democratic Alliance in South Africa representing Jacob Zuma on corruption allegations relating to his Nkandla residence.
It must be genuinely be feared therefore that another MDC T lawyer-official will represent Johannes Tomana in any case compelling him to prosecute the 2008 murderers.
Hon Biti is a very wise man and his judgement should always be respected. However, in this case he might have become too wise for his constituency. It will take time for his decision to be understood if ever it can be justified. This decision is not only morally wrong; it is politically incorrect and more so practically unimaginable.
How can this be explained to an electorate who suffered a decade of economic decay at the hands of Gideon Gono? How can this be explained to the millions who have fled the country?
How can this be explained to the people whose foreign currency accounts where raided by Gono? How can this be explained to the unemployed young people? How can this be explained to millions languishing in poverty? How can this be explained to those families who lost relatives who were allegedly murdered by militias funded through Gono's illicit activities?
It is also necessary to point out that equating this with President Morgan Tsvangirai's marriage to a ZANU-PF linked woman is senseless. Cross-political marriages are common and have never had much political bearing.
That is equally true of any other normal cross-political business relations prevalent in the country. The Biti-Gono affair is different, not because of the positions the two occupy in their respective political parties but also because of the matter involved, which is corruption.
It projects Hon Biti and the MDC T as an unprincipled political party that can go against its on founding values for the sake of financial gain and self-aggrandisement.
This is a decision with far reaching political consequences that the Secretary General cannot simply make without consulting the leadership of his party.
Certainly a person in the position of the Secretary General would know that his personal, business and political interests cannot be wished away from the interests of his political party. In a case like this, a conflict of interests is clearly apparent.
Of course Gono has little to lose in this matter.
No one is going to arrest or investigate him in Zimbabwe. The people that are supposed to make Gono account are compromised beneficiaries of the alleged corrupt activities. That explains why these allegations have never taken root and why he is being promoted to the Senate and perhaps more other senior roles in the near future.
However, for Hon Biti, this kind of insensitive, unethical and incomprehensible behaviour fuels allegations of sophisticated corruption involving him. In any case, corruption by its nature thrives on this kind of collusion and connivance.
Certainly there is more to this case than the constitutional court case.
Rogers Mudarikwa is the Provincial Organising Secretary for the MDC-T in South Africa