By Nomalanga Moyo
On Thursday the case in which an exiled Zimbabwean is fighting for his right to vote was postponed indefinitely by the newly-formed Constitutional Court.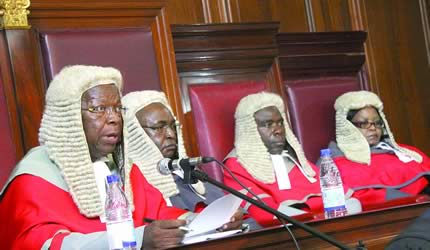 Tawengwa Bukaibenyu filed an application at the Supreme Court (now the Constitutional Court) last year, challenging the barring of postal ballots for exiled Zimbabweans, which he said violated his right to choose his country's government.
The decision by the Constitutional Court to delay hearing the matter will disappoint millions of exiled Zimbabweans, whose hopes were pinned on the case.
With President Robert Mugabe unilaterally proclaiming the poll for July 31st it is highly unlikely that the Constitutional Court, which is swamped with election-related cases, will hear the matter in time for exiled Zimbabweans to vote, even if Bukaibenyu were to win the case.
Bukaibenyu's argument is that denying him his right to vote is unfair, as economic hardships forced him to go to South Africa, but he intends to return to Zimbabwe, his "permanent home" once the situation normalises and he can obtain employment in the country.
He wants electoral laws that prohibit the Diaspora vote declared unconstitutional, saying: "I therefore have a vested interest to do my part to ensure that the situation in Zimbabwe normalises as soon as possible, and this includes participation in elections and civic duties in Zimbabwe."
ZANU PF has always insisted that Zimbabweans living abroad will not be allowed to vote as payback for sanctions imposed by western governments on the party's corrupt leadership.
In February, after a case brought by Gabriel Shumba, the African Commission on Human and People's Rights ordered the government to make provisions allowing Zimbabweans abroad to use the postal voting system during the March referendum, but the ruling was ignored by the government. SW Radio Africa